For the past six months, everyone in the UK has been subject to the conditions of a strict nationwide lockdown; confined to our own living quarters, held up in front of the TV day after day, making close friends out of Just Eat and Deliveroo drivers.
That's a whole lot of time without social interaction. Without gigs, festivals, live football, and days out spent shopping. Without a slap-up meal in a fine dining establishment, or even just a cheeky pint or gin and tonic down the local boozer.
Thankfully, that long stretch inside looks to be coming to an end today. But how will we all cope when reunited with our sorely missed freedoms once more?
It's a question on a lot of people's minds right now, and one that leads to many more. Like, will I need to wear a face mask to a live event? When can I attend a rave again? will I need a vaccination certificate to get in? And where and how can I book a ticket for a COVID safe event? As well as other pressing questions, such as How do I apply make up? Is it ok to wear my dressing gown and slippers out in public? And can I still get three plates for a tenner in a Wetherspoons? All valid questions... sort of.
Like an overpaid and under-qualified motivational speaker, we're here to educate, reassure, and re-energise you, ready for the big release. To tell you that you have most certainly got this, whilst also answering as many of your queries and concerns as possible.
Below, you'll find our Skiddle Survival Guide. A comprehensive instruction manual of sorts, consisting of tips and recommendations, put together to teach you how to go 'out out' again like a boss, in 2021.
Covering everything from conversation starters and looking after your mental health, to explaining our brand-new, recently implemented COVID safety features and much, much more.
Read on to prepare yourself for going 'out out' once again, in 2021...
---
Finding and buying your tickets:
It's been a while, as previously mentioned, since any of us have found the need to buy a ticket for an actual real life, almost normal event. So we thought we'd share some guidance to make finding and buying tickets for upcoming events super easy...
Step One - Download the Skiddle app here
Step Two - Round up the squad, your clique, your homies via Whatsapp, Facebook Messenger, carrier pigeon... however you choose to communicate with one another, and begin those all important event debates.
Step Three - Check out Skiddle's Things To Do, What's On and Inspire Me pages for some event inspiration - you won't be disappointed.
Step Four - Decide upon one, two, or, if you're feeling extra saucy, maybe even three stellar events to attend over the coming days, weeks and months.
Step Five - Purchase tickets via swanky Skiddle app. Upon purchase, your E-tickets will be stored in the 'My Tickets' section, accessed via the three horizontal lines in the top left hand corner of the app.
Step Six - Get excited. Begin preparations for your first big night out in half a year. Present your ticket on arrival to your event, and you're in! Piece of cake.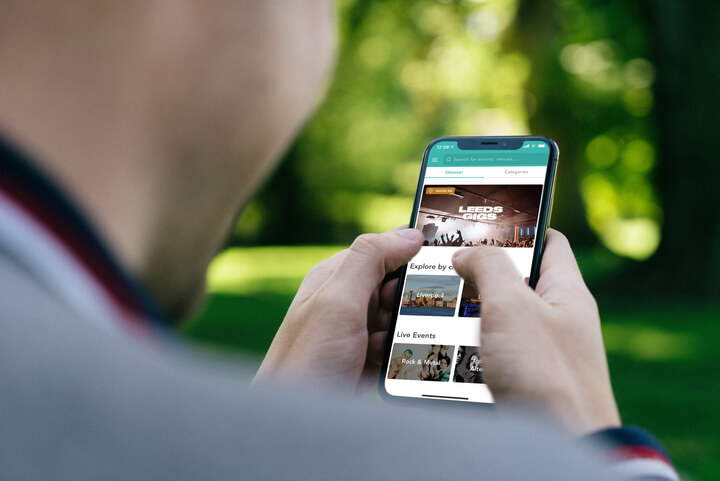 Already got tickets for an event?
Make sure you've located those physical tickets that have been lying around the house for months and months, and be sure you've got them with you before heading out the door!
---
Fixing your going 'out out' attire, makeup and hair:
Now then. This is a very important section of the Skiddle Survival Guide, second to buying tickets of course...
Like a butterfly emerging from its cocoon, after one seriously long and crappy winter, we must all surface looking fresh and clean, and unlike the living room trolls we've all unavoidably become over the past year. It's finally time to start trying on those special going out threads you've been stock piling since last summer.
Here's a few more tips and suggestions to get yourself looking and feeling good, ready for going 'out out'...
Wear something acceptable
We know you've become attached to the smell and feel of it, but it's time to take off, and probably wash, that dressing gown. Dig out your rave gear and pray it still fits. Can't quite get into that neon jumpsuit? Head online and get yourself a dose of retail therapy. Damn it feels good.
Book yourself a haircut
Now is definitely the right time to start thinking about booking in that long overdue hair cut, to tame the wild thing currently residing on top of your noggin. Hairdressers and barbers across the UK will no doubt be backed up for months to come, so act fast!
Do you need to re-buy your makeup?
Seems unlikely, but you don't want to leave yourself in a pickle come the night of your first outing now, do you? Double check you've got what you need and order more if necessary! Forgot how to apply your makeup? There's hundreds, if not thousands of tutorial videos available to watch online for free! Sorted.
---
Check out 'Hope' from Arlo Parks brand new album Collapsed in Sunbeams, below...
---
Conversation starters and awkward silence relief:
The highlights of the week, for many of us as of late, have been venturing out to the local supermarket to do the big shop and going out for a walk. Not exactly the kind of activities that inspire wild or exciting happenings, as we all know, leaving very little to stimulate and lubricate that all important conversation cog.
So, what are we going to talk about once we can all get together again?
To help you avoid discussing the weather with your mates on your first outing of the year, we've produced a handy go-to list of conversational topics, to help you avert those awfully boring subjects and painful awkward silences.
Good topics of Conversation:
New Music
It was always going to be the first topic on our list.
One thing that's been a constant throughout lockdown, and boy are we glad, is the release of new music. We've seen albums and singles come into the ether that will be spoken about for years and years to come. From Arlo Park's critically acclaimed masterpiece Collapsed in Sunbeams, to Kelly Lee Owen's amazing debut Inner Song, Bicep's sophomore album Isles and many, many more... There's an abundance of amazing records to gush over, some we'll hopefully get to see live this year!
Check out our Q1 album round up for some more conversation inspiration - here
Netflix/TV Series
From the absurdity of Netflix series Tiger King, to the eye watering filth seen on period drama Bridgerton - there's been an excess of series, shows and documentary's that have kept us all somewhat sane, over the past twelve months.
Take a look at some of the music documentaries we've been binging whilst in isolation - here - and arm yourself with some interesting knowledge ready for those beer garden discussions.
Bad topics of conversation:
Anything COVID related
Pretty self explanatory this one. We've all been living with it for the past year. No one wants or needs to hear about infection rates or hospitalisations or vaccination conspiracy theories. Take all that nonsense and put it in the bin.
Brexit
Yawn. It's done. There's nothing we can do about it. Moaning won't get you very far. Grab yourself a beverage and let's have a little dance shall we.
The Weather
We've given you plenty of topics to go at, which should easily see you through your first few ventures out into the wild. If you find yourself talking about the weather, something has gone seriously wrong.
---
Listen to 'Arpeggi' from Kelly Lee Owens 2020 debut Inner Song here:
---
Essential necessities and protective gear:
There's a few essentials that you simply can't afford to forget when heading out to your first event. Amongst some of those important and fundamental tools are:
Sunglasses and suncream
The vast majority of us have been void of any sun since last summer. Appearing from our houses, out into the spring and summer sunshine, without the correct eye wear or skin protection is risky business.
Most socially distanced events will be held outdoors this year, and on the odd occasion we actually get some fine weather, you don't want to be caught out. Lather up and prevent yourself from getting charred. And get your hands on a decent pair of sunnies! How else will you know where the bar is?
Personal ID - Sounds trivial, but there's nothing worse than making your way to a club or an event, walking up to the entrance, only to realise you've forgotten your ID. Don't be this clown. Make sure you're on top of it!
Mobile phone - Again, very trivial. Who doesn't have their mobile/smart phone with them at all times these days? Make sure it's fully charged and in working order. If you get separated from your friends, or need to order an Uber home, you know you've got it covered.
A face mask - Whilst restrictions are easing and more of us are able to reconnect, it's looking likely that organisers of events will require guests to wear face masks whilst not sat or stood at their reserved tables or areas. It's always better to take one just incase. Be prepared.
---
Skiddle Safety measures and top tips:
Many of the safety conscious promoters running events with Skiddle, have set out the measures they've taken to ensure that their parties are COVID compliant. These measures can be found at the bottom of each event page on the Skiddle website, and list how the event in question is complying with social distancing guidelines, set out by the government. Check out the example below.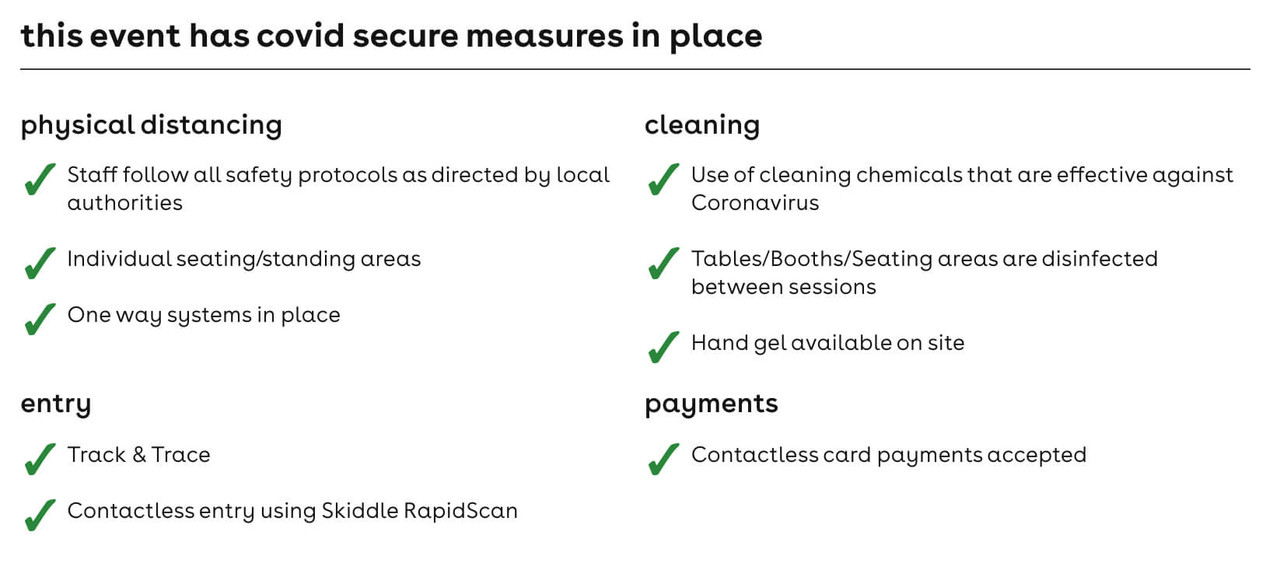 Most upcoming socially distant events will also require that you book tables, rather than individual tickets, which usually seat up to six people. This feature allows event organisers to monitor the capacity of the event, and in turn keep your safety in check. The added bonus is that you and your six mates have a designated space that no one else can steal away from you, throughout the event. Oh, and there's usually table service. Double bonus!
Here's some safety tips to keep in mind before, during and after your big day/night out...
If you're planning on having a drink or two, take it easy
We don't want to poop on the party before it's even began, all we're saying is take it slow. We've all been cooped up drinking cups of tea and coffee for the past six months - give or take a few house bound sessions here and there. Don't go to heavy on the shots straight out of the gates and end up hugging a toilet bowl whilst the party still rages on. Nightmare scenario.
Always leave the club/venue with a buddy and get home safe!
A lot of us already do this, but for those who don't - be smart. Set a place to meet up with all of your friends, before the event begins and the booze takes hold, just incase you get split up.
Download the Uber app
Book a safe journey home for both yourself and your friends, using the Uber app. Simple.
---
Hear ' X (Ft. Clara La San)' from Bicep's amazing second album Isles below...
---
Take care of your mental health:
Anxious about going out again? You're not alone...
A recent survey conducted by Anxiety UK revealed that almost half of those who took part in the study, had reservations about reintegrating into society, 'citing the pressures of socialising generally as their biggest concern'.
It's been a long time since any of us have been in a crowded venue or at a busy festival. Take steps to understand when your feeling anxious and how to deal with feelings of unease.
For access to free courses on anxiety, information and more, visit - www.anxietyuk.org.uk
---
And that's it. The end of the Skiddle Survival Guide. You're now officially ready to re-enter the almost forgotten world of normality. We hope you found this information useful, and that it guides you safely through the rest of the year.
Just before you head out the door to your first big party of the year, remember...
The Final checklist
Download the Skiddle app, and buy your tickets
Don't forget to grab your fully charged phone
Grab your face mask, ID, wallet/purse...
Lather on the sunscreen and don those shades
Download the Uber app and make safety plans with friends
Lastly but by no means least - Enjoy yourself!
---
Looking for a Socially Distanced event to attend in the upcoming weeks and months? Check out our long list of COVID safe parties happening near you throughout the spring and summer here