By the turn of the 90s, rave culture had well and truly gripped the UK. Born in the gay clubs of Chicago and transported to the disused warehouses and out-of-the-way fields and woodlands of the North, the introduction of rave music led to new cultural movements across the British Isles - none more so than in Manchester.
Scenes merged to create what most now recognise now as one of the most important periods in UK musical history - the 'Madchester' era. It was a period which saw psychedelic indie guitars fused with the trippy, acid house tones that came straight out of the illegal raves. The crossover of tribes and musical styles gave birth to some of the 90's biggest, baggiest and bucket-hattiest bands, such as the Happy Mondays and the Stone Roses.
Another musical movement that prospered during this creative and evolutionary time involved a collection of experimental dance enthusiasts who harnessed the new sounds pouring out of almost every establishment across the land and pushed them on even further. That collective was 808 State.
"I stopped playing vinyl a while ago, it was killing my back carrying them to gigs."
Responsible for bringing the sounds of the warehouse to mainstream culture, their biggest hit, 'Pacific State', broke into the UK's top 10 back in 1989. The band, originally made up of members Graham Massey, Martin Price and Gerald Simpson, influenced a generation that would later produce some of the most renowned names in the electronic genre, such as Aphex Twin and The Chemical Brothers.
For over three decades, the band, now consisting only of members Graham Massey and Andrew Barker, have remained as relevant as ever. During the groups long and illustrious career, they've worked with some of the biggest names in the industry, such as Icelandic singer songwriter Bjork, who collaborated with 808 State on multiple occasions, and toured around the world with the likes of New Order.
More recently, the band have been working on their most recent release, Transmission Suite, the band's first album in seventeen years.
(This embedded post has since been removed)
We managed to grab one half of 808, Andrew Barker, for a quick chat about his record collection, what he's currently listening to, and what life was like before the band.
Andrew told us, "I started DJing when I was fourteen in a local youth club, playing early hip hop and electro. By the time I was old enough to go out clubbing, house music had arrived. The similarity between electro and house was what seduced me to the new genre. It had a huge influence on what I was playing in my sets and creating in the studio."
"By 1988, I had a couple of residences, I was going to warehouse parties and making music regularly. I had a weekly radio show and 808 State was born, a long and successful journey which has brought us here today, on the precipice of another release.
"Our new album, Transmission Suite, is due for release on October 11th and I can't wait to go out on the road with it. I've been playing sets around the world for the best part of 30 years and wouldn't have it any other way."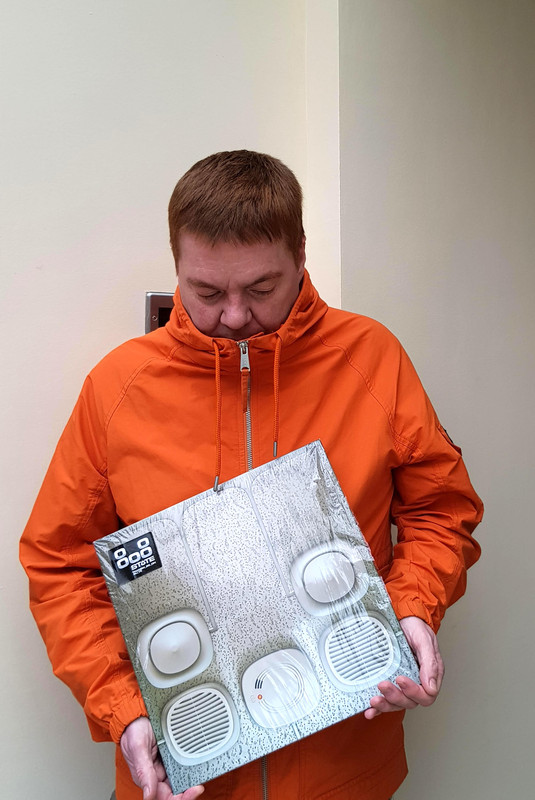 Is there a record you can't stop playing right now?
AB: "Not really, there is so much music coming out every week. My mind changes all the time."
How many records do you personally own?
AB: "I sold most of my record collection a couple of years back. I had around 10,000. I stopped playing vinyl a while ago, it was killing my back carrying them to gigs."
What's the weirdest, rarest or most expensive record you own?
AB: "I still have quite a few rare records that I didn't sell, purely for sentimental reasons. I don't really look at how much they are worth as I have no plans to sell them."
If you could only play one record for the rest of your life, what would it be?
AB: "Manuel gottsching E2 E4 (released in 1984)."
Give us your top 3 recent releases?
AB: "808 State - Marconi; 808 State - Tokyo Tokyo; 808 State - Spiral Arms."
Which new artist/band/DJ should we be listening to right now?
AB: "Get on Porch Crawler. He's my son, he's always impressed me with his new stuff - https://soundcloud.com/porchcrawlerr."
Do you have a musical guilty pleasure?
AB: "Pop music is understated."
Best live performance you've ever seen?
AB: "The Red Hot Chili Peppers in Tokyo."
If you could collaborate with any artist, dead or alive, who would it be?
AB: "Hannah Reid from London Grammar."
Tickets for upcoming 808 State dates:
WHP19 - Feel my Bicep w/808 State - Depot mayfield, Manchester - Saturday 30th November 2019
Ticket waiting list for whp19 - FEEL MY BICEP
Tickets you want not available? We know it's frustrating, but don't worry we've got your back. Join the waiting list below and we'll reserve you tickets if they become available.
808 State - EartH, London - Friday 27th March 2020
Image credit: 808 State