Welcome to week five of the Skiddle Record Club - a place for the people behind the scenes at Skiddle to share the music they love, firstly with their colleagues and then with you, the reader.
Last week, Ell from Customer Support took the record club to the commercial side, with 'Back From the Edge' by X Factor winner, James Arthur. Unfortunately, the record didn't strike a chord for the majority of listeners, with a few claiming the album to be "offensively bland", "repetitive" and "overly long". Others were impressed by James' voice and stated that they were expecting to not enjoy the record, given that he was a reality show winner, but found themselves pleasantly surprised with what was presented. Despite the positive comments from some, James found his place at the bottom of our leaderboard, with a score of 2/5, meaning Grouper maintained its number one spot for yet another week! Who would have thought a dark, atmospheric sombre record such as that would be this popular? Read more about the record that earned the quote "this 47 minutes and 44 seconds of landfill, homogenous pop was one of the most unforgivably boring pieces of music I've heard" HERE!
For week 5, the Record club looked to play it a little more safe, with a record chosen by Jamie of the Skiddle marketing team. SURELY a hugely popular house record can push Mike and his pick from the top spot? Read on to find out...
Week 5 - Jamie, Marketing
Album: Daft Punk - Discovery
Rate Your Music Score: 3.95/5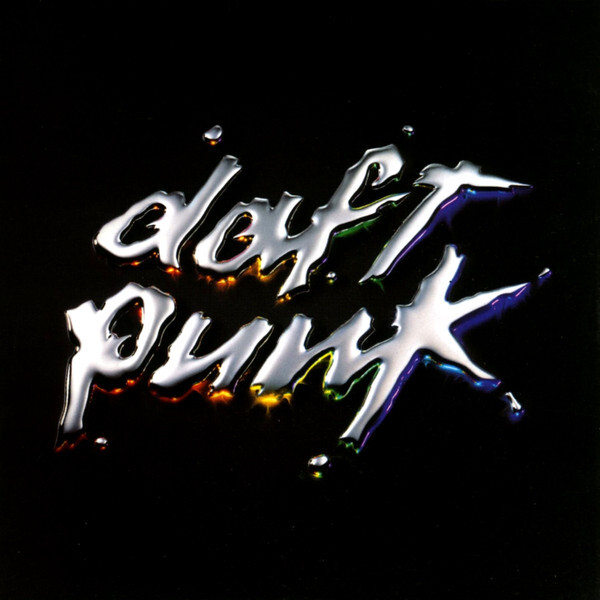 As if an introduction is required, Daft Punk, who formed in Paris, back in 1993 and remained active right up until this very year, 2021, consisted of only 2 members: Guy-Manuel de Homem-Christo and Thomas Bangalter. The duo had a career that would make all others envious: 6 Grammy awards, Billboard music awards, MTV awards, Brit awards, International dance music awards... It's clear to see why Daft Punk have inspired hordes of electronic music producers since they first emerged with their groundbreaking debut album, 'Homework' in 1997. Today, they are recognised by the music press as one of the most influential electronic music acts of all time, with their records not only being critical smashes but commercial behemoths to boot. They infiltrated the mainstream, working with some of the biggest names across a multitude of genres, while retaining their forward-thinking approach to house music production, employing experimental techniques and instrumentation... And still, they never took off their helmets.
'Discovery' is the duo's second album, released in 2001. It has been certified platinum in 5 countries, including a 3x Platinum certification in their home nation. Critics were very enthusiastic about the album and hailed Daft Punk as the revolutionaries of house and disco music, claiming that they had reinvented the 80s. Some critics gave the record perfect scores, such as Q magazine, Mixmag and Allmusic, while others were less positive. The Guardian gave the record a rather pitiful 2 stars, claiming that it was less coherent than their debut. Others found the record to be lacking a direct personality, that it tried too hard to merge electronic genres and that in doing so, Daft Punk lost its own character and personality. Despite the nay-sayers, Discovery maintains a 3.95/5 on Rate Your Music, the highest RYM score we have seen in the club so far.
"What's not to love about Daft Punk 'Discovery'? It has a track to satisfy every musical mind" states Jamie, when asked why he selected Discovery for the record club. "In 2001, I was DJing all over the place playing soulful and deep house and I played tracks by Todd Edwards and Romanthony every weekend so it ticked all my boxes when I found out they were involved. It's defo in my top 5 albums of all time." Did Discovery tick as many boxes for the rest of the team as it did for Jamie? Read on to find out...
(Click the link below to listen to the album in full below)
So, what does the rest of the Skiddle team think?
Skiddle Record Club Score: 3.2/5 (Highest: 5, Lowest: 1)
When asked if participants would listen again, 78.5 % said yes, while only 21.5 % said no. But why is this the case?
The Bad
Internally at Skiddle, some people penalised Jamie's choice as being "too safe", with one listener stating that they loved Daft Punk, but that "Choosing this album for record club is like suggesting The Bible for book club. Pure cultural posturing to get a high score and I'm not having it, Jamie." Sorry, Jamie, the plan seems to have backfired somewhat here! Another listener had much the same to say, adding "Hopefully, this is the last time I'll hear 'One More Time', although, in the spirit of track's title, it seems to keep turning up like a bad penny." Ouch.
The most re-occurring critique of the album is that it is repetitive and "uninteresting". One listener stated that "it was like a sequencer had been left on while they went and made a brew or something" which was a feeling shared by multiple listeners; "The repetition of the songs, song structure etc just bored me out of my skull.", "The novelty wore thin very quickly on a full album listen", "Enjoyed most of it but some parts were a bit repetitive."
"Some of the middle tracks go on for FAR too long. Felt like I was listening to the same song for about 8 years."
"I didn't pull out any gun fingers."
"A bit repetitive and I don't need to listen to "Harder, better, faster, stronger" or "One more time" again.... they're overplayed! "
"I can't recall the context of the name, but there's little that's Daft or Punk about it."
The Good
Well, Daft Punk have done it, they have received our first perfect score from a record club listener... Not once, but twice! What did they have to say about the record? "1000% classic. I am a massive Daft Punk fan. This came out in 2001 when I was 11 and just getting into music beyond my parent's record collection and this album was like nothing I'd ever heard before and made you dance like a loon whenever it came on MTV," while the other sang from a similar hymn sheet; "The arrangement of the tracks and samples within them is incredible. Masterful musicianship right here." They have been able to overlook the people who claim the album is overplayed and safe and identify that this record was clearly a game-changer and an introduction to a much wider world of music.
Others were positive of the infectious hooks found throughout; "Really catchy groovy songs. The first 5 songs of the album pick you up and keep you hooked," said one listener, who, admittedly, wasn't a huge fan of the album on the whole, but couldn't deny the first half of the album. They were echoed by a few fellow listeners, who stated that "there are some great grooves and hooks in there," "Some of the beats were infectious and undeniably had me nodding my head."
"This album is just a classic. Funky tunes, easy party starters, just an all-rounder."
"Some great build-ups/breakdowns and very experimental in some tracks which keeps things fresh"
"Everyone can get down to Daft Punk."
"It's a joyous and optimistic record that literally makes you move involuntarily."
Leaderboard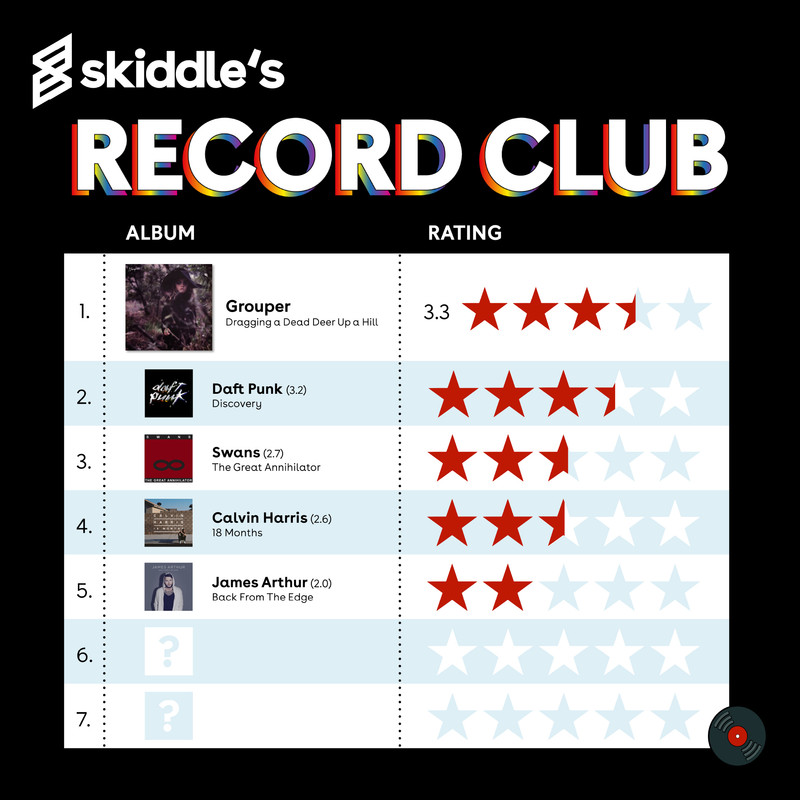 The results are in! 'Discovery' scored a very respectable score of 3.2 stars from the Skiddle team, slipping in at number 2, meaning Grouper remains unmoved for 4 WEEKS now at the top of the leaderboard. I was fully prepared for Daft Punk to claim the top spot this week and I am blown away that Grouper have maintained their winning streak for so long! What will it take to bring it down?
Next week's record choice comes courtesy of Matt Murphy, of the Operations Team.
---
---
Discover even more tours and one-off live shows happening where are you by heading over to our Gigs page! Just click or tap - here