Image: Barbour
Festival clobber is as important as your tent and knowing who to see and when. The interchangeable weather we have in the UK means you need to be prepared for pretty much any eventuality, and that involves taking the right coats (yes, probably plural) to festivals.
We'd advise a light packable number is balanced out by a warmer waterproof option, but you can always layer up to make the former warm at night. Either way you need to make sure no water can get in and, ideally, all that horrible sweat you create fist pumping in the mud leaves.
If your t-shirt is covered in rave juices on the first night you'll stink and be cold far too quickly, and with us fellas it's even more likely that the field stench will hit you. So here's five of the best coats to keep you warm, dry and as close to hygienic as possible this summer.
K-Way - Leon (starts at £50)
Anyone who's been to a festival will have seen someone in a K-Way. These unisex nylon mainstays are as big a staple as wellies in the fields of the UK, and you don't become a design classic without being, well, a classic.
We're particularly fond of the half zip Leon model, which neatly packs into the kangaroo pouch in the middle and can be worn as a bumbag. There's taped seams which means no water is getting through, but bear in mind these will make you sweat your tits off - so make sure you pull that zip down or take it off when the rain isn't coming.
Over a fleece or hoody and they are as toasty as they get, making them the all rounder and go to choice. You'll find them in a plethora of colour options over at Zalando.
Flexibility at a festival is key, and they don't come much more versatile than these bad boys. Coming in at 110g, Howies' Lightweight Helium Jacket are lighter than a big bar of chocolate, and will protect you from all rain bar the most torrential of downpours.
They pack neatly into a very small pouch, making them the perfect option to carry around during dry or hot weather just in case things suddenly take a wet turn - just don't expect them to keep you warm by themselves during colder confines or when the night hits.
Dressing like you did for DofE was considered heresy outside of the trails not so long ago, but now it's okay to look a little bit like you're an over enthusiastic geography teacher. Head to toe North Face is certainly the choice for those wide eyed Avicii fans giving it some at Creamfields, but we're nudging you in the direction of Berghaus for a more subtle alternative.
Their Gore-Tex range is tough as you like and exactly what you want to live in for four days in the pissing down rain of Glastonbury (eBay is also well worth investigating). Here we have the Thunder. It comes with loads of pockets, a nice clean cut and one of those technically designed hoods that doubles up as protection from the elements and prying eyes on that horrible train journey home.
Fjallraven - Räven (£195)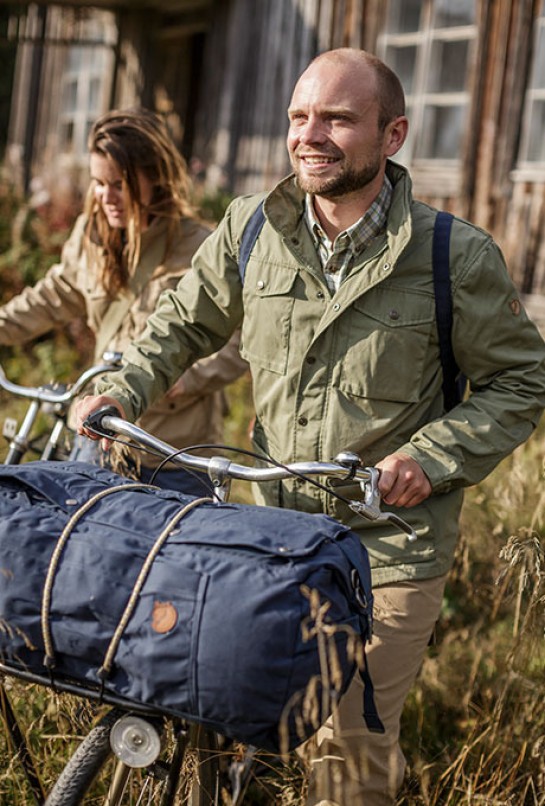 If looking like a modern hillwalker isn't your thing get yourself acquainted with these Swedish manufacturers, who make arguably some of the most beautiful coats around which have been favourites with festival goers and terrace heads for decades.
There simply doesn't exist a bad Fjallraven jacket, but the Räven has been a staple since the seventies. It's like a very plush M16 jacket, it's stashable hood giving it a military feel and brilliantly stylish look. And it's made with their G-1000 fabric which is a kind of washable wax that means you can choose between complete water protection and breathability - or somewhere in between.
Barbour - Beaufort Jacket (starts at £189)
Last but not least comes the ultimate fashion choice for a festival, the Barbour. The legendary Northumberland manufacturer of country wear do a number of jackets which make the cut in the great outdoors, most other notably the higher cut Bedale (Mancunian top dogs Oi Polloi have some pearlers), but it's the roomier Beaufort that stands out for us.
These don't come with a hood, although you can buy one, but that rain is never getting anywhere near you with the impenetrable thornproof oil cloth on it. It's also very warm and comfortable, making it perfect for when the weather is shitting it down, plus you look unreal. Festival chic has been this teamed with a pair of hunters for over a decade - you cannot look bad in one that fits. And if you look after it, it will last you years and years.
Like this? Try Skiddle's festival survival tips.