Like just about everyone else, performers and promoters have had to adapt and think on their feet during the COVID-19 pandemic.
Lockdown has heralded the rise of the livestream, with artists from Lady Gaga and Calvin Harris to the bloke next door who hasn't dusted off his decks since the halcyon days of acid house all having a go online (let's be honest, with varying success).
Now, with lockdown restrictions slowly lifting across the world, musicians and promoters from Sweden to the USA are beginning to experiment with 'socially-distanced' shows. Most notably, country music star Travis McCready, who performed America's first socially-distanced show in Arkansas on May 18th, despite threats of a cease-and-desist notice from the state's governor.
A couple of weeks before that, photos and videos of a drive-in rave (or 'AutoDisco') in Germany began doing the rounds. Held in the car park of Club Index in the town of Schüttorf, 250 cars (with a max of two people per car) rocked and honked their way through a set by Dutch DJ Devin Wild.
(This embedded post has since been removed)
But now an eco-conscious collective of companies from Italy (Fresh Agency, Live Club and Shining Production) has come up with a greener alternative to the drive-in show... the Bike-In show.
According to an article in IQ Magazine, the concept has been created by Fulvio De Rosa, manager of Milan-based promoter Shining Production, who is aiming to raise funds for the project.
'There's been a lot of talks in these last days about the return of "Drive-In" movies, but we prefer thinking of something that above all should be eco-friendly and sharable.' reads the project PDF.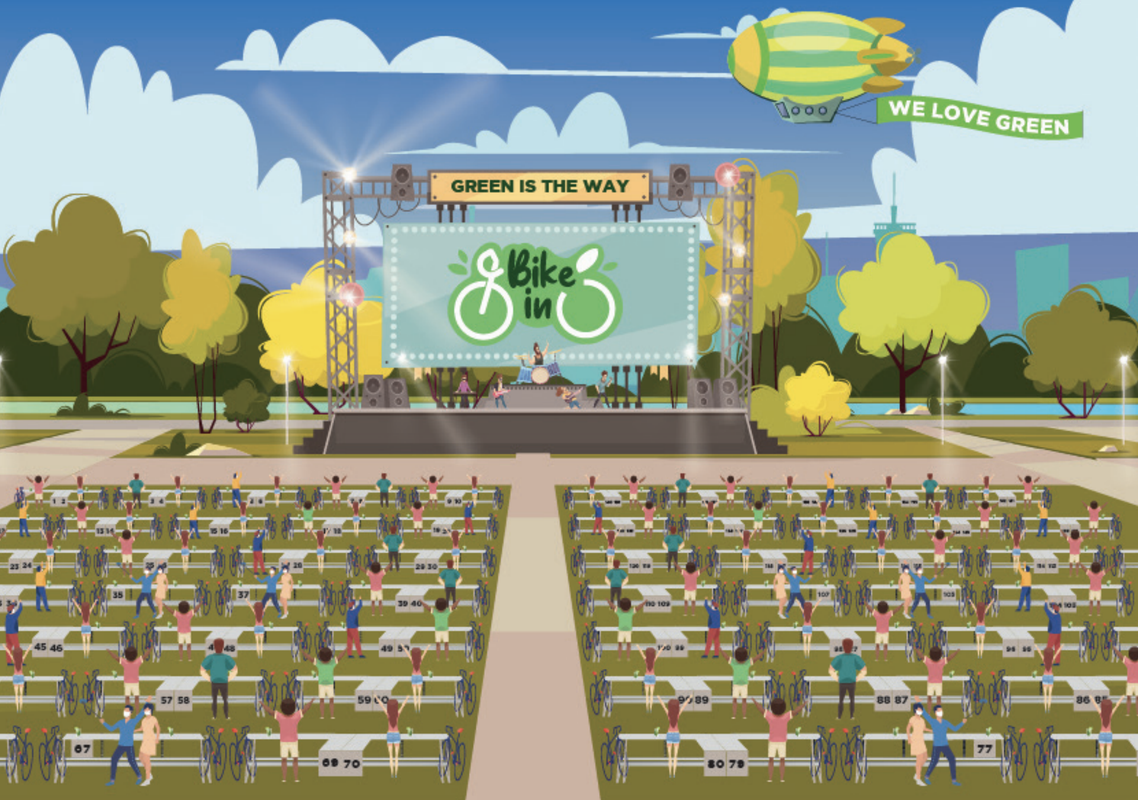 Check-in points would be placed at the entrance and exit, with all attendees assigned a 'spot' - from single spots to pitches for whole families. Corridors between spots would allow for safe social-distanced passage, while food, drink and merchandise will be ordered via an app and delivered to each spot with contactless payments.
The team say the aim is to 'keep the entertainment industry and human connection alive' while creating jobs and 'cheering people up' with exercise and green space. Now they're looking for artists, agencies, promoters, cultural institutions, media and production companies to make it happen.
Italy, one of the nations hardest hit by the pandemic, announced this week that live music events of up to 200 people indoors and 1000 people outdoors can begin from June 15th. Elsewhere in Europe, some clubs in Berlin have reopened (although only as food and drink gardens), Spanish authorities have said indoor events of up to 80 people and outdoor events of up to 800 people may continue from June, while the UK government has also said that some live 'cultural and sporting' events may take place from June (however, these events would be required to take place 'behind closed-doors for broadcast, while avoiding the risk of large-scale social contact').