Last updated: 16th Jul 2018.
Originally published: 26th Jun 2018
Love is a wonderful thing, there's no denying it. When you embark upon that romantic journey of discovery together, alongside the Bonnie-and-Clyde feelings of You vs the World, there's an opportunity to really grow as a person with your soon to be best friend forever right there with you.
Nightclubs have long been a pick-up spot of the young and reckless, but seldom has anyone really considered the dancefloor as a place where you'll find your soulmate; more a case of Mr or Mrs Right Now. So we set a challenge for music writer and hopeless romantic, Simon Huxtable to find couples who have lasted beyond that first chance meeting and whose love is tempered by a shared appreciation for the music that first brought them together.
Instant Attraction - Sunita and Matt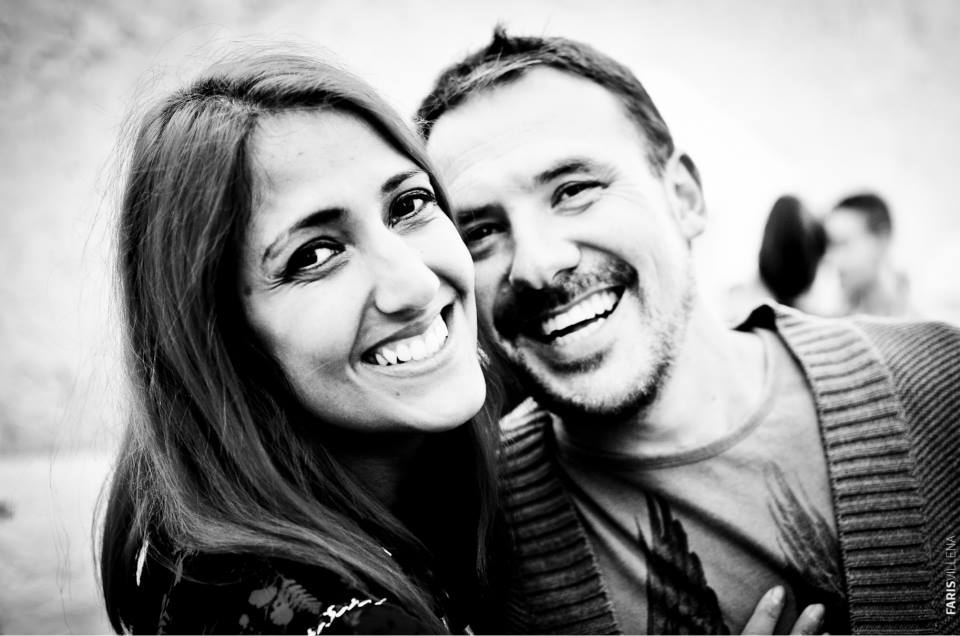 Sunita and Matt run a dance music marketing business - The Everyday Agency. They've been in business together for 4 years now, "But I'm the boss, obviously!" Sunita mischievously interjects. Working between Ibiza and the UK, where most of their clients are based, Matt's focus is on running events, clubs and even record labels. He comes into the business with a very musical background and still DJs on occasion.
Given their shared love of the dance scene, they chose Ibiza as a natural place to set down roots. "We met on the dance floor. …or DJ booth to be more accurate." Sunita begins, "It was my birthday weekend and Matt was DJing in an after-hours place called Bushwackas. I was really 'on one' back then, so was out a lot and took it on myself to annoyingly make song requests to a house DJ. We hit it off, but didn't actually speak properly till the week after where we ended up in a bar lock in!" Matt chips in with his version…
"I remember I was a little taken aback by a stunning girl approaching the booth and requesting songs. As the night progressed, I was intrigued and when I saw her leaving the floor it ignited a spark: for the first time ever was hooked. When I ran into her the following week, I wasn't going to let the opportunity slip away."
They started to date the very next day sitting and talking the night away in downtown Birmingham where they both lived at the time. Neither remember the song playing to their first kiss but agree it was likely to have been something dance-y. "Matt was heavily into playing house back then," Sunita says, "Although we do both have a love for disco."
Shared passions are one of the many precursors to a happy and long relationship and Sunita, a strong believer in kismet regards their meeting and love connection was 'written in the stars'. "We always naturally end up at DC10 after work to have a little dance and socialise with our friends. We've often joked we are so similar we would've definitely met and instantly clicked regardless." Sunita says.
"We have been through so many ups and downs, like most couples. What makes us strong is our collective ethics and values as people. I think we are both continually evolving and trying to work on how we can be better as a team, which translates into work and personal life. Most importantly, we remember to laugh and enjoy what we do. Our bond is so strong because we both wear our hearts on our sleeves and will always do anything for others. It takes a lot to be able to work and live together but thankfully, it works for us."
The Reluctant Suitor - Neil and Joanna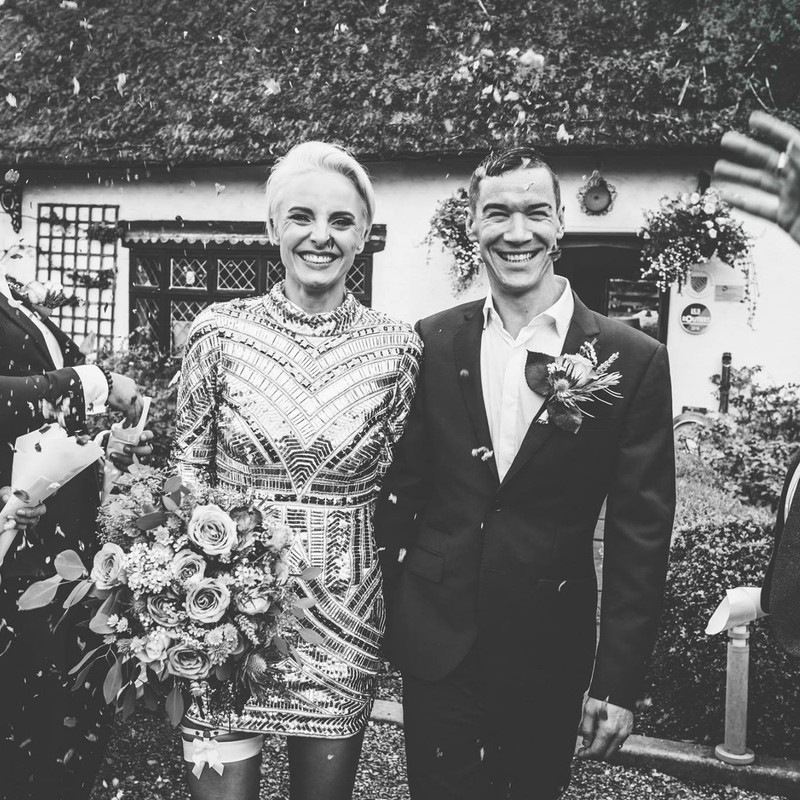 Neil Barber and Joanna Miles are a couple that have really taken their relationships, of music, and of each other, to the next level. Neil, a successful touring DJ spends much of his weekend entertaining crowds in dark sweaty clubs around the world, with Joanna providing his much needed backroom support and management as his agent. Based in Berlin, this is one couple with more on their minds than a causal trip to Ikea on a wet bank holiday Monday.
"We first met in Hearn Street Car Park in London." Joanna starts matter-of-factly, "It was Rhymatic with Mathias Tanzmann I think. We had mutual friends and were sitting on the floor in the smoking area. I'd heard people talk about Neil before but this was the first time I'd actually seen him: I thought he was very cute, but I was there because I fancied his friend! I was definitely instantly drawn to him, but it wasn't like we got chatting and never stopped - that happened a few months later."
"In fact, on the way home, my friend was trying to get him and his best mate over for a jacuzzi at hers because she fancied Neil. Life could have been very different if that had happened!" After their first meeting, the couple didn't see each other for a few months. But a chance meeting at an afterparty was the catalyst they needed and after chatting all night, decided to kick on to another club in the small hours and danced the morning away.
Their first kiss (of many that day) was at Beach Blanket Babylon where Joanna had sprung for dinner, but Cupid's arrow took a while to really impact the lovebirds:
"I chased Neil for 6 months. We went to concerts, dinners and I went to his gigs. I was actually falling for him so hard I told him I really liked him, and he knocked me back saying he wasn't looking for a girlfriend, so I said I can't see him for a few weeks."
Eventually they did reconnect and on Joanne's birthday, Neil told her he was keen to pursue a relationship "He still didn't call me his girlfriend for another 6 months!" Joanne quips. But having worked in the Music Business for 15 years, Joanna has developed a pragmatic outlook on life and believes that fate intervened when she met Neil: "We definitely would have met." She says confidently, "We had lots of mutual friends and I had been hearing his name for a while. Our paths would have crossed for sure, because with Neil being a DJ and me an agent, where better to meet your boyfriend than at work!"
"He's my best friend." Joanna asserts, "I love him fiercely and completely; he's so chilled out it drives me mad, but also keeps me calm. We both work in the same industry which helps for sure, as the hours are antisocial and long. We both love a good party and can head out to the same event, not see each other all night but both know we'll find each other eventually. As I said to my friend when I first started going out with him, he doesn't tick all the traditional boxes I thought I wanted, but he ticks so many others I didn't even know were important. I feel very lucky to call him my husband."
The Hollywood Romance - Just Her and Aimie
Remember the old cliche 'The heart wants what the heart wants'? Well, for DJ, producer and Constant Circles label owner Just Her, that couldn't be more true. She thought she'd found a new friend, but meeting her fiancé, Aimie, has turned out to be a like the plot of a Hollywood movie. Both reeling from past relationship disasters, the girls bonded instantly during a night out.
Meeting by chance via a mutual friend, they spent the whole evening talking and laughing together. "I wasn't really looking for love at the time." Just Her says, "It's funny actually… We were just hanging out as friends to begin with and it just developed naturally into something more. Our first proper date was so special, Aimie arranged everything and picked me up, gave me flowers; the whole works."
"It was a total surprise where we were going and she'd told me to wear casual, so there I was in jeans and a t shirt and she takes me Adrenaline Tubing in a snow dome! I was so cold, everyone was wearing ski gear and I was like "you told me to wear normal clothes!" We had to put on these helmets and slid down the ice on these massive tires. It was the best fun ever, we laughed, laughed laughed all night, and we haven't stopped laughing for three years."
There are certain times in our life when we just know this is the real thing; we've met the love of our lives. For Just Her, that moment was quite early on in the relationship: "I was fighting it because I didn't want to get hurt again." She comfirms, but following her heart has proven to be the best decision she could have made and now she can't imagine her life without Aimie.
Another firm believer in Kismet, Just Her is forthright: "I am kind of gutted that we didn't meet earlier, but at the point in our lives now everything has kind of aligned for us to be really happy. And if we had met before we wouldn't have been the people we are now and we might not have had the relationship we have."
Like any good Hollywood movie, the climax was unforgettable… "Aimie took me to New York for my birthday and we had this amazing meal in Brooklyn," Just Her begins, "On the way back, walking over the Brooklyn Bridge, she stopped in the middle of the bridge, with the New York skyline behind us, and proposed to me. It was the most romantic thing that's ever happened to me and we both burst into tears! She properly nailed it."
Preparing for the 'Wedding of the Year' hasn't been without its hiccups "There's still so much to do," Just Her says, "Originally, we weren't having a big party, we were just going to a registry office with some witnesses, but when we told family and friends they were so upset that they weren't involved we had to do something. So we're getting married on the Bandstand on Brighton seafront and then a reception in one of the seafront bars."
Both believe the secret of their success is their shared attitude to life "We just have fun all the time and we laugh constantly." Just Her says, "We do loads together: Aimie's really into travelling and exploring which is great because I have a total wanderlust. And she's super supportive of my DJ career and comes to every gig she can."
Giggling to themselves, Just Her continues, "There was this one time I played in London, and Aimie was on the stage with me dancing about and going to the bar for drinks. After the gig, we went into the crowd and mingled and loads of people came up to Aimie congratulating her on her set and us being an amazing duo thinking she was part of the act!"
It's not unfair to say the dating is tough these days. Finding 'the one' feels impossible when the highlight of your Friday night is soggy Fish and Chips anda luke-warm bottle of wine to yourself in front of the telly, but for as long as the thought of living out your days alone is abhorrent, there remains a glimmer of hope. A chance of happiness. And if these accounts are anything to go by, love has a mind of its own and finds you when you least expect.
Happy hunting!