At long last! Peace and tranquility has fallen over households across the UK, as our adorable tiny terrors and troublesome teens return to the classroom once more.
It's time to put down the chemistry books and step away from the calculators, the days of homeschooling are finally over (fingers crossed). No more juggling parental responsibilities and substitute teaching duties, with a hectic workload and those essential house chores - your much deserved respite has arrived.
With the kids now out of your hair, and as your higher-than-normal anxiety levels begin to gradually settle, now is most definitely the right time to begin preparing a plan of action, to make sure you've got the summer locked off. Save yourself the stress and hassle of arranging last minute adventures with your hyperactive little ones. Get organised and beat the on-set of boredom as normality begins to return.
Open up your calendar, browse through some of the many fantastic upcoming events and reopening attractions, - which we've gone to the trouble of listing for you below (you're welcome) - book some amazing days out and weekends away, and keep both the kids and yourselves occupied throughout the summer this year.
Click on the event titles for tickets and more...
Theatre shows and Musicals
---
Horrible Histories: Barmy Britain Part 5
When: Thursday 29th July - Saturday 28th August 2021
Where: Apollo Shaftesbury Avenue in London
Britain's favourite history show, Horrible Histories is back with a brand-new stage spectacle full of crazy new characters sharing stories of Britain's barmy past.
Returning to the Apollo Theatre on London's West End this summer, join the celebrated cast as they bring the likes of William the Conquerer, King Henry III, Thomas Beckett and more back to life. Discover the gruesome and nasty tales behind each of the legends that appear and be blown away be the special effects and visuals used throughout the show.
Find tickets for Horrible Histories: Barmy Britain Part 5 here
-
When: Friday 23rd July - Saturday 23rd September 2021
Where: Gillian Lynne Theatre in London
A complete overhaul of a classic story, Cinderella The Musical is a modern rework from renowned impresario of musical theatre - Andrew Lloyd Webber.
This highly anticipated new musical comedy, starring English actress, author, singer-songwriter and internet personality - Carrie Hope Fletcher, is set to have audiences roaring with laughter, as they witness Cinderella as they've never seen or heard her before.
The exciting production features a brand new score created by Andrew Lloyd Webber himself, with lyrics by Oscar-nominated David Zippel and a script from Killing Eve's Emerald Fennell.
This musical is recommended for ages 6+.
Find tickets for Cinderella The Musical here
-
When: Monday 12th July - Sunday 5th September 2021
Where: Theatre Royal Haymarket in London
The Olivier Award nominated show, The Tiger Who Came to Tea makes it's long-awaited return to the West End this Summer for a prolonged run of shows.
Based on Judith Kerr's iconic, multi award-winning children's Book, this popular musical play has been adapted for the stage by director David Wood.
Foretelling the story of a hungry and tea-guzzling Tiger, who happens upon the house where the stories main characters live - little girl Sophie and her mummy - this classic and chaotic teatime tale is packed full of magic, stunning visuals and amazing sing-a-long songs!
Find tickets for The Tiger Who Came To Tea here
-
When: Friday 23rd July - Wednesday 15th September 2021
Where: Cambridge Theatre in London
Matilda The Musical is yet another spellbinding reimagining of a classic tale, celebrating the anarchy of childhood, the power of imagination, and the inspiring story of a girl who dared to change her destiny.
Based on a universally loved children's story, written by one of the worlds most outstanding literary artists - the late great Roald Dahl, this truly magical show is pure escapism for all ages, mesmerising young and old audiences alike.
Directed by Matthew Warchus, rewritten for the stage by acclaimed writer Dennis Kelly, and with stadium-filling musician and comedian Tim Minchin providing original songs - this stunning new musical features a wealth of both production and acting talent, all of whom assist in bringing Roald Dahl's mischievous and fantastic masterpiece to life.
Find tickets for Matilda The Musical here
-
Attractions and Theme Parks
---
When: Monday 12th April - Tuesday 20th July 2021
Where: Alton Towers Resort Hotel in Alton
The UK's largest theme park, consisting of over 10 themed areas of other-worldly adventure and thrilling rollercoaster rides - Alton Towers is the number one destination for those looking for an adrenaline rush this summer.
Celebrating over 40 years since its grand opening back in 1980, the popular resort is home to over 40 rides and attractions, providing something for guests of all ages.
Welcoming over 2 million people each year, guests can experience some of the parks many record-breaking rides - the likes of Nemesis, The Smiler (the world's first 14 loop rollercoaster), Rita Queen of Speed, Oblivion and Air. For those who aren't can't quite old enough or tall enough to ride the nerve shredding coasters, there's up to 20 other attractions aimed at young children and families. Meet some of CBeebies best loved characters, experience Octonauts Rollercoaster Adventure and sail through the forest on In the Night Garden's Magical Boat Ride.
Find tickets for Alton Towers Theme Park here
-
When: Monday 12th April - Sunday 25th July 2021
Where: Legoland Windsor Resort Hotel in Windsor
Visit the world's largest Legoland theme park this year, at the Legoland Windsor Resort hotel, and experience an unforgettable and magical day out fit for the whole family.
Built up of over 55 amazing LEGO attractions and rides, with something to suit all ages, guests of this famous building block resort are actively encouraged to let their imaginations run wild.
Become a valiant knight and ride on the back of a green dragon as it soars across the tree tops of the theme park. Escape from the clutches of the fearsome red dragon which resides within the castle. Master your Spinjitzu skills, become a ninja and defeat the Great Devourer or join the Viking fleet and traverse the thrilling rapids which run through the enormous park.
Make your children's dreams come true this summer, at this extraordinary world of adventure.
Find tickets for Legoland Windsor Resort here
-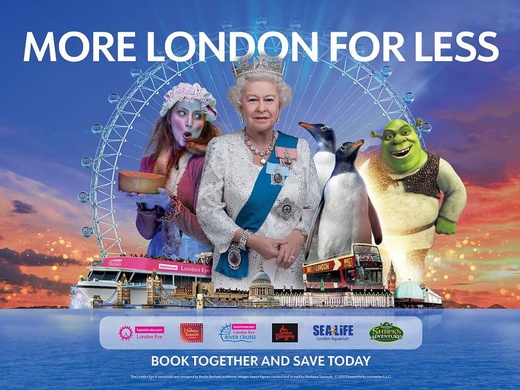 When: Monday 31st May - Saturday 5th June 2021
Where: Various venues in London
Take your family on fun filled day of adventure in the capital and experience three of London's best attractions.
Come face-to-face with some of London's most notorious historic characters and hear gruesome fear inducing stories at one of the capital's most famed landmarks - The London Dungeon. Embark on a journey back in time and meet the likes of gunpowder plotter Guy Fawkes and serial murder Jack The Ripper. Hear nineteen grizzly tales of execution and murder, and ride two thrilling roller coasters before moving onto to your next destination - the London SEA LIFE Aquarium.
Explore an underwater world of shimmering scales and razor-sharp teeth. Dive in and discover over 7,000 marine creatures at the UK's flagship SEA LIFE attraction.
Finally, make your way to London's legendary house of wax - the one and only Madame Tussauds. Get up close and personal with more than 150 lifelike figures resembling today's biggest stars and celebrities. Journey through 11 different zones, meet the royals and her majesty the Queen, encounter your favourite Star Wars heroes, including R2D2 and C3PO on Luke Skywalker's home planet of Tattooine, and come face-to-face with the heavy weight champion of the boxing world - Anthony Joshua.
Find tickets for Merlins Magical London here
-
Music events and Festivals
---
Cloudspotting Music and Arts Festival
When: Friday 18th - Sunday 20th June 2021
Where: Gisburn Forest Hub in Clitheroe
An award-winning micro festival hidden away in one of East Lancashire's most enchanting forests, the annual Cloudspotting Music and Arts Festival has become renowned amongst festival revellers in the North of England and beyond, for its warm and welcoming, family-friendly spirit and unique atmosphere.
A back to nature experience for many seasoned festival attendees, looking for a more authentic experience, the festival is also a perfect first-time event for young families.
Boasting a range of activities for both kids and adults - from walking trails to yoga sessions, music workshops and more - in addition to a varied selection of food and drink choices, and not forgetting a huge bill of musical performers - this all encompassing, weekend event has something to suit all requirements.
Catch the likes of Bill Ryder-Jones (The Coral), Jeffrey Lewis and international acts Los Bolts (US), ICHI (Japan), The Burning Hell (Canada) and more performing live at this years event
Find tickets for Cloudspotting Music and Arts Festival here
-
Belladrum Tartan Heart Festival
When: Thursday 29th July - Sunday 1st August 2021
Where: Belladrum Estate in Inverness
A mammoth event taking place in the Scottish Highlands each year - the Belladrum Tartan Heart Festival is a firm favourite amongst not only the Scots, but music lovers from across the whole of the UK.
Welcoming a loyal following of fans back to the stunning festival site year on year - surrounded by ancient woodland and rolling hills - the team behind the extended weekend event are well known for their capacity to create amazing lineups, stocked full of both world renowned acts and local heroes.
This years headliners include the likes of Grammy award winner Nile Rodgers & Chic, Van Morrison, Scottish singer-songwriter Emeli Sande and many more.
In addition to offering a brilliant selection of globally respected bands and artists, attendees can also take advantage of the festivals many other facilities and attractions - including the children's entertainment area, the street theatre, cabaret and cinema, alternative therapy stalls and the numerous food and drink options available.
Get a short UK staycation and a music festival in one this summer!
Find tickets for Belladrum Tartan Heart Festival here
-
When: Sunday 1st August 2021
Where: CLUB LOGIC in Swansea
Glow sticks, whistles and hi-visibility jackets at the ready... RAVE-KIDZ lands in South Wales this August for a wild afternoon of family raving fun to the bounciest rave music on the planet. A PG rave event suitable for the whole family.
Join acclaimed hardcore DJ Andy Whitby and MC Storm, performing alongside some of the newest resident names - including Little Miss Bliss, playing only the finest in family friendly dance music across one 3 hour event. Get on the dance floor with your little ones and throw some serious shapes to together.
Join in with games during the DJs warm up sets, get yours and the kids face painted, and reach for the lasers through the confetti cannons as the music blasts through the speakers.
Parents, despair not - a fully licensed bar will be on hand to help get you through with a quiet area also available if you need to escape the madness.
---
In need of more inspiration? Looking to plan some more exciting and fun days out in 2021?
Head to our Things to Do page here, and search to your hearts content
Header image: Belladrum Festival / Facebook