UK based theatre company and renowned creators of immersive entertainment experiences, Beyond Theatre will bring the London preview of their new rock musical - Fallen Angel, to the worlds first Covid compliant drive-in theatre in Manchester this spring.
The pioneering 'DriveINSIDE' venue, which is housed inside a 68,000 square foot marquee (Europes largest), will allow approximately 800 audience members and their cars to park up and watch the show. Each designated parking space will come with its own 'isolated' area, where passengers can disembark from their vehicles on the drivers side and take advantage of the chairs provided by the venue, whilst still maintaining a safe social distance from others.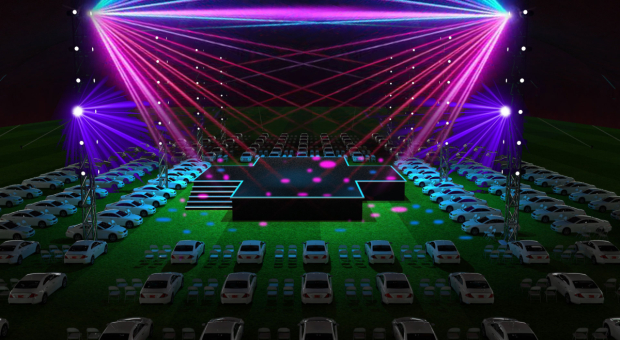 Taking place on Friday 9th April 2021, the show, created by multi-platinum singer-songwriter Sara Eker (Atomic Kitten, The Honeyz, The Faders, Dannii Minogue) and renowned playwright Giles Fernando (King's Head Theatre, Edinburgh Festival, The Oxford Playhouse), tells of a divine love story between an angel and a failing musician, following an encounter in a departure lounge.
"How Far Would You Go For Love?"
Angel Keeley, played by actress Naomi Stirrat, seeks freedom from her boss - the big man upstairs - whilst musician Zach, played by Callum Hughes, just wants to write a hit song. But Keeley knows something Zach doesn't - he's going to die. Both stuck in the somewhat symbolic departure lounge, chatting and singing songs together, Keeley slowly begins to fall for Zach. After reasoning and failing to convince her boss to let Zach live, she's left with a difficult choice: her immortality or Zach's life.
This a musical that is guaranteed to stay with you long after the curtain falls.
The sixth production from this creative production and writing team, following previously successful and highly rated shows such as Country Dream, Barcelona!, How to be a Cougar, Score and The Gods, Fallen Angel is set to be one of the most unique and fantastic theatre experiences found anywhere across the globe in 2021.
Find tickets for Beyond Theatre's production of Fallen Angel below...
This event has been cancelled
Covid-19
Tickets are no longer available for this event