Tapas and a glass of wine, gin and tonic in the sun, or a slice of pizza and a pint? Which would you choose? The good news is, you don't have to! You can have it all and more at the best rooftop bars in Manchester.
Each with its own unique vibe, cuisine, drinks, and atmosphere, Manchester's rooftop bars are incredibly diverse and perfect for just about any occasion. Ready to check some out? Of course you are, the sun's out, and you're only human. Check out the best Manchester rooftop bars below.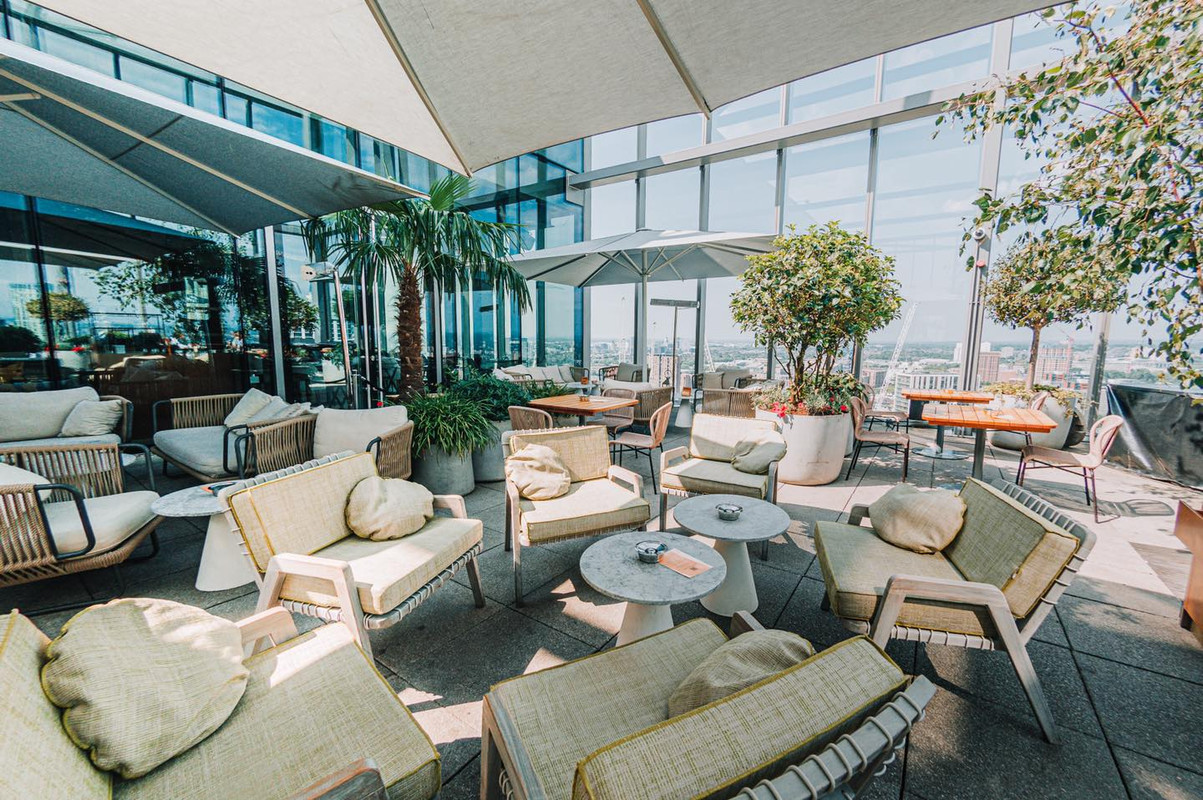 Photo: 20 Stories MCR on Facebook
Where: 1 Hardman Square, M3 3EB, Manchester
If we're going to do this, we're going to do it properly. So to kick things off, we've got 20 Stories. If you're from Manchester and haven't heard of 20 Stories… you might have been living under a rock. 20 Stories is Manchester's highest bar sitting 19 stories above ground. Yeah, don't let the name fool you. Known for their killer cocktails, Instagrammable look, and being one of the best rooftop bars in Manchester, 20 Stories can be pretty addictive. Be warned.
---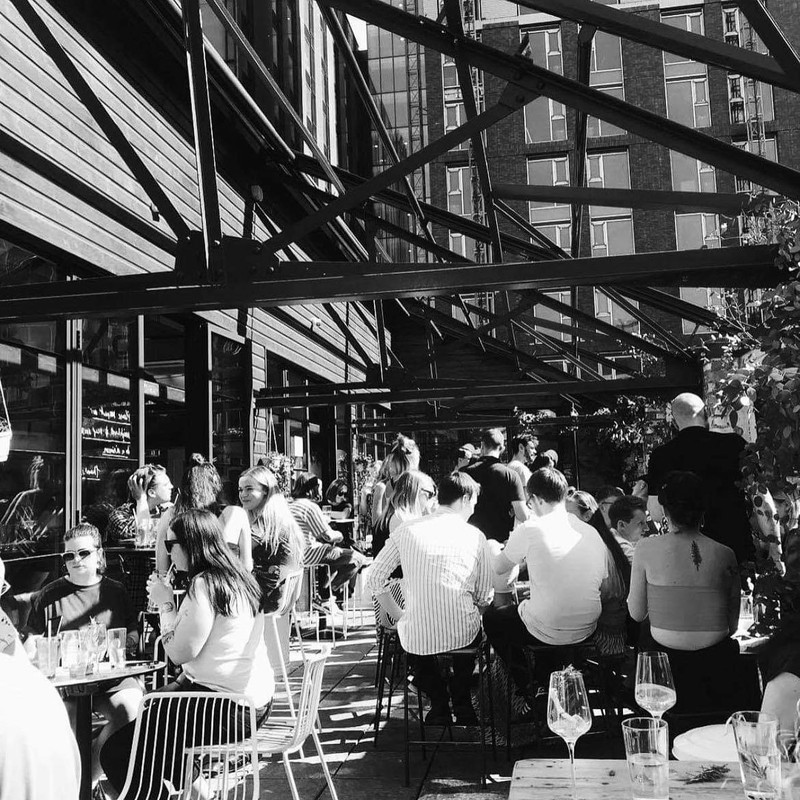 Photo: YES on Facebook
Where: 38 Charles St, M1 7DB, Manchester
But super flashy bars aren't for everyone. If you're after one of the more low-key Manchester rooftop bars, you might fancy YES. Popular with students and other young crowds, YES has multiple floors, including the Pink Room and, of course, one of the best rooftop bars in Manchester. YES doesn't have to best views, but the atmosphere is cracking, and they also sell drop-dead gorgeous pizza by the slice.
Find tickets for events at YES - here
---
Brewdog DogHouse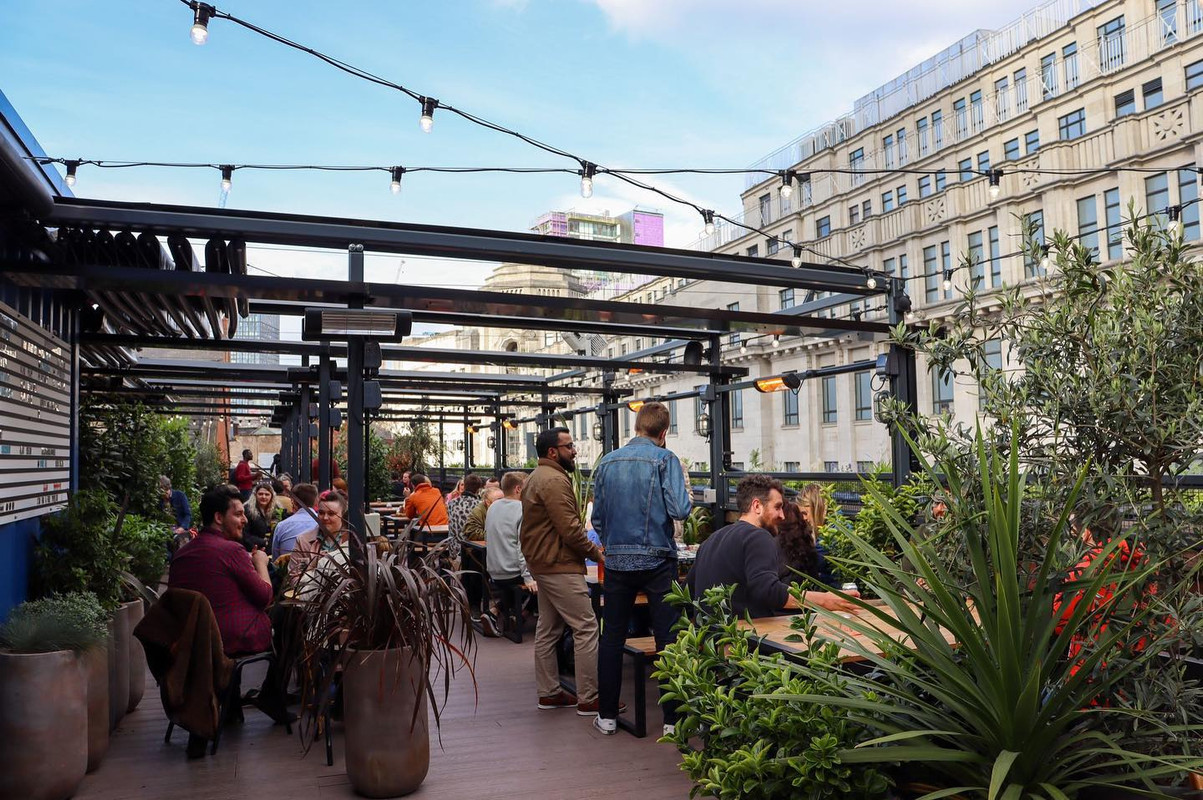 Photo: Doghouse Manchester on Facebook
Where: 18-20 Fountain St, M2 2AR, Manchester
Dog-friendly bar and hotel DogHouse has a proper mint rooftop bar in central Manchester. It's sheltered and has heaters in case the weather's playing up, and, as BrewDog owns it, you can rest easy knowing there'll be great beer, tacos, and chicken wings to keep you and your taste buds happy.
---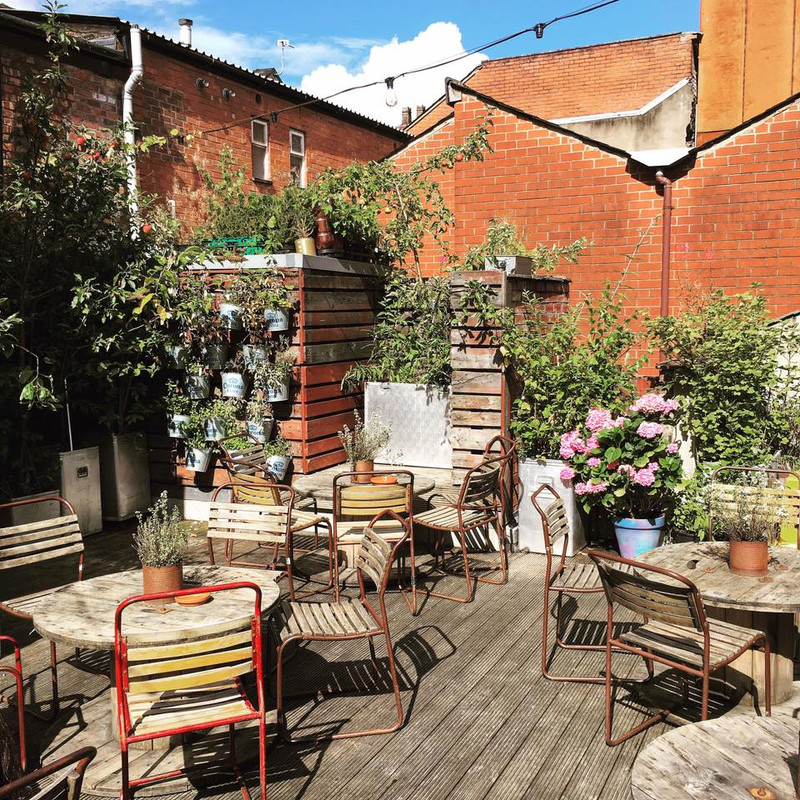 Photo: Terrace NQ on Facebook
Where: 43 Thomas St, M4 1NA, Manchester
Long-time favourite Terrace NQ is home to one of the best, cosiest Manchester rooftop bars. With trees, flowers, kegs, and little plants on each table, Terrace naturally has a super homey feel, looking more like a back garden with lots of character. Super relaxed and located in the Northern Quarter (an area popular with younger crowds), any day or night spent at Terrace is chilled and fun by design.
---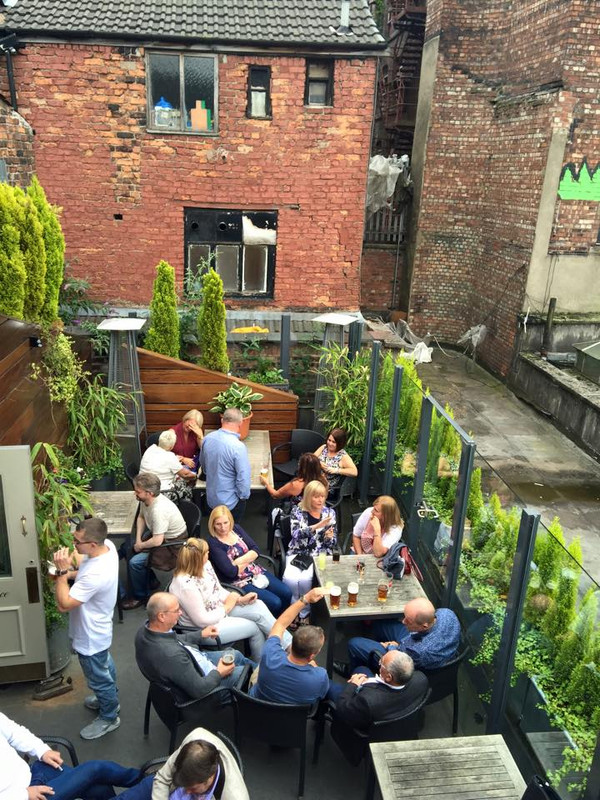 Photo: The Lower Turks Headon Facebook
Where: 36 Shudehill, M4 1EZ, Manchester
Another Northern Quarter delight, the Lower Turks Head doesn't seem like a venue that would come with a rooftop area, but it does! Admittedly, it is on the smaller side, but it's cosy and great for a catch-up; there are a few plants surrounding it, and there's a heater in case it gets a bit chilly. Set in a traditional pub, it's perfect for a beer-loving "no frills" type.
---
Club Brass
Photo: Club Brass on Facebook
Where: 100 King Street, M2 4WU, Manchester
If you're after something super fancy, Club Brass is the one… if you can get in. Club Brass is located on the 7th floor of Gotham Hotel and is strictly member and hotel guest only. Adding a splash of colour to the suave black furniture, Club Brass has splashes of pink floral patterns, offering a heavenly escape from the hectic city centre as you look out across it.
---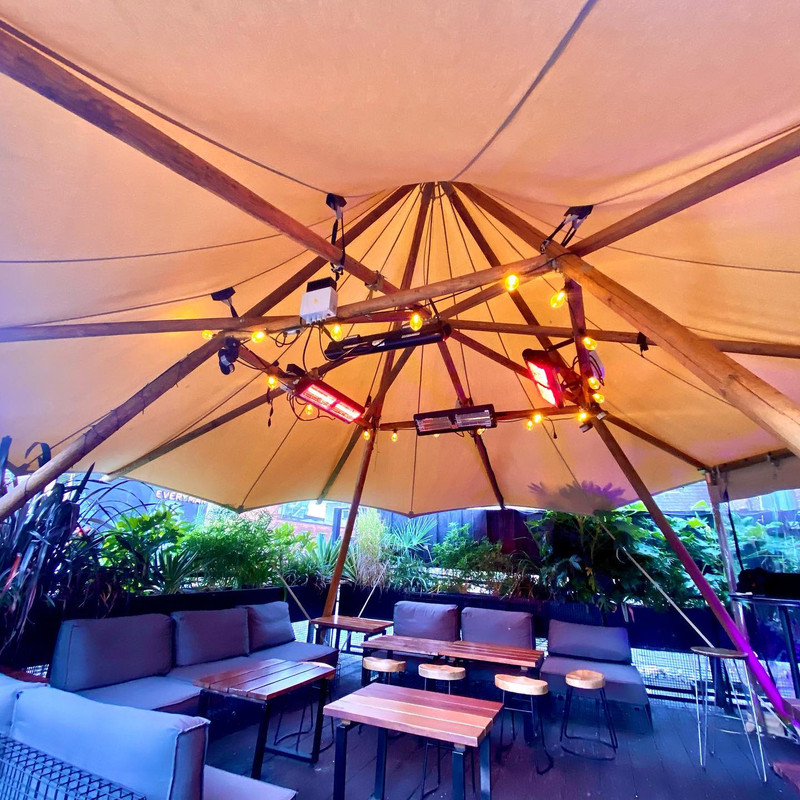 Photo: The Con Club on Facebook
Where: 48 Greenwood St, WA14 1RZ, Altrincham
Whether you're looking to splash a little cash and celebrate an evening with a fancy bottle of bubbles or relax on a quiet morning with a smoothie, The Con Club can help you out. The bar is lovely and has a stellar reputation, known for having one of the best rooftop bars in Manchester. And when you climb up to the rooftop, you'll see a tipi, a comfy seating area, some small plants, and heaters because our weather's about as reliable as a chocolate firefighter.
---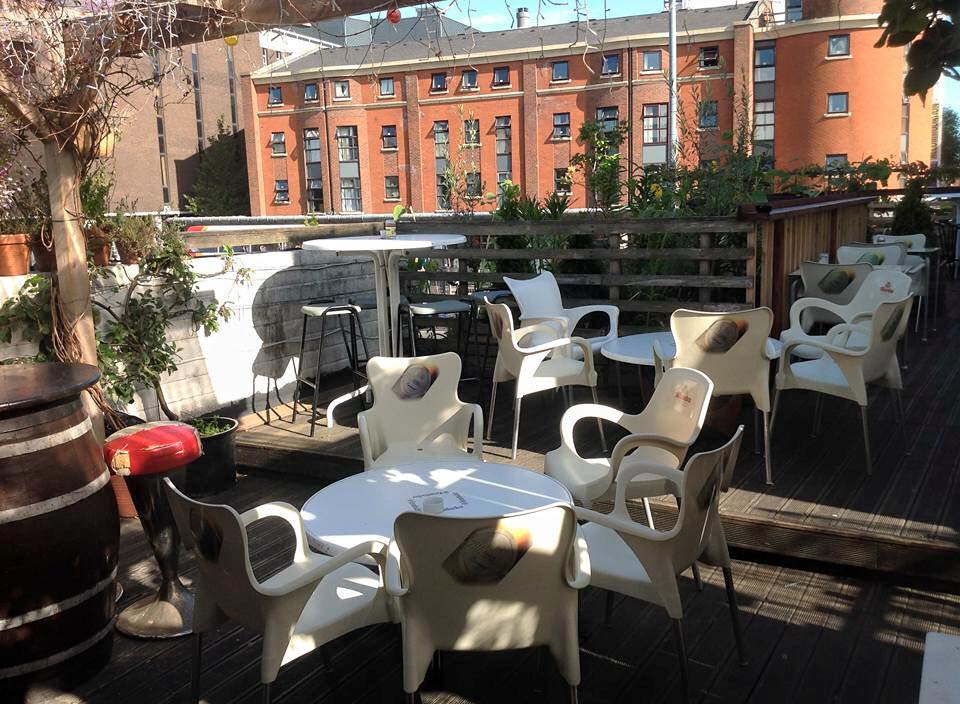 Photo: Big Hands Bar on Facebook
Where: 296 Oxford Road, M13 9NS, Manchester
Right in student territory amongst music venues and the theatre, Big Hands has a unique, creative atmosphere and typically attracts a younger crowd. The vibe is super casual, but many of the songs are the kind to get you up and singing after a few too many sangrias. When downstairs gets a bit rowdy, head upstairs to the stripped-down and simple rooftop bar for sun and more good times.
Find tickets for events at Big Hands - here
---
South Terrace and Lounge at King Street Townhouse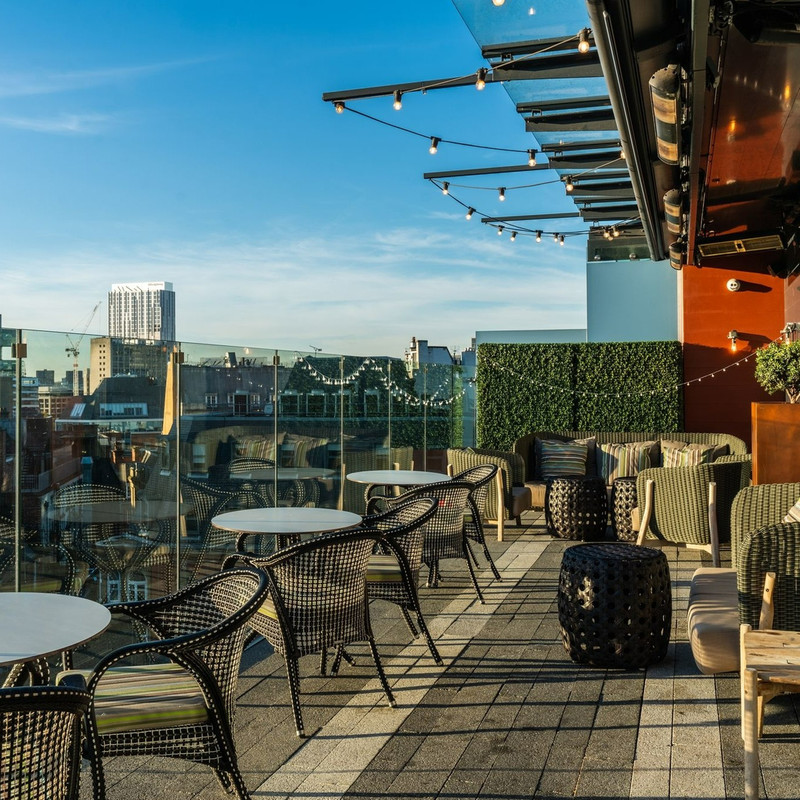 Photo: King Street Townhouse on Facebook
Where: 10 Booth St, M2 4AW, Manchester
Up on the sixth floor of the luxurious King Street Townhouse, you'll find the South Terrace and Lounge, one of the best rooftop bars in Manchester. Slick, comfortable, heated, and with a canopy, this Manchester rooftop bar creates the perfect backdrop for a catch-up, late night out, or midday cocktail. The bad news? It's only available for hire and sometimes available to hotel guests. But the good news is if you're planning a party you know exactly where to book it!
---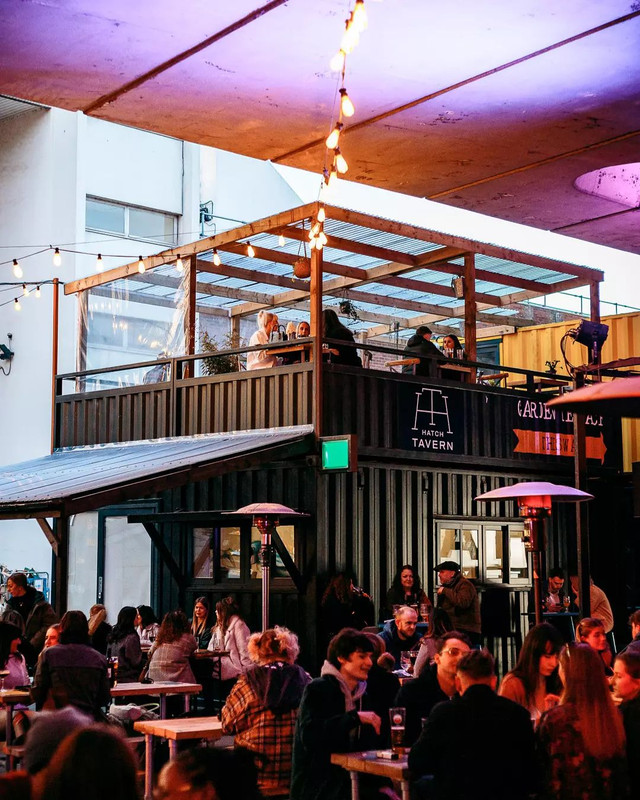 Photo: Hatch on Facebook
Where: 103 Oxford Road, M1 7ED, Manchester
If you're familiar with Hatch, you might be wondering how it made this best Manchester rooftop bars list as it's right beneath Mancunian way. But despite this, Hatch has rooftop areas that peek out from beneath, positioned directly in the sunlight. And Hatch is brilliant no matter what kind of outing you're planning. There are many eateries, bars, and even clothing shops to explore, so it's a shout any day of the week.
Find tickets for events at Hatch - here
---
Atlas Bar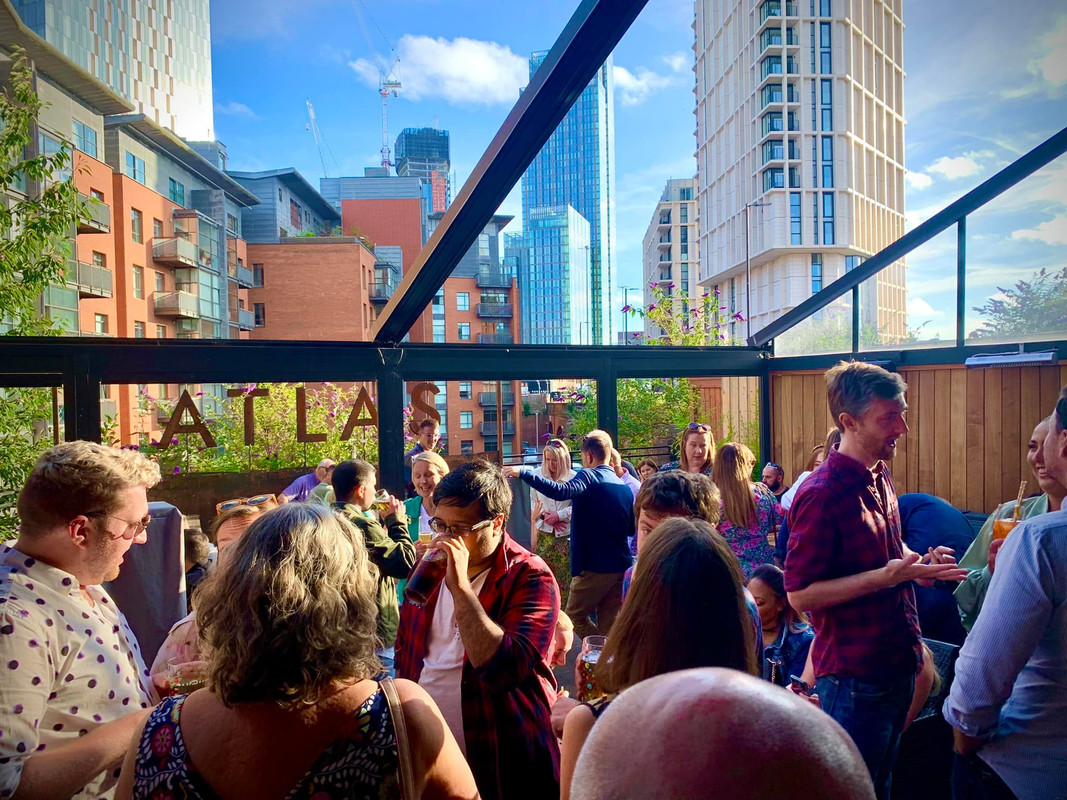 Photo: Atlas Bar on Facebook
Where: 376 Deansgate, M3 4LY, Manchester
Twist of lime, pink grapefruit and pink peppercorn, strawberry and kiwi, damson and raspberry - these are just some of the many moreish gins available at Atlas. We might be being a bit cheeky by adding Atlas as its terrace isn't your typical "rooftop" terrace. But it is perched on top of something (we think that counts), it's gorgeous, and we wish we were there right now!
---
SkyLounge At Doubletree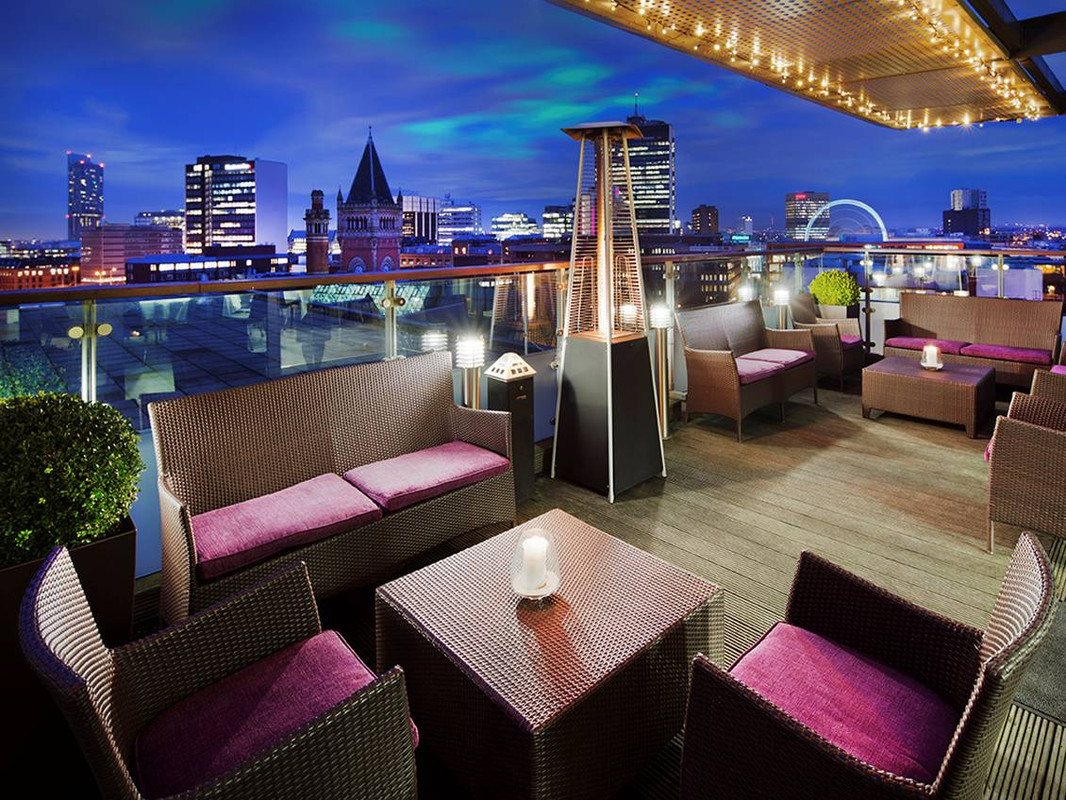 Photo: DoubleTree by Hilton Manchester Piccadilly on Facebook
Where: 1, Piccadilly, Auburn Street, M1 3DJ, Manchester
You've got an event coming up, it's a big deal, and you're keen to impress. You're after a gorgeous rooftop location that's private, stylish, and offers fantastic views. The penthouse event space at Doubletree will not disappoint. And when the party's over, and you're ready to wind down, the floor-to-ceiling windows will provide a serene, awe-inspiring view into the busy night. Just imagine what it would look like at night in the rain!
---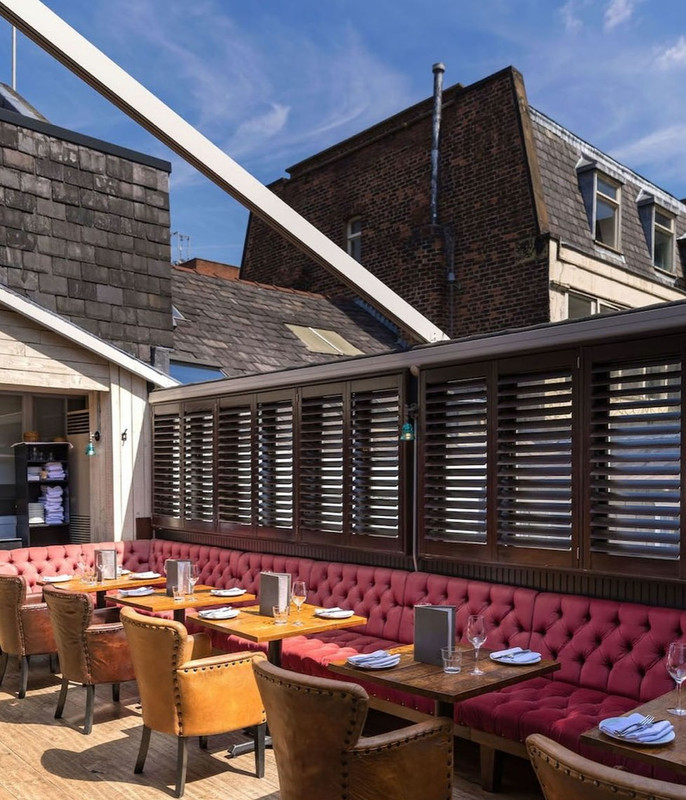 Photo: El Gato Negro Tapas on Facebook
Where: 52 King St, M2 4LY, Manchester
Have you ever had bad patatas bravas? Because we haven't. But if you have, we promise El Gato Negro won't let you down. This Spanish tapas restaurant has won the Michelin Bib Gourmand award multiple times, an award for food that's excellent value for money. The food is unreal, they have an extensive drinks menu, and a floor with a retractable roof. If you're looking to chill with a drink and some nibbles after work, El Gato Negro will never let you down.
---
Roof Garden Playground at Great John Street Hotel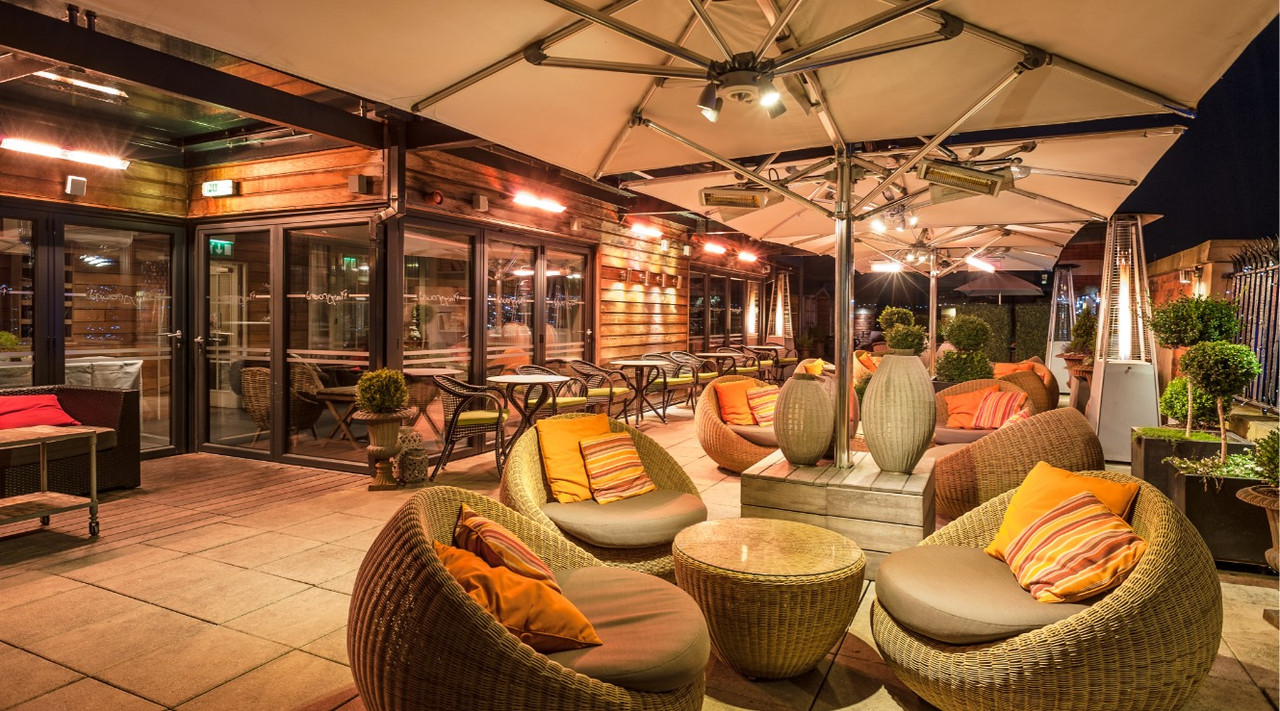 Photo: Great John Street Hotel on Facebook
Where: Great John St, M3 4FD, Manchester
Just look how beautiful and peaceful it is! If you've got an event coming up, you know what to do! Quite close to the city centre and clearly one of the more tranquil of Manchester's rooftop bars, the Roof Garden Playground is perfect for just about any event. Intimate and secluded, expect stylish seating, shelter, heaters, and lovely, chill times.
---
Manchester's rooftop bars are so different, making them all so brilliant. As you look over the busy streets below, drink in hand, surrounded by friends, and having a mint time, you'll already be excited to try the next bar. And trust us, spending the summer trying and testing the best rooftop bars in Manchester will be a summer well spent.
---
---
Check out our What's On Guide to discover even more rowdy raves and sweaty gigs taking place over the coming weeks and months. For festivals, lifestyle events and more, head on over to our Things To Do page or be inspired by the event selections on our Inspire Me page.


Header: Great John Street Hotel on Facebook