London Bridge is pretty much as central as it gets in the capital, where you find yourself amongst a maze of towering skyscrapers and a constant flow of people rushing around. However, there are plenty of stops for you to take a much-needed breather and some beautiful bars to supply you with cool refreshments. Here are some of our top finds in the London Bridge area.
The George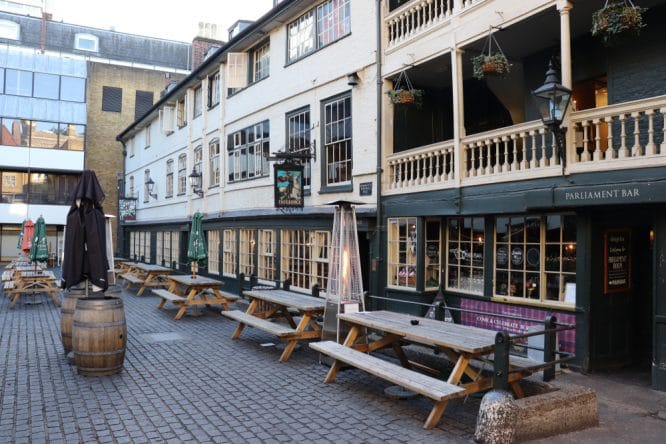 The George immediately stands out with its decor. The 17th-century building has been lovingly retained in its authentic form and it is immediately inviting. Serving real ale and traditional pub food, we can't think of a friendlier place to have a few drinks with your friends in tow.
---
London Bridge Rooftop
This outdoor rooftop bar can fit in 220 people and what you'll notice straight away is the fact that you can see so many London landmarks right next to you, with the shard being right there in your face too. A brilliant option for the summer, they bring out DJs to get everyone buzzing and have a great selection of cocktails alongside Spanish food.
---
Katzenjammers
Located next to Borough Market, Katzenjammers has an absolutely outstanding atmosphere. Take the oom-pah brass band that they have on Friday nights for example who put smiles on all who find themselves in the bar. There's a huge selection of beer on offer with nine authentic draught biers and 30 bottled. They encourage you to come and work your way through them.
---
Gong At The Shard
The Shard is the biggest landmark in the city, but did you know that there are actually a few bars/restaurants inside that you can visit? We recommend a visit to Gong. The highest hotel bar in all of Europe, it features some stunning decor with a focus on elegance and sophistication. So maybe try this one at least once as a little treat.
---
Hide Bar
The Hide Bar is a wonderfully stylish space. Opening in 2007, it has a focus on sustainability, with most of its ingredients sourced from within 2km. Almost all of their drinks are distilled, brewed, fermented or produced in London. Just one look at their drinks menu will be enough to entice you.
---
Whiskey Ginger
Whisky Ginger is the bespoke cocktail bar of your dreams. With a colourful collection made from all kinds of ingredients, you will be more than happy with the selection here. Another bar that is located next to Borough Market, the location is excellent and the bar itself is beautiful.
---
Doodle Bar
You can make an absolute mess at The Doodle Bar because they actually want you to draw on the walls. Look beyond drawing a penis and see where your intoxicated doodlings take you. Definitely one of the coolest bars in the area, it has a very sociable atmosphere and it is the perfect place to meet friends.
---
Call Me Mr Lucky
You'll find Call Me Mr Lucky hidden away underneath the Breakfast Club. It's not that straightforward to get into it though, in order to be allowed through the secret door you have to tell a member of staff "I'm here to get lucky". Which should see you through as long as the bar isn't at capacity.
---
Nine Lives
Nine Lives is one of the prettiest bars in the London Bridge area. A gem nestled in a basement, come here for the amazing cocktails and a soundtrack that's always on point. Everything feels carefully crafted in order to bring you the best experience from the drinks to the food and the venue space itself.
---
Hawkes Cidery & Taproom
The only cider-specific bar on this list, Hawkes Cidery & Taproom is the perfect place for all you cider lovers. Pressing their cider right in the middle of the city, you'll find yourself surrounded by their wide range of flavours. They even have cider cocktails too, which you can find the recipes for online.
---
---
Check out our What's On Guide to discover even more rowdy raves and sweaty gigs taking place over the coming weeks and months. For festivals, lifestyle events and more, head on over to our Things To Do page or be inspired by the event selections on our Inspire Me page.