Whether you're just arriving in Sheffield to embark on your university career, or returning for another year, you've made an excellent choice in picking Steel City as your home for higher education.
Back in 2014 Sheffield was rightly placed number one in The Times Higher Education Student Experience survey - down to quality of living, affordable rent, cheap booze and transport, all factors that help your student loan stretch that bit further and help make the transition from being a dependent to an independent that bit easier.
Alongside the well-respected universities themselves, Sheffield boasts a thriving nightlife, including clubs like Code, Corporation and Hope Works and live music venues such as Foundry, Plug and of course the O2 Academy.
To help you to get the most out of the city that you now call home, here's Skiddle's What's On in Sheffield guide.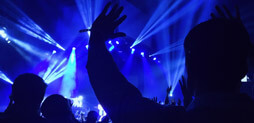 nightlife
We'd hedge our bets that Sheffield has one of the best pints-per-square-metre rates of any student city. Wedged with bars and student clubbing institutions, Sheffield offers a night-life experience that more than caters for both of its universities. Leavi
nightlife
Popular Sheffield venues - find out what's on where
Whether you're an avid underground clubber, fashionable funky house head or prefer your live music, check these popular Sheffield venues for upcoming events, or view our full what's on guide for loads more...
DROP
-

Fri 4th Oct 2019 at 9:00pm
CUD
-

Fri 4th Oct 2019 at 9:30pm
Get personalised events straight to your inbox
Want to be kept bang up-to-date with what's going on near you? Skiddle's got you covered. Simply click the button below to sign up and every week we'll send you our newsletter packed with events we think you'll like.
Sheffield Freshers News
Keep up to date with what's happening your new city. With all the latest tour annoucements and clubbing line ups, our Sheffield news has you covered.