Photo: 42 The Calls, Leeds
It's nearly that time of year again, where lovers the world over go that extra mile to show their romantic side to their nearest and dearest. With a comprehensive selection of great ideas and events to go to on February 14th, our Valentine's Day Guide reaches fever pitch with couples looking to woo their mates with warmhearted, thoughtful gestures of their undying affections.
We've had a quick glance through some of our hottest hotels and places to stay at this romantic time of year, to help make your Valentine's Day experience just that bit more special. With hotels booking up at a rapid pace for the big day, you'll have to act fast to secure yours in time.
Located virtually within the West End theatre district is the Radisson Blu Edwardian. A luxurious four star accomodation with great customer reviews, the hotel is situated in London's cultural epicentre, complete with a myriad of swanky bars and sophisticated restaurants on its doorstep.
The rooms themselves come equipped with fully integrated iPod, iPad and iPhone platforms making them technologically bang up to date, and an ideal way to have all your creature comforts away from home. As an exquisit chic retreat with unparalleled poisitioning, this is certified a winner for Valentines Day. Head here to book your stay.
Another city alive with events and cultural intrigue is Birmingham. Located enviably close to the centre and just a few yards from popular bar The Living Rooms, the Botanic Gardens and Centenary Square is the Hyatt Regency. This four star hotel looks out onto the city's rich heritage with its colourful canal-side setting as well as the futuristic Symphony Hall which it is directly linked to.
Decked with an expansive swimming-pool, jacuzzi, sauna, steam room and Turkish Hamman, The Hyatt not only has the location, but all the modern conveniences to make your stay a truly relaxing jaunt away from home. Read more about the Hyatt Regency here.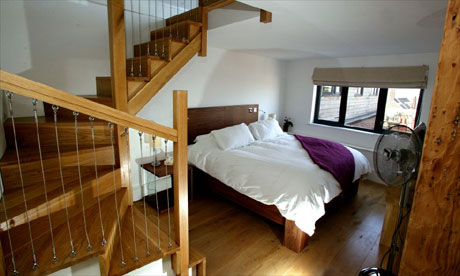 Right in the middle of Liverpool's cultural quarter lies the delectable Hope Street Hotel. Ideally situatued between Liverpool's two catherdrals and just across the road from the Philharmonic concert hall, Hope Street Hotel is also surrounded by a wealth of varied restaurants, not that you'll need them, as the adjoining London Carriage Works restaurant is an ward winning eatery in its own right.
The rooms themselves show off a wicked display of design skill, with real wood heated floors, and comfortable, contemporary exteriors adding a touch of class that will round off any Valentines Day stay beautifully. Check it out here.
The 18th Century converted corn Mill 42 The Calls is without a doubt the pride of Leeds' boutique hotels. With gorgeously designed, homely and luxurious rooms, complete with an honesty bar and complimentary WiFi, 42 The Calls covers all accommodation needs for you and your better half.
Leeds itself is always thriving with plenty to do, so why not have a look at our Leeds city guide to get a few ides together for evening entertainment. Then afterwards you can always saunter back to the four star homely elegance that is the 42 The Calls hotel. Magnificent. Book your stay here.
Home to Michael Caines Restaurant (who recently made a star guest judge appearance on Channel 4's The Taste), the ABode combines great location with sumptuous decor, and of course, a world class on site eatery. With all you need to make the perfect Valentine's Day date located within the confines of one site, this is a no brainer.
An evening of superlative cuisine at Michael Caines restaurant followed by a spot of nightlife around Piccadilly, and a classy place to rest your head is on the cards at ABode. The hotel also feature the MC Bar and Grill for lighter more informal snacks, as well as the exquisite Champagne and Cocktail Bar and nighttime destination Bar MC. Well worth checking out. Head here for more info and bookings.
Check out our complete guide to Hotels here.
For more Valentine's Day ideas, take a look here.