The highly anticipated second album from The Jesus and Mary Chain landed on 31 August 1987, adding another potion to the cult alt rockers' complex sound cauldron.
Stepping back from distortion and anti-pop tropes, in Darklands the Reid brothers moved towards a sound that seemed to satisfy pop culture; sticking to their bleak and gloomy tales, but offering a new vulnerability and sense of hopeless romance.
For the legendary band formed in East Kilbride, Darklands was massive departure from their highly successful first album. Here's five reasons why...
Bobby Gillespie (later of Primal Scream) left the band
It may come as a surprise that before the days of Primal Scream, the paisley-suited Scot-scarecrow Bobby Gillespie was the band's drummer. His dear friend Douglas Hart, the bassist of JAMC, had recruited Gillespie after the original drummer left. Nonetheless, Gillespie was not the most gifted drummer.
Despite Pyschocandy's flawless sound, Gillespie's style of drumming was minimal, with his drum kit consisting only of a snare and a floor tom, which he played standing up. This may have been good showmanship, but Gillespie later admitted that it was due to a lack of his own ability.
One year before the release of Darklands, Gillespie left to focus on Primal Scream. This allowed the Reid brothers to replace his drums with a drum machine, elevating their sound to not just simple reverb, but to incredibly complex and successful dystop-pop.
The band split from Alan McGee
The legendary Alan McGee signed The Jesus and Mary Chain to the mighty Creation Records at a soundcheck in 1984 in a one-off deal. Under his management, the band became an unstoppable force. Due to the nature of the deal, the two split not long after in 1986.
McGee has since distanced himself from love of the band, and whilst there is no definitive answer as to why McGee so easily swept aside JAMC, the band later signed to Blanco y Negro - a branch of Warner Music. This allowed them full creative freedom to experiment with their sound.
This benefitted both parties – McGee went on to worldwide success with Oasis and Primal Scream, whilst JAMC had a shot at the big-time with a world-renowned record company. Whilst Darklands had huge critical success, Jim Reid admitted in a Guardian interview that at Blanco y Negro "…nobody cared about us."
Almost 30 years on from signing them for Creation, Alan McGee took over as the band's manager once more.
They left violent and compact sets behind
Their shows performing Pyschocandy had become notorious for high belligerence and violence with low musical competence. Most notably, a 1984 show at Camden's Electric Ballroom where the band turned up an hour late and played a mere 15-minute set before disappearing off stage drunk.
With Darklands, other than being kicked off CBS in 1987 for refusing to change their name to 'The J. and M. Chain' (to satisfy an American audience), it seemed the band had turned a new leaf, and were able to play competently through their live sets.
"There's always a fight going on in the Reid brothers' world, but this time it's not with the audience" wrote Sputnik Magazine. The band were still drinking and taking drugs heavily, but gone were the days of punch-ups and public enemy status. With Darklands, the boys from the faceless East Kilbride had made it for good.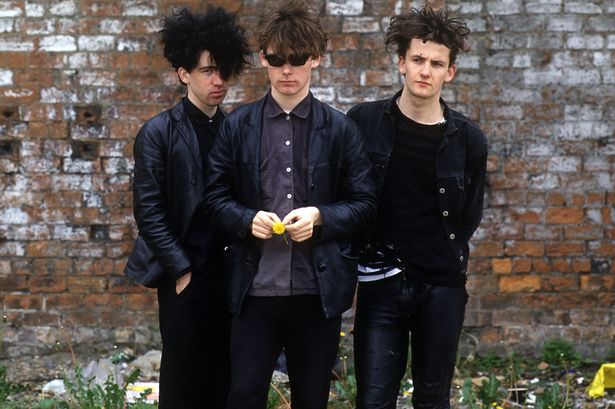 They had tasted chart success
Whilst Pyschocandy had established The Jesus and Mary Chain as a cult phenomenon, the reception of Darklands had landed the band with an entirely new fanbase and a whopping 5th place position in the UK album chart.
It is the highest-peaking album the band have produced to date, and had a special mention in the esteemed '1001 Albums You Must Hear Before You Die' book. The chart success had also allowed them to establish larger audiences in Europe and The US – landing them future slots on MTV, Coachella and Lollapalooza.
Their ability to do this whilst retaining their hardcore fanbase is something that most fail to replicate.
The mentality changed
Riding on the back of an extremely successful debut album, the band already had the formula for success, one they could've easily replicated. But, being the antagonists to themselves, their record company and the world, The Reid brothers were set on gambling it all away for something new.
"It seemed to us that we'd done Pyschocandy and everybody wanted us to do Pyschocandy II and we reacted against that. A lot of people said you'll never follow it up,' Jim said in 2008.
Having gathered the expectations of the public and the press, the Reid brothers went to the studio and made Darklands, which defied any hope of a Pyschocandy II. The press sung its praises, failing to acknowledge the unjust pressure they had inflicted on the band. But the band were gifted enough musicians to take such a high-stakes risk and have it pay off.
Next year, The Jesus and Mary Chain return to perform Darklands in its entirety. Sign up for tickets to their Manchester show below.
Tickets are no longer available for this event