The Christmas season thankfully only comes around once a year. Which is good because you'll probably already be preparing for the festive onslaught the kids are about to wreak on your household. They'll be jumping at the chance to decorate the house, begging for one of the many pointless but surprisingly appealing toys from TikTok and TV ads, and frantically trying to do things for you at the sheer mention of the naughty list. Yet, as we're sure you'll agree, one of the most magical memories you can have as a child around Christmas is going to see the big man in his Grotto.
When looking for Santa's Grottos in Nottingham we've got you more than covered as Notts is no stranger to the man in red. From traditional Grottos to a theme park that has been festively transformed especially for Santa and his reindeer, the opportunities for your littluns to see Santa are plentiful.
Plus, if you're after more ways to make your festive season in Nottingham extra special, check out some of the Nottingham Christmas events!
Santa's Grotto at the National Ice Centre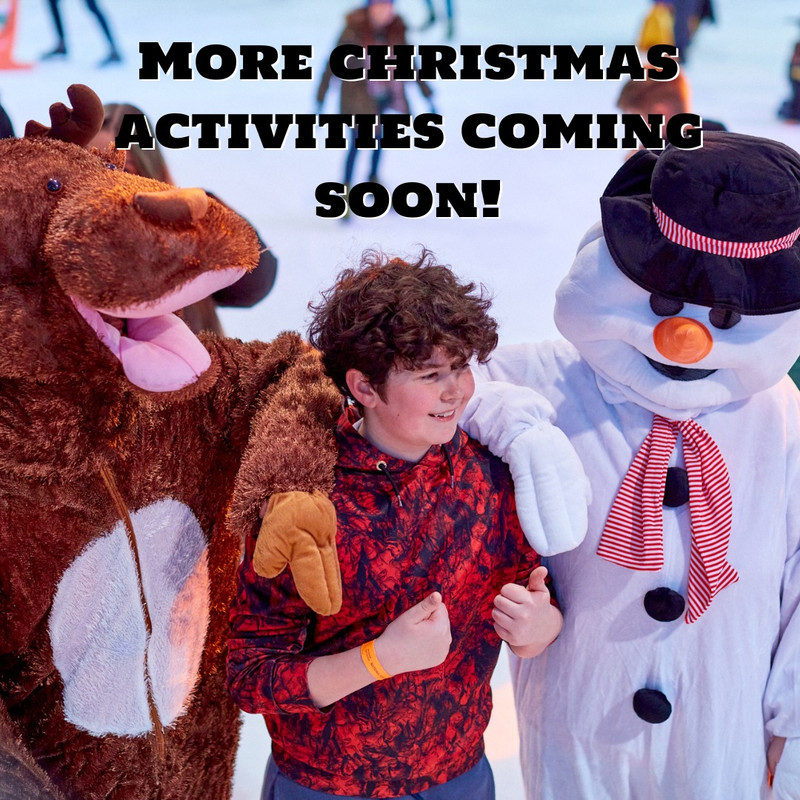 Photo: www.national-ice-centre.com
When: multiple dates starting Saturday 9th - Saturday 24th December 2023
Where: National Ice Centre, Bolero Square, in Nottingham
Nottingham's National Ice Centre has a couple of Christmassy activities coming up this holiday season, including a Santa's Grotto. They all sound fab, so we thought we'd tell you a bit about them all!
The 25th of November sees the launch of Christmas skating with the Christmas Light Switch On, the 2nd of December brings the Festive Characters Skate, where your littluns can ice skate with festive characters, and then there's Santa's Grotto! You can see Santa on the 9th, 10th, 16th, 17th, and the 21st - 24th December. Excited Santa fans can chat with the man himself and will leave with an early Christmas gift!
And there are still some events to be announced soon! Keep an eye on their social channels for updates.
---
Afternoon Tea with Santa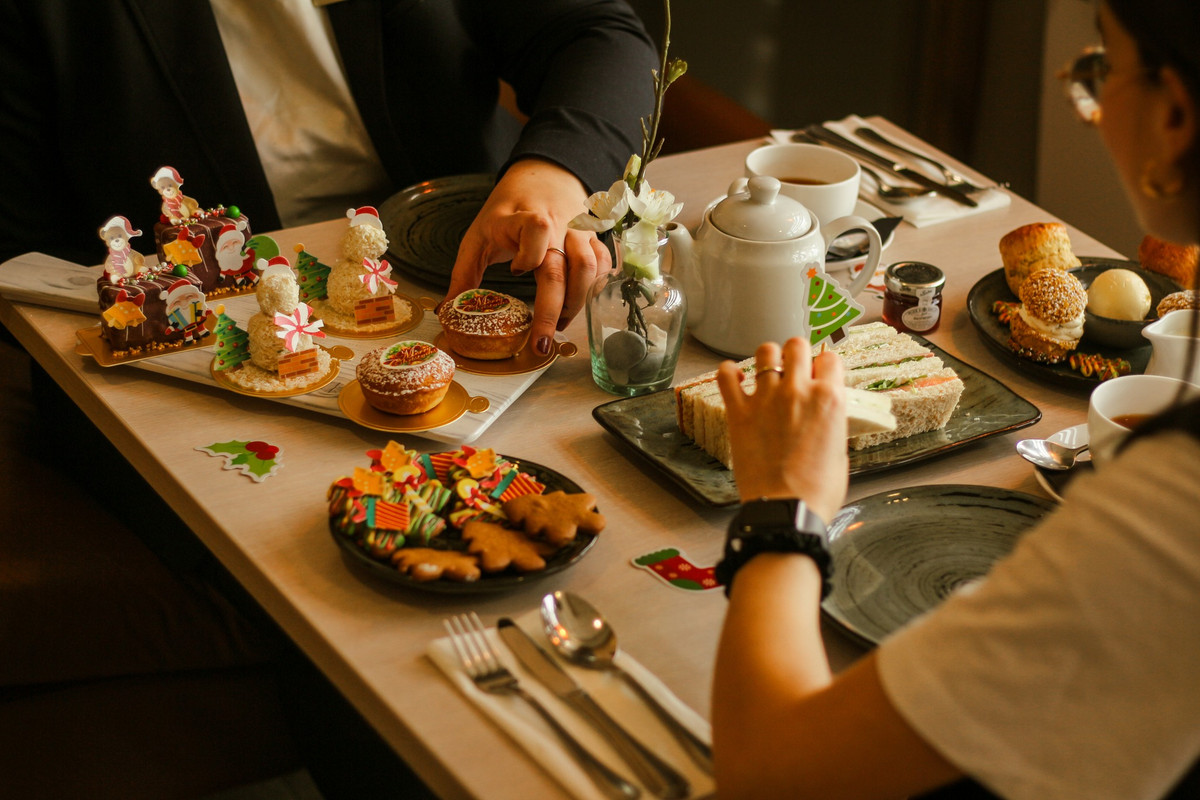 Photo: Nottingham Venues / Facebook.com
When: Saturday 9th and Sunday 10th December 2023
Where: The Orchard Hotel in Nottingham
Wondering where to see Santa in Nottingham? Why not meet the big man at his tea party? Bringing plenty of Christmas cheer to Notts' Orchard Hotel and Restaurant, attendees can indulge in an afternoon treat, a meet and greet with Santa, and take a special present home from the North Pole. You can choose the savoury, sweet, vegan savoury, vegan sweet, or children's menu per person, which you can view on their website - they all sound delicious. And, of course, there'll be plenty of photo opportunities.
---
Christmas at Wheelgate and Santa's Grotto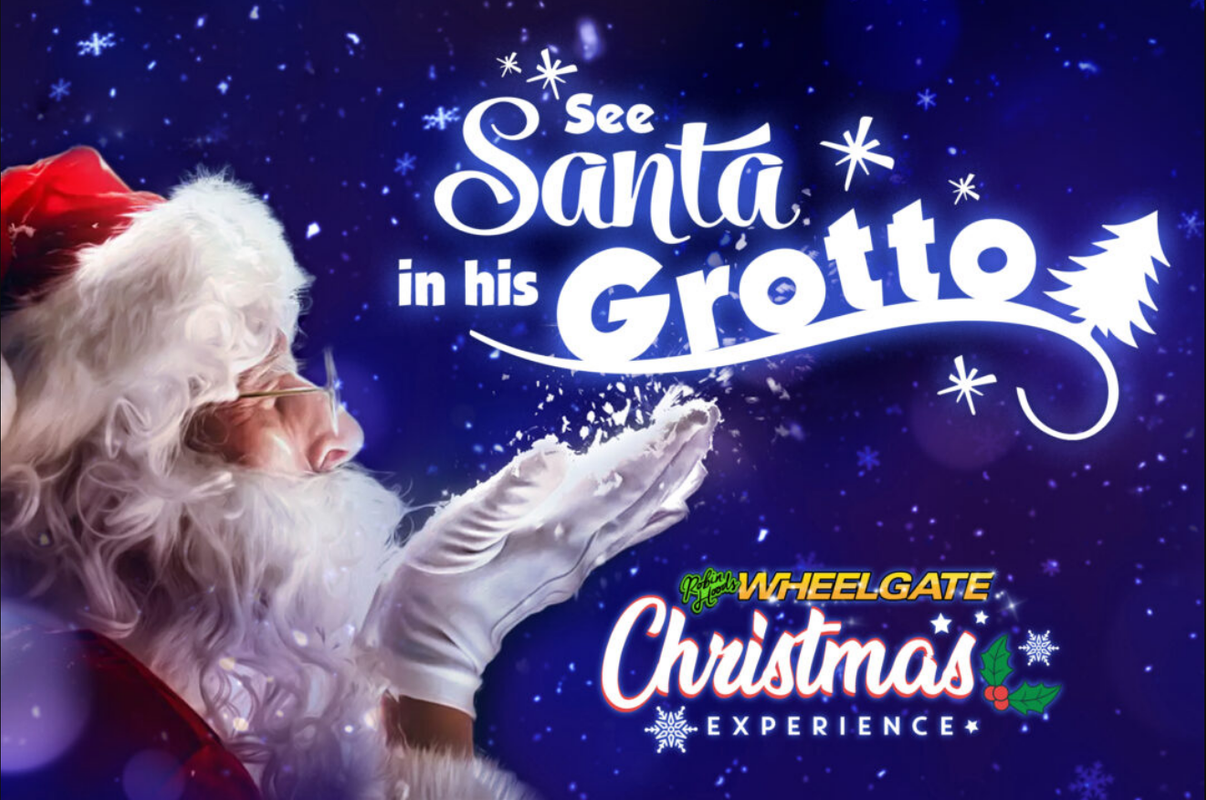 Photo: www.wheelgatepark.com
When: 25th - 26th November, 2nd - 4th December, 6th - 11th December, 13th - 24th December 2023
Where: Robin Hoods Wheelgate Park in Nottingham
Nottingham's huge family theme park brings the best Christmas vibes to the city including meet and greets with Rudy the Reindeer, stocking hunts, gingerbread decorating, and of course, one of the best Santa's Grottos in Nottingham. Elves will guide you through a forest of twinkling lights before your little angels receive a golden ticket from Santa. From here, they'll visit the toy workshop, where they'll choose their own present.
---
Meet Father Christmas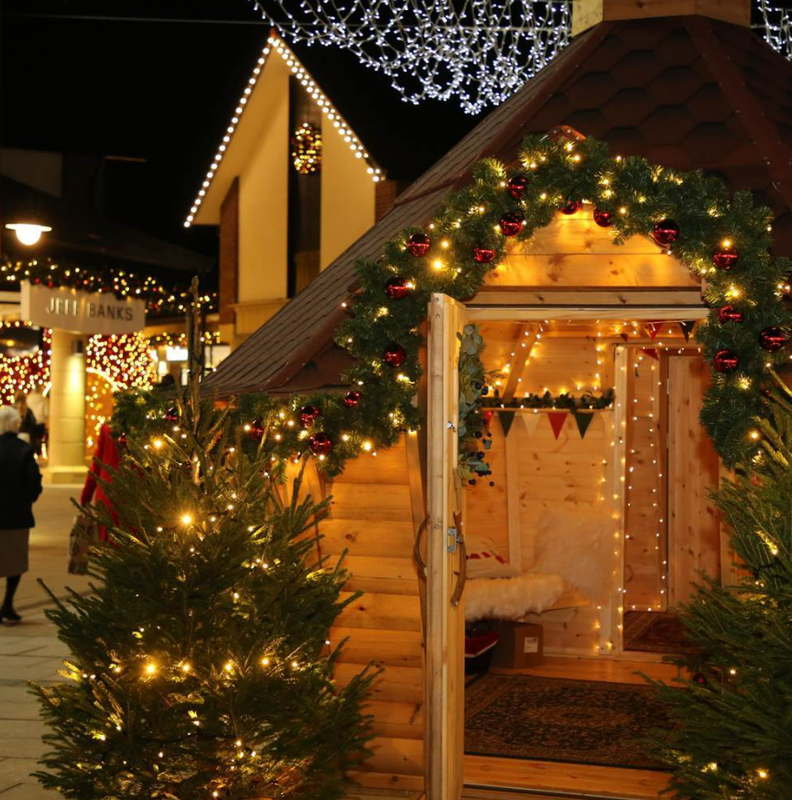 Photo: www.mcarthurglen.com
When: from Friday 1st - Sunday 24th December 2023
Where: East Midlands Designer Outlet, Mansfield Road, South Normanton, DE55 2JW
Around a half-hour drive from Nottingham, the Designer Outlet opens its Santa's Grotto from the 1st of December, right up until Christmas Eve. younguns are encouraged to bring their wish list along to meet Father Christmas and get a peek at what he and his elves have been making in his workshop. Each child will leave with a present, and you'll have the opportunity to buy a photo of the experience.
A fantastic choice for those on a budget, tickets for this Santa's Grotto in Nottingham are only £2.50 per child, with 100% of the proceeds will go to a local charity partnership.
---
Father Christmas at Planters Brookfields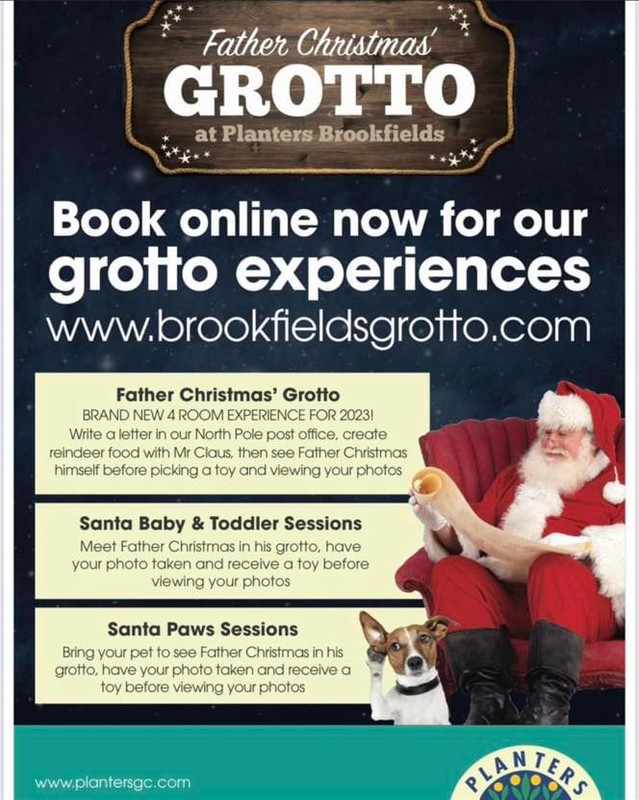 Photo: Planters Brookfields / Instagram.com
When: check website or social media for more info
Where: Planters Brookfields in Nottingham
This group Santa's Grotto experience in Nottingham is a fantastic way to get into the spirit of Christmas! First, your youngsters will visit the legendary North Pole post office and write a letter to Santa. Then it's time to help Mrs Claus make some magical reindeer food to fuel Rudolf and co for their Xmas adventures. Then it'll be time to visit Santa. Here, he'll tell a story, ask what your littluns want for the big day, and snap a photo. Finally, they'll choose a toy from the toy shop and be on their merry way.
All dates except the 24th of December will feature real reindeer; they have to get back to the North Pole on Christmas Eve to prepare for the Christmas dash(er). (That was a bad joke, we're very sorry.)
---
Magical Father Christmas Experience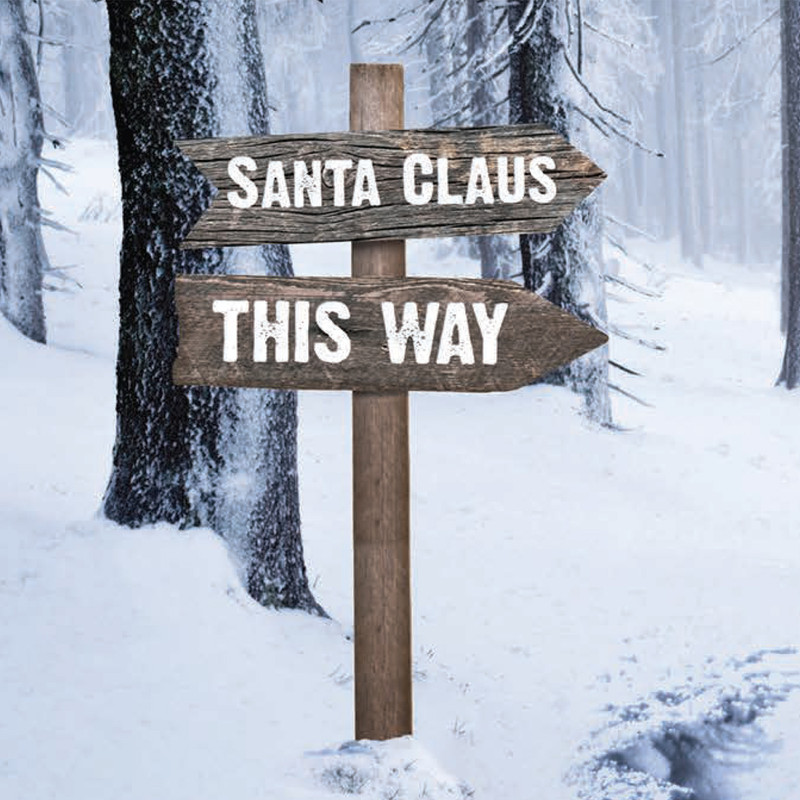 Photo: Woodthorpe Park Plant Nursery / Facebook.com
When: multiple dates and times from Saturday 25th November - Saturday 23rd December
Where: Woodthorpe Park Plant Shop in Nottingham
At this experience, Mrs Claus will greet you, providing a list of festive items she's hidden for you to find in the icy Narnia-inspired wonderland on the way to Santa's Grotto. When you all arrive at the Grotto, Saint Nick will be there for a little chat, some photos, and, of course, to listen to what your younguns want for Christmas. Even better still, Mr and Mrs Claus will gift you your own baby spruce tree for you to plant at home, keeping the magic of Christmas with you all year round. Adults don't need a ticket, and those under 2 who don't want a present can go free, or you can grab them a ticket to get them involved too.
---
Santa's Grotto and more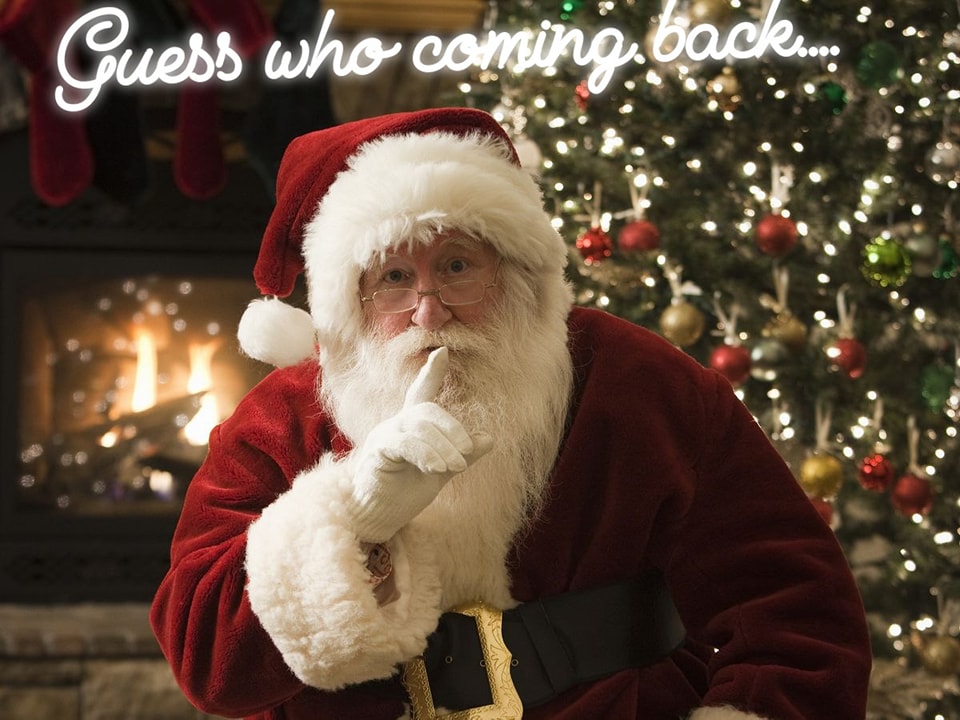 Photo: East Bridgford Garden Centre / Facebook.com
When: multiple dates and times from 25th November - 23rd December 2023
Where: East Bridgford Blue Diamond Garden Centre in Nottingham
Keeping it nice and simple, East Bridgford Garden Centre offers a Santa's Grotto this festive period. Head over to let your kids feel the magic of Christmas, meet Santa, tell him how well-behaved they've been, and collect a present from the elves on the way out. As well as this Santa's Grotto experience, the garden centre also offers breakfast with Santa and ice skating this holiday season.
---
Christmas Lights Switch On Eastwood and Beeston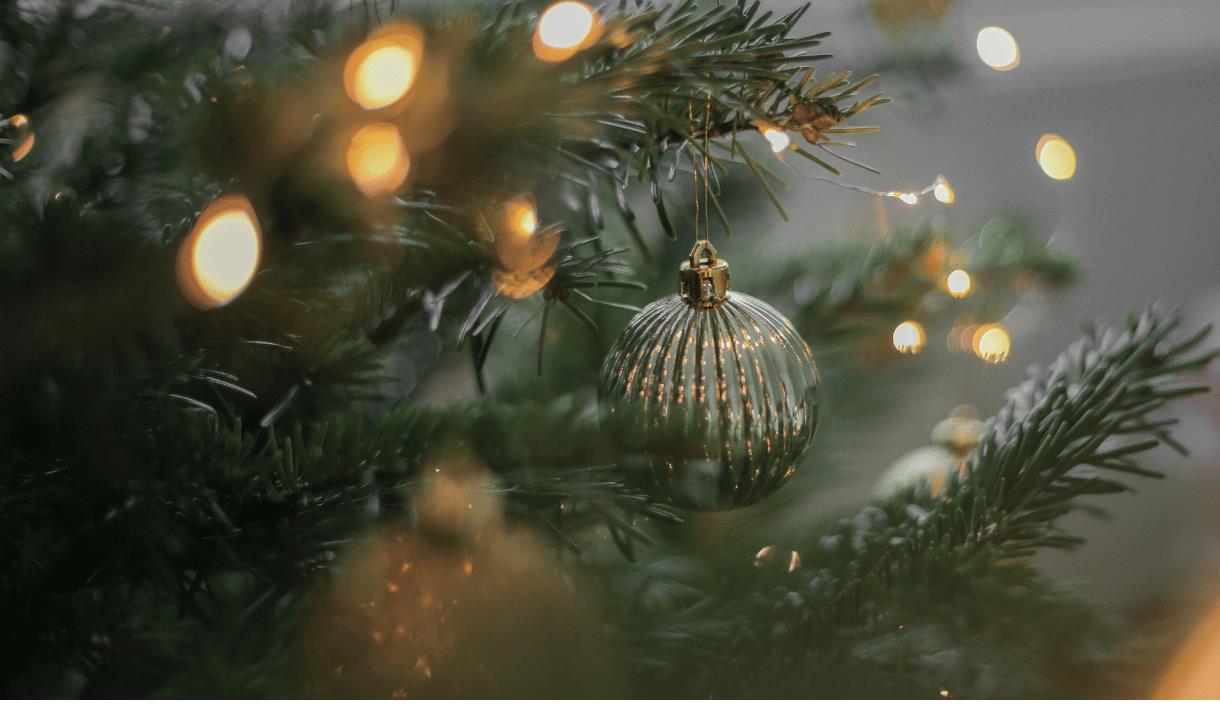 Photo: www.visit-nottinghamshire.co.uk
When: Eastwood - Tuesday 28th November 2023 / Beeston - Saturday 2nd December 2023
Where: Eastwood - Victoria Street, Eastwood in Nottingham / Beeston - The Square, Beeston in Nottingham
The Christmas lights will be switched on soon! To make it a proper magical experience, there'll be more than just the lights including Christmas markets with treats and festive gifts, festive face painting, and a visit from Santa at his magical Grotto. There are also accessible sensory sessions available, so book your place ASAP to ensure your place! Check out the Visit Nottinghamshire website for more info and to book. The best bit? Tickets are free.
---
And that's where to see Santa in Nottingham this year! If you're here, you're probably hoping to make some extra special memories this Christmas. Click or tap here to find loads more Christmas events in Nottingham including parties, Christmas gigs, comedy, and much more.
---
---
Check out our What's On Guide to discover even more rowdy raves and sweaty gigs taking place over the coming weeks and months. For festivals, lifestyle events and more, head on over to our Things To Do page or be inspired by the event selections on our Inspire Me page.