We didn't have to wait too long for the first shock of the weekend when it came to the Premier League. Liverpool have had a terrible record when it comes to early kickoffs this season and that dreadful run continued as they lost 1-0 away at Bournemouth. They were back to themselves with a spineless performance typical of this season.
Van Dijk was a shadow of himself as he allowed Outtara to run past him and set up Billing. Salah missed a penalty to further compound their misery. A bizarre midfield line-up of Elliot, Bajetic and Fabinho looked doomed to fail from the start, it would be baffling for Klopp to rest Henderson for the Madrid game when they never ever beat Real Madrid and are effectively out of the competition before a ball has been kicked.
The other side of Merseyside had a much better weekend as Everton got a crucial three points over Brentford. An early goal from McNeil meant the away side couldn't recover and home games look like the main way for Everton to pick up points in the relegation battle. Leeds fell into the drop zone but delivered a spirited performance against Brighton.
Coming back from behind twice, they earned a draw against Brighton, one of the league's most in-form sides. Chelsea looked like a team with much better harmony as they went away to Leicester. Brendan Rodgers is now under fire again with his side nearing the drop. Havertz is gaining traction and Enzo Fernandez looks like Chelsea's best January signing.
Spurs set right their Champions League disappointment by beating Nottingham Forest 3-1 at home. Goals from Kane and Son made for an easy win but things still don't look right at Spurs with Conte obviously not happy and having no intention of staying at the club. For Manchester City it was a question of patience away at Crystal Palace.
Their breakthrough finally came when a penalty was awarded for a foul by Olise on Gundogan, which Haaland gladly dispatched. They increased the pressure on Arsenal but the London side looked like they could manage, responding with a resounding 3-0 win over Fulham the day after.
Fulham look like a much worse team with Palinha suspended after a bright start to the season. Trossard was outstanding and grabbed a hat-trick of assists, he is more than paying off his January move. West Ham still looked shaky as they drew at home to Aston Villa and Newcastle grabbed a win against Wolves to help rectify their recent dip in form. For more football action take a look at the events below.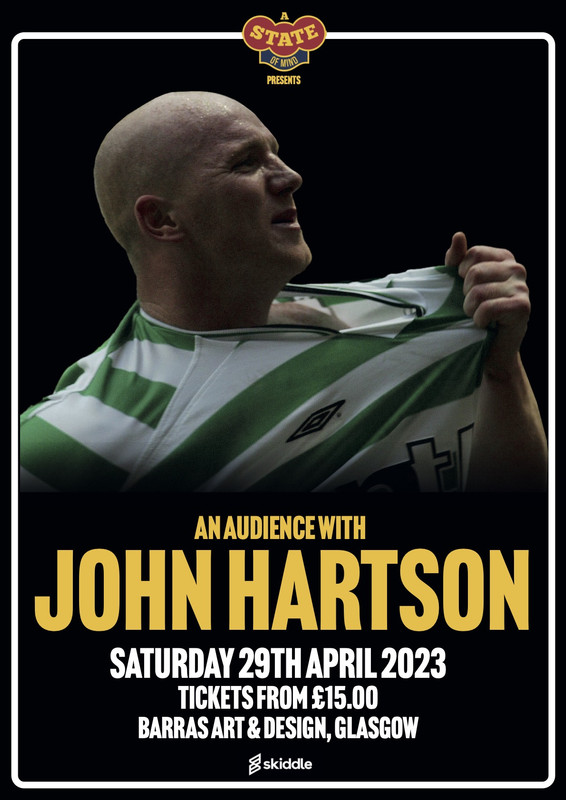 When: Saturday 29th April
Where: Barras Art and Design in Glasgow
It has been 20 years since Celtic went on a run which led to their third European final. To celebrate that occasion, this event will see club legend John Hartson in conversation. He has had an exciting career and will be here to talk about all the highs and the lows, with plenty of laughs along the way.
Ticket waiting list for John Hartson with A Celtic State of Mind
Tickets you want not available? We know it's frustrating, but don't worry we've got your back. Join the waiting list below and we'll reserve you tickets if they become available.
---
Pre-Match Legend Meal LFC vs Arsenal
When: Saturday 8th April
Where: Hotel Tia, Liverpool
It is impossible to tell if Liverpool will win a game these days but the magic of Anfield always seems to rouse them on special occasions, no matter what their form is. They'd love the chance to have a say in the title race and you can enjoy all the pre-match buildup to the game at Hotel Tia where you'll enjoy a three-course meal before sitting down to watch the game on the TV.
This event has been cancelled
Match rescheduled
---
---
Check out our What's On Guide to discover even more rowdy raves and sweaty gigs taking place over the coming weeks and months. For festivals, lifestyle events and more, head on over to our Things To Do page or be inspired by the event selections on our Inspire Me page.