Secret Project Festival 2022 Tickets
About Secret Project Festival 2022
Portugal! We are ecstatic to bring the Secret Project experience to Portimao Beach on June 17-19 for a weekend full of house, techno, drum & bass, and disco from 4pm - Late!
Secret Project is an emerging festival born in the prospering underground scene of downtown Los Angeles. Fusing art, cutting-edge technology, and exceptionally curated house and techno music, the festival known for its daytime moments is ready to grow beyond its origin. With successful editions in LA, Miami, and Amsterdam, Secret Project unites music lovers alike in new cities where there are no shortages of dancefloors.
https://portugal.secretproject.com/
Music genres: House, Drum n Bass, Techno, Tech House, Disco House
Secret Project Festival line up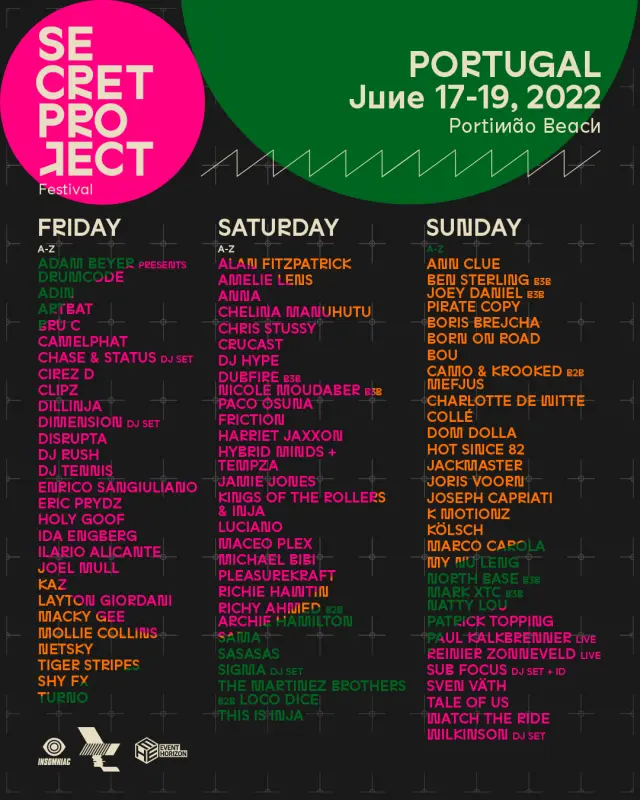 Secret Project Festival information & FAQs
What are Secret Project Festival dates?
Where is Secret Project Festival taking place?
Can you camp at Secret Project?
What happens If I bought a ticket and cannot attend Secret Project Festival?
Travelling to/from the festival
Map of Hotels near festival site
Try our fully interactive map of all nearby hotels and accommodation. Please check location and dates before booking.
Secret Project Festival news
Explore similar festivals to Secret Project Festival
Find similar festivals by exploring the categories and classifications below:
Categories: Overseas festivals, Dance Music festivals
Type: Music festivals
Size: Small sized festivals
Amenities: Toilets
Attractions: Beach