Electric City Festival 2022 Tickets
About Electric City Festival 2022
Citizen – the Electric City Festival is calling.
A brand-new showcase for 2022, the city is set to be powered by the biggest names in bass. The electrifying Drum and Bass conductors Chase & Status will be delivering their only live set in the capital for 2022, where their magnetic 6th Studio album will be on full-charge.
Alongside these powerhouse performers is a day-long surge of exclusive sets and massive DJs, including ANDY C, a UK exclusive b2b from Sub Focus and Wilkinson and huge appearances from the likes of Netsky, Dimension, Kings of the Rollers, Friction & more to be announced in Phase 2.
Ticket information for Electric City Festival 2022 here.
Music genres: Drum n Bass, Bass Music
Electric City Festival line up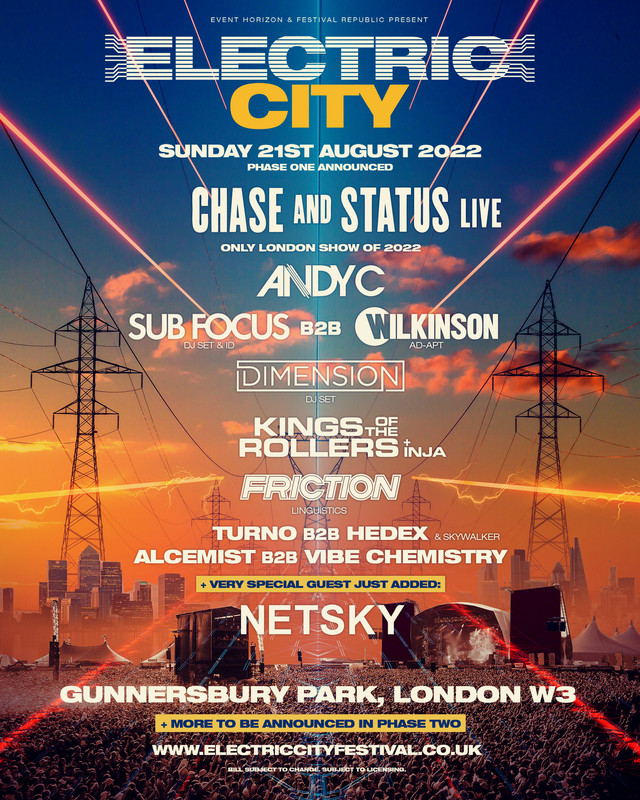 Electric City Festival information & FAQs
Map of Hotels near festival site
Try our fully interactive map of all nearby hotels and accommodation. Please check location and dates before booking.
Explore similar festivals to Electric City Festival
Find similar festivals by exploring the categories and classifications below:
Categories: Dance Music festivals
Type: Music festivals
Size: Medium sized festivals