Event has been cancelled.
Info: COVID-19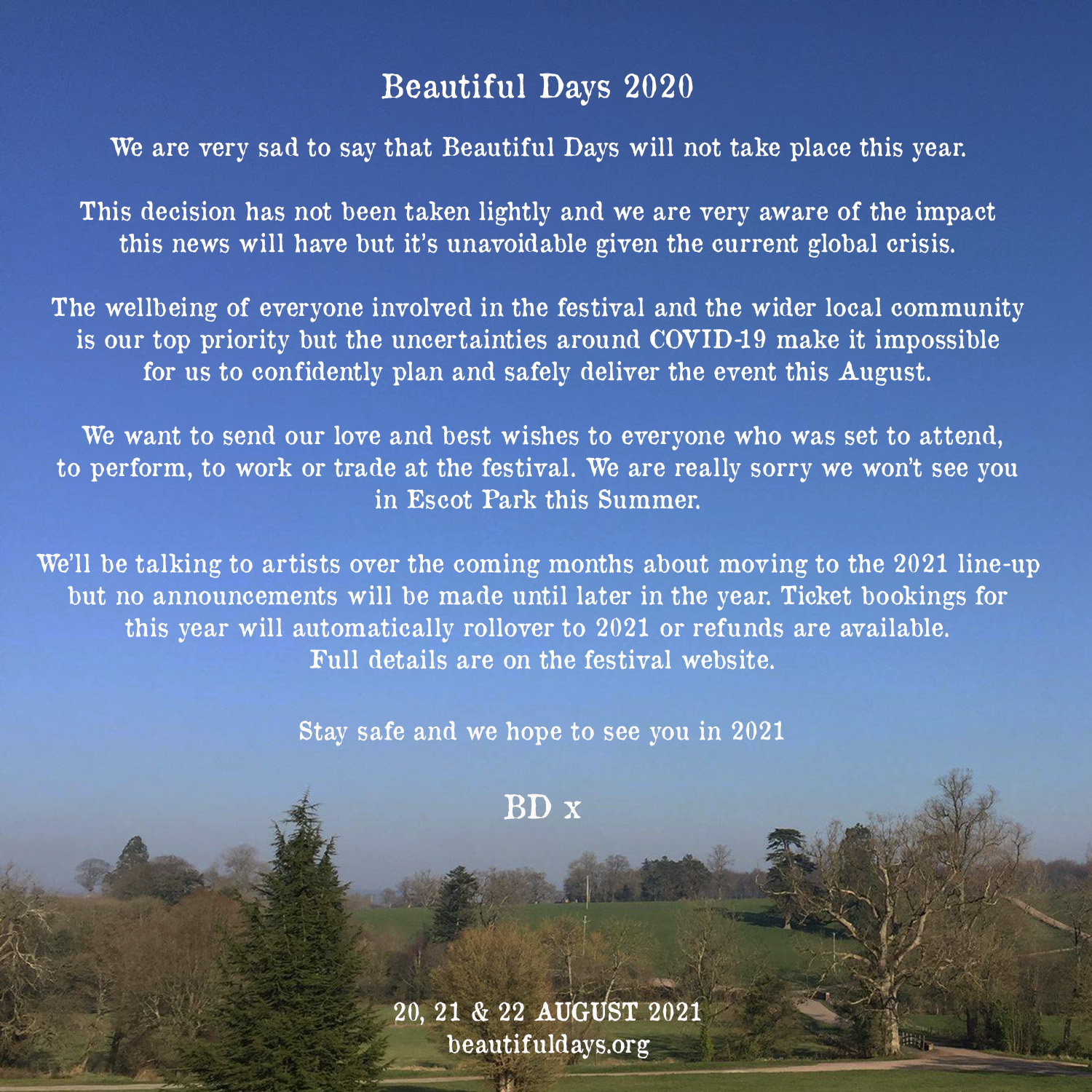 Beautiful Days is the Levellers' family music festival organised by DMF Music which takes place at Escot Park in Devon and has been running for over 15 years. The festival has 7 stages, amazing site art, a huge children's area, comedy, theatre, family camping, licensed real ale bars from Otter Brewery & a great choice of food and craft stalls. Beautiful Days has no sponsorship, branding and does not advertise.
Beautiful Days won the Grass Roots Festival Award at the 2015 UK Festival Awards and Best Medium Festival in the FestivalKidz.com 2015 Awards. The festival was also shortlisted for Best Medium Sized Festival at the 2016 UK Festival Awards.
"The festival organisers have had fifteen years to get it right, but in reality they have been getting it right since year one………the next one can't roll around soon enough." Efestivals.co.uk 2017
"It really is a perfect festival for families" FestivalKidz.com 2017
Disabled Access Information
Beautiful Days event organisers are striving to make the festival more accessible for people with disabilities.
Beautiful Days takes place at Escot Park in Devon in an outdoor, rural location. Some areas are hilly and can be more difficult for those in wheelchairs or with mobility problems to access. There are some roads and pathways on site but the landscape can be difficult to traverse especially if the weather is bad. Please get in touch if you have specific needs or concerns and they will do their best to help you. Email access@beautifuldays.org for queries and applications.
Beautiful Days has a designated flat camping area for disabled patrons, disabled toilets, showers, disabled parking and viewing platforms in the Main Arena (Stage 1) and in The Big Top (Stage 2). There is also space for wheelchair users in The Theatre Tent.
DISABLED CAMPING & CAMPERVANS
There is a designated flat area of grassed land for camping and live-in vehicles for patrons with disabilities, which is adjacent to the main festival site and accessed from the RED gate via a concrete road which leads to the entrance to the festival arenas. The area has accessible toilets and showers. Space is strictly limited for those with disabilities and their immediate family/group and you must tell Beautiful Days in advance if you will be in a tent or a campervan. If you need to stay in a vehicle then you are required to purchase a campervan ticket (subject to availability from the festival's official ticket outlets) and then apply for disabled camping. Passes to camp in this area, and for vehicles, must be agreed in advance it is unlikely it will possible to issue passes on the day.
DISABLED PARKING
A limited number of disabled parking spaces are available for cars next to the disabled camping area. Disabled parking passes are issued at the discretion of the festival – you are required to buy a car routing/parking pass (subject to availability from the festival's official ticket outlets) and then apply for disabled parking from the festival. A Blue Badge does not apply at the festival and does not, on its own, entitle you to disabled parking. Disabled parking must be agreed and accredited by the festival in advance.
2-4-1 TICKETS FOR CARER/PA
Beautiful Days offer free tickets for carers to those who are over 16 years of age and in receipt of DLA middle/higher rate of care or higher rate of mobility – proof required. Free carer tickets are issued at the discretion of the festival and are subject to availability. Full price tickets (excluding any for persons you are applying for) must be purchased first and then you can apply for a 2-4-1 ticket direct from the festival. One carer ticket permitted per household and no refunds will be made for tickets purchased unnecessarily.
Anyone aged 16 or above can apply for a free ticket for their carer/PA. They are not allocated to parents/guardians of children under the age of 16. All children under 16 must be accompanied to the festival by an adult. Carer tickets are non-transferable and cannot be sold. There are no 'disabled' tickets. Your ticket is the same as everyone else's and carer tickets will not be available after the festival sells out. You must apply whilst tickets are still available.
VIEWING PLATFORM PASSES
Beautiful Days have viewing platforms in the Main Arena and in The Big Top. Passes are allocated in advance and are collected at the event from the Information Point, next to the Children's Area. Please note space on the viewing platforms is limited and will be restricted at busy periods, we can not guarantee space will be available for you and your party at all times. There is space in the Theatre Tent for wheelchair users, stewards will advise on position and assist on the day.
To receive an application for to apply for disabled parking, camping or carer tickets or for general access queries please email access@beautifuldays.org
PLEASE NOTE
All passes must be agreed and issued in advance of the festival. All applications and requests are at the discretion of the festival and are subject to availability. Do not purchase tickets for a carer if you believe you are entitled to a 2-4-1 ticket before applying. No refunds will be issued.
All disabled parking and campervan passes are valid when gates open to the public. Beautiful Days are unable to accommodate caravans.
Looking for something else? Find other festivals in August or try our new Festival Finder
To see this year's full lineup, please use the link below
full Beautiful Days 2020 line up »
Location of Beautiful Days 2020
Escot Park
Escot Park, Nr Fairmile, Devon, EX11 1LU,
Exeter
EX11 1LU
Related event pages for Beautiful Days