About UB40 Live From The Valley festival 2021
An outdoor live music all dayer in the beautiful Sandwell Valley headlined by Birmingham's finest...
UB40
+ Very Special Guests TBA
The Venue
Sandwell Valley Country Park is the jewel in the crown of the historic, beautiful and world famous valley. Part of the Black Country's UNESCO Global Geopark, this venue provides a perfect outdoor setting with the skyline of Birmingham in the background, easy to reach from across the UK and a guaranteed great day out for all the whole family. Don't miss it!
Music genres: Big Band, 80s, 70s, Reggae
UB40 Live From The Valley festival Reviews
Our visitors have reviewed UB40 Live From The Valley festival 1 times. Read reviews of this festival »
Average rating:
4.8/5
from 1 reviews
UB40 Live From The Valley festival line up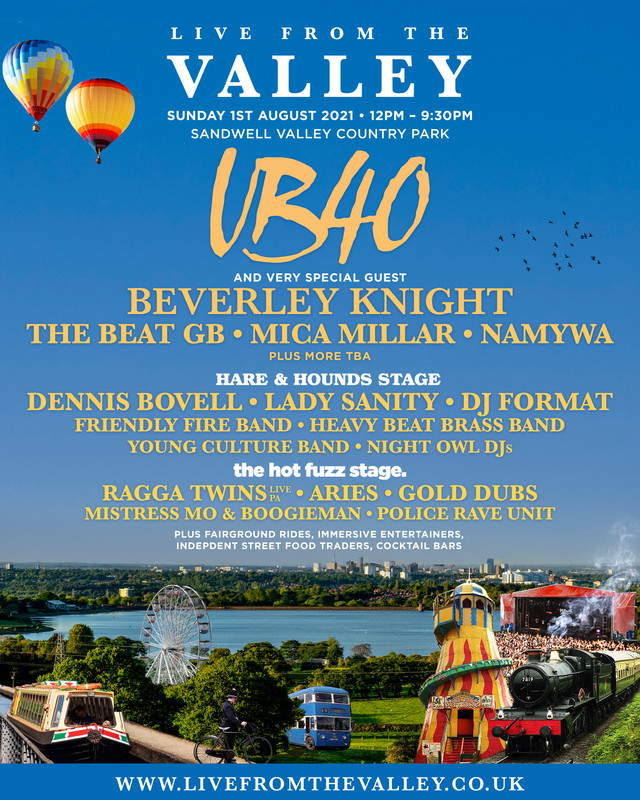 UB40 + Very Special Guests TBA
UB40 Live From The Valley festival information & FAQs
Map of Hotels near festival site
Explore similar festivals to UB40 Live From The Valley festival
Find similar festivals by exploring the categories and classifications below:
Categories: Family Friendly festivals, Mainstream / Pop Music festivals
Type: Music festivals
Size: Medium sized festivals
Amenities: Toilets