About Macclesfield Festival 2021
The very first Macclesfield Festival held in 2017 was an amazing success and a fantastic day out for both families and music lovers alike, attracting an audience of well over 7,500 people from all over Cheshire and the North West.
Macclesfield Festival 2018 was also a phenomenal success with a great guest line-up that included the brand new heavies and the farm and tons of activities for everyone lasting a full 11 hours.
In 2019 the festival went bigger and better with a fantastic all star line-up, with plenty of great activities for adults and kids, live music stages, dance tents, market stalls, hot and cold food stands and much, much more!
Maccfest is back for 2021, and will take place on Saturday 17th July 2021 - get your tickets now!
Music genres: Rock, Pop, Indie, Ska, Soul
Macclesfield Festival line up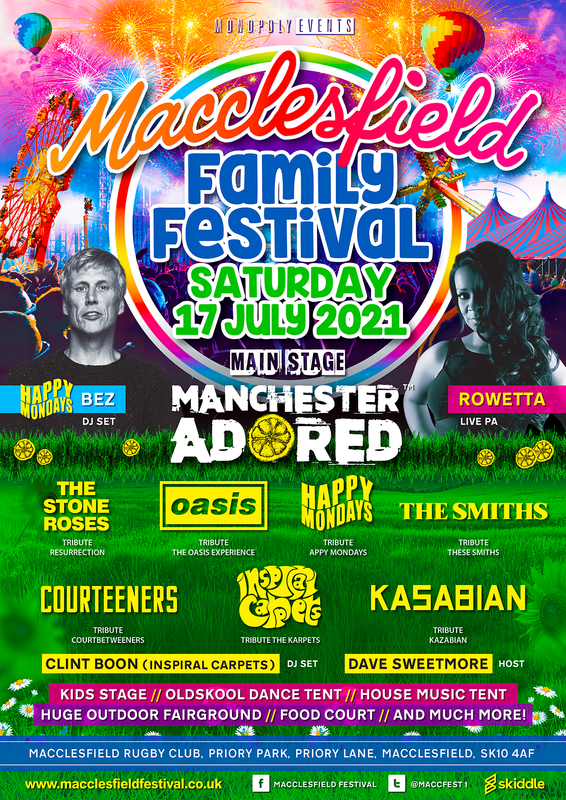 Happy Monday's Duo Bez & Rowetta Return / Clint Boon / Tribute bands
Macclesfield Festival information & FAQs
Map of Hotels near festival site
The history of Macclesfield Festival
Explore similar festivals to Macclesfield Festival
Find similar festivals by exploring the categories and classifications below:
Categories: Family Friendly festivals
Type: Music festivals
Size: Small sized festivals
Amenities: Toilets