Outlook UK 2022 Tickets
About Outlook UK 2022
Outlook Festival is coming to the UK!
Taking over Cheshire's Cholmondeley Castle for 4 massive days and nights soundtracked by the finest in bass, techno, jungle, DnB, dubstep, hip-hop, reggae, garage, grime, UK rap, soul and more.
For the first time in its 14-year history, Outlook is setting up its bass-heavy speakers on home soil for the Outlook UK festival 2022. Usually taking place on the sunny shores of Croatia, across its 14-year history the purist, underground celebration of Soundsystem culture has become a celebrated fixture on the international scene, creating a growing community of dedicated, engaged music fans from across the globe. The festival is taking its ethos that has won fans the world over and shipping it to Cheshire's Cholmondeley Castle.
Outlook continues to drive the scene forward and keep it relevant with high production value and a nurturing approach to the musical roots, and the four massive days and nights will be soundtracked by names Skream, Goldie, D Double E, and Ghetts, all alongside some of the finest in grime, garage, afrobeats, hip-hop, rap, reggae, dub, dubstep, jungle, drum & bass and everything in-between.
Find Outlook Uk festival tickets, event details and more, click here.
Music genres: UK Garage, Drum n Bass, Electronic, Dubstep, Jungle
Outlook UK line up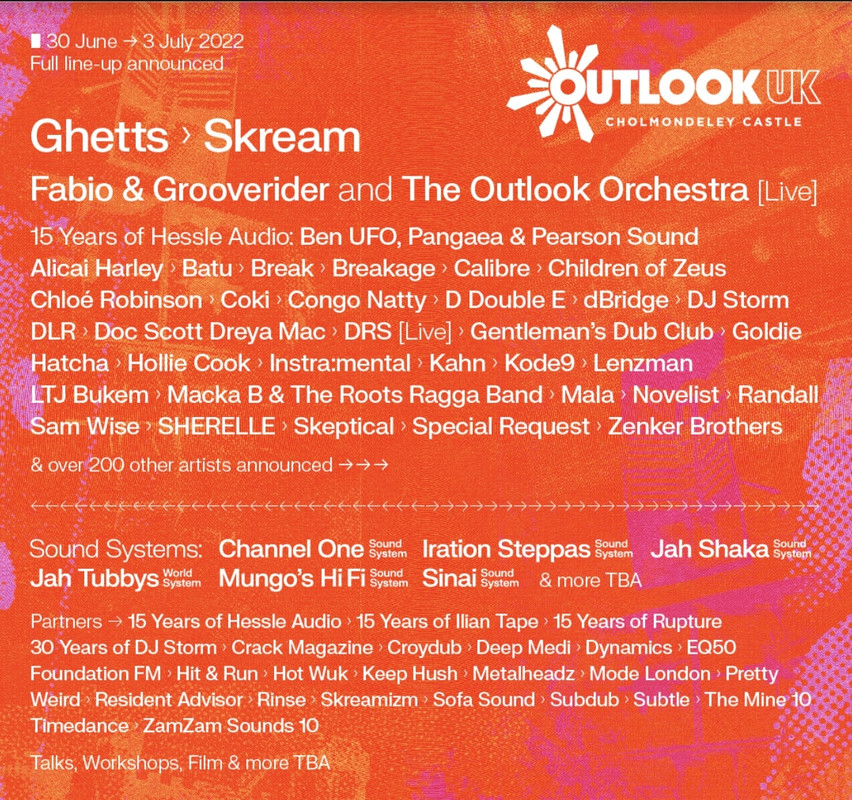 Outlook UK information & FAQs
When is Outlook UK Festival?
What happens If I bought a ticket and cannot attend?
How to get to Outlook UK Festival?
Disabled Access Information?
Are there any age restrictions?
Can I bring food and drink into the festival?
Map of Hotels near festival site
Try our fully interactive map of all nearby hotels and accommodation. Please check location and dates before booking.
Explore similar festivals to Outlook UK
Find similar festivals by exploring the categories and classifications below:
Categories: Dance Music festivals
Type: Music festivals
Size: Small sized festivals
Accommodation: Standard Camping facilities