Cheshire Fest 2022 Tickets
About Cheshire Fest 2022
Cheshire Fest is on! Organisers are excited to be able to finally announce the new dates for our 2022 edition after a two-year hiatus, with a programme of amazing live music, food, drink and summertime vibes in the making. It feels so good to be back!
Our team have been working extremely hard to secure a new host venue - which marks a new beginning for the festival in the coming years. Taking place at an entirely new location in the heart of the green Cheshire countryside, we're moving to the wonderful tree-lined site at The Lambing Shed, Moseley Hall Farm in Knutsford.
Expect four days of celebrations to mark the Queen's Platinum Jubilee Bank Holiday Weekend for the best festival yet...
B/H Thursday 2nd June - Bongo's Bingo @ Cheshire Fest - 4pm to 11pm
B/H Friday 3rd June - *NEW EVENT* - TBA soon - 4pm to 11pm
Saturday 4th June - Festival Day - TBA soon - 1pm to 11pm
Sunday 5th June - Family Day - TBA soon - 1pm to 9pm
Hold tight for further news to be revealed very soon.
Sign-up to the 'remind me' feature on this page below and be the first to be notified when tickets go back on sale! You'll receive line-up announcements ahead of public release, special offers and more...
Getting to the event:
The Lambing Shed is just a 5 minute drive from the centre of Knutsford. People who would like to travel using public transport are encouraged to do so, we will provide a shuttle-bus service from Knutsford train station to the site over the duration of the event weekend. There is dedicated on-site parking at Booth's Park (adjacent to The Lambing Shed) which will be open for advance booking at very low cost. Of course, best to leave the car at home and arrange drop-off and collection using a local taxi or minibus service! More information will be made available on www.cheshirefest.co.uk
.......................................................................................................
Music genres: Rock, Indie, Acoustic, Disco, Soulful House
Cheshire Fest Reviews
Our visitors have reviewed Cheshire Fest 78 times. Read reviews of this festival »
Average rating:
4.2/5
from 78 reviews
Cheshire Fest line up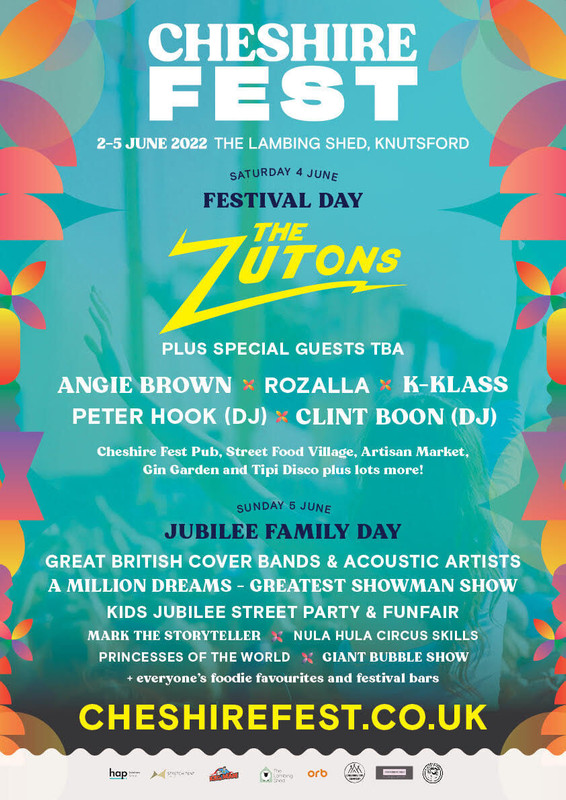 Cheshire Fest information & FAQs
Map of Hotels near festival site
Try our fully interactive map of all nearby hotels and accommodation. Please check location and dates before booking.
Explore similar festivals to Cheshire Fest
Find similar festivals by exploring the categories and classifications below:
Categories: Budget festivals, Family Friendly festivals
Type: Family Friendly festivals, Music festivals
Size: Very Small sized festivals
Amenities: Toilets