The Whip tickets + tour dates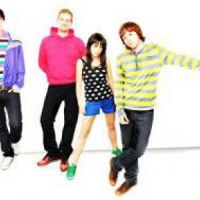 Find The Whip tour dates and buy tickets, plus listen to mixes and view videos!
Where is The Whip playing?
The Whip Biography
Official website: http://www.myspace.com/thewhipmanchester
The Whip is an electronic rock band from Manchester, UK, formed in 2006. The band members are Danny Saville, Fiona "Lil Fee" Daniel, Nathan Sudders and Bruce Carter. In 2006, they released both Frustration and Trash. This was soon followed in 2007 by the release of three singles through a selection of labels; Muzzle No.1, Divebomb and Sister Siam.
Do you promote/manage The Whip? Login to our free Promotion Centre to update these details.
Artist biography and images supplied by our good friends at last.fm. Check out the The Whip page on last.fm here.
Mixes powered by the awesome Soundcloud
All event data and news is © Skiddle Ltd