Subsource tickets + tour dates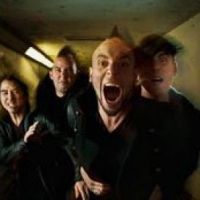 Find Subsource tour dates and buy tickets, plus listen to mixes and view videos!
Where is Subsource playing?
Subsource Biography
Rising against the mainstream hype-machines, crowds of the nameless and faceless writhe and twist to undeniable unique sound of SUBSOURCE as it rages out of soundsystems in sweat drenched rooms across continents.



 The snarl of punk, the oscillating sub bass of dubstep, the relentless ferocity of drum'n'bass and metal get chewed up and spat out amongst electronic glitches.



 This beat and bass driven live punk rock act make ravers throw shapes, rockers bang heads, and rude bois throw their hands in the air. With regular tours as far reaching as China and everywhere in between, a solid ever-increasing fan base and the completion of their most exciting recordings to date, SUBSOURCE are proving to be ones to watch in 2012.



 In addition to their live reputation and award nominations for festival performances, their sound has been heard across the mainstream and pirate radio waves and in everything from video games to TV. This summer saw the completion of "SUBSOURCE – A Dubumentary", a film showing the small wins and big losses of breaking an underground band on their journey across Europe. This is currently touring film festivals.



 There is also the impressive 'Resmashed' series, where SUBSOURCE refix classic tunes such as Testify (RATM), Breed (Nirvana) and Toxicity (SOAD), racking up tens of thousands of hits and smashing their way round the blogs and dancefloors alike.



 SUBSOURCE are also famed for their DJ Fuckstep Mix series, bootlegging punk, rock, and metal against the most slamming bass music tracks of the moment.



 Everyone is keen to have a little bit of the SUBSOURCE sound; supports have ranged from Skindred, Sonic Boom Six and Enter Shikari to Dizzie Rascal, Example and Dreadzone, as well as studio sessions with Far Too Loud, Jurassic 5, and The Prodigy.



 2012 is set to be their year with new tunes ready to go and a new live set all sewn up. Say hello to SUBSOURCE.



 QUOTES:



 Jaw-dropping power, soul and perception'

 The Fly



 'This is so up my street'

 Eddy Temple Morris (XFM)



 'The best cyberpunk riot since The Prodigy'

 The Metro



 'Amazing vocals'

 Liam Howlett (The Prodigy)



 SITES:



 Website - www.subsource.co.uk

 Myspace - www.myspace.co.uk/subsource

 Facebook - www.facebook.com/subsource

 Twitter - www.twitter.com/subsource

 iLike - www.ilike.com/artist/Subsource

 Youtube - www.youtube.com/subsource

 Soundcloud - www.soundcloud.com/subsource



User-contributed text is available under the Creative Commons By-SA License and may also be available under the GNU FDL.
Do you promote/manage Subsource? Login to our free Promotion Centre to update these details.
Artist biography and images supplied by our good friends at last.fm. Check out the Subsource page on last.fm here.
Mixes powered by the awesome Soundcloud
All event data and news is © Skiddle Ltd