Tramlines Festival Tickets
For more information about Tramlines Festival 2021 tickets, please visit the Tramlines Festival tickets page, part of our Festivals 2021 guide
Reviews of Tramlines Festival
Our visitors have reviewed Tramlines Festival 3 times
Average rating:
from 3 reviews
Tramlines is the biggest party Sheffield's ever seen.
More details coming soon...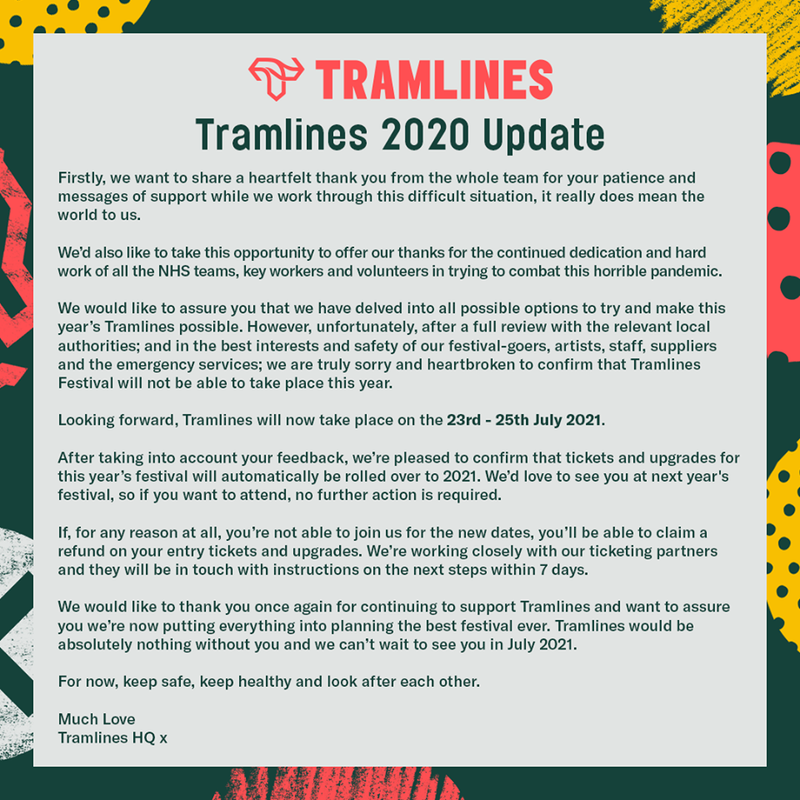 Disabled Access Information
ACCESS
Access is extremely important to us at Tramlines and all events should be accessible for all to enjoy. This year one of the Tramlines team's main goals was to strive towards being certified by Attitude is Everything.
As a festival we think all events should be accessible and we know that to truly champion accessibility and be one of the industry standard bearers, we need to strive improve year on year and continue to meet all needs and requirements of all our customers. This is something we are fully committed to do.
Accessible Facilities at Tramlines 2020
Designated Access Team to assist customers on site.
Access Car Park within close proximity of the Main Arena.
Accessible Viewing Platform at the Main Stage, T'other Stage and Library Stage
Accessible and Standard Toilet Facilities
Charging Points for Electric Scooters and Wheelchairs at all viewing platforms
Medical Fridge to store medication during your stay.
Assistance Dogs are welcome on site with advance notice, please email access@tramlines.org.uk
PA Ticket Scheme
Strobe Lighting
Please be aware strobe lighting will be used in many artist' sets. There will not be a warning immediately before a period of strobe lighting.
Working with Attitude Is Everything
Having set up as a pilot project in 2000, Attitude is Everything improves Deaf and disabled people's access to live music by working in partnership with audiences, artists and the music industry. They are now a fully independent charity and encourage events' producers to go beyond the legal obligations, providing a fair and equal service to their Deaf and disabled customers. Our access team have worked tirelessly to ensure we have the best access possible to all customers and meet the Attitude is Everything criteria.
Looking for something else? Find other festivals in July or try our new Festival Finder
To see this year's full lineup, please use the link below
full Tramlines Festival 2021 line up »
Location of Tramlines Festival 2021
Various Sheffield Venues
West Street,
Sheffield
S1 4EB
Related event pages for Tramlines Festival