The Gathering festival 2021 Tickets
About The Gathering festival 2021
Brand New City Centre Festival Announced For Inverness.
THE GATHERING is set to take over the historic Northern Meeting Park in The Highland capital on Saturday 4th September 2021.
The family-friendly, city centre festival will feature a host of the most exciting traditional and folk-based bands from The Highlands and Scotland alongside a line-up of the finest craft food and drink suppliers from the region.
Event Times
Opens: 11.30am
Closes: 10.30pm
Music genres: Acoustic, Folk
The Gathering festival Reviews
Our visitors have reviewed The Gathering festival 364 times. Read reviews of this festival »
Average rating:
4.3/5
from 364 reviews
The Gathering festival line up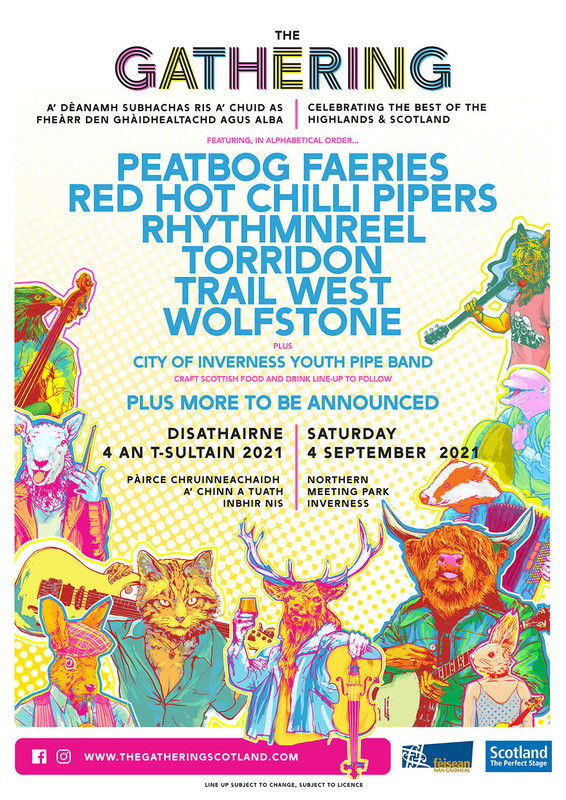 Peatbog Faeries / Red Hot Chilli Pipers / Rhythmnreel
The Gathering festival information & FAQs
Disabled Access Information
Map of Hotels near festival site
The Gathering festival news
Explore similar festivals to The Gathering festival
Find similar festivals by exploring the categories and classifications below:
Categories: Boutique / Grassroots festivals, Budget festivals, Family Friendly festivals
Type: Food festivals, Family Friendly festivals, Music festivals, Boutique festivals festivals
Size: Small sized festivals
Amenities: Toilets