About Sound Sounds Weekender festival 2022
A BRAND NEW FESTIVAL TAKING PLACE AT SOUTHPORT PONTINS HOLIDAY PARK with CHALET ACCOMMODATION INCLUDED IN TICKET PRICE.
With a stellar line up including first headliner The Sherlocks , Sound Sounds boasts an unrivalled cast of the best new talent in the world including the likes of Ewan McVicar, Dream Wife, Lottery Winners, The K's, The Clockworks, , Lauran Hibberd, Big Joanie, The Shakes, The Goa Express, The Dunts and much more.
Taking place over the weekend of 1st – 4th April 2022, Sound Sounds takes over the Southport Pontins holiday park complex, meaning festival goers can ditch their tents, wellies and wet wipes and in their place enjoy their very own apartment with lounge, bathroom, kitchen, bed, TV and a place to charge your phone. ALL CHALETS ARE INCLUDED IN TICKET PRICE.
With prices starting at an amazing £99 per person, you get everything the site has to offer including
**Over 80 of the greatest new acts across 5 stages **
**3 nights Chalet accommodation with your mates**
**Pool Parties**
**BMX Track / arcades / football pitches**
Sound Sounds features multiple stages including the legendary This Feeling stage and will showcase performances from some of the best up and coming artistes in the world today.
With the nearest train station less than 10 minutes, the event is easily accessible by car or train from all over the Country. This promises to be a weekend like you have never experienced before with your favourite new artistes and your best mates and at all an unbelievable price. Its time to banish those Covid blues and get back to a new normal.
Artists announced so far include: The Sherlocks / Steve Lamacq / Ewan McVicar / Lottery Winners / Lauran Hibberd / The K's / The Clockworks / Big Joanie / Andrew Cushin / Egyptian Blue / Lazarus Kane / The Crooks / The Dunts / Spyres / Michael Aldag / The Lounge Society / Lime Garden / Coach Party / Blanketman / Honeyglaze / Connor Fyfe / Bilk / The Cheap Thrills / Rianne Downey / Gen & The Degenerates / Martha Hill / Rats / Headshrinkers / Dictator / The Sonder / The Shakes / Phil Madeley / Lissy Taylor / Granary 12
ALL TICKETS INCLUDE CHALET ACCOMMODATION AND ACCESS TO ALL PARK AMENITIES
Club Apartments offer early Check In, Free Linen & Electricity and are nearer situated nearer to action.
Standard Apartments do not include Bed Linen (Available to buy onsite or bring your own favourite duvet) or Electricity (pre paid card available to buy on site).
Ticket prices shown are per Person and must be purchased in Groups of 2, 4 and 6 people.
Payment plans are available to spread the cost over 3 months interest free. The booking fee is charged on the first payment.
Age restriction - 14+ (under 18 must be accompanied by adult)
Music genres: Indie, Alternative
Sound Sounds Weekender festival line up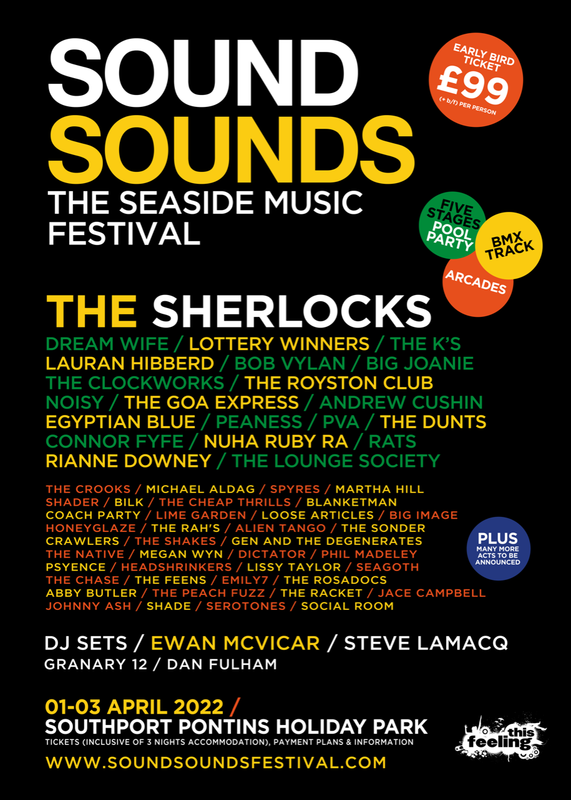 Sound Sounds Weekender festival information & FAQs
Map of Hotels near festival site
Explore similar festivals to Sound Sounds Weekender festival
Find similar festivals by exploring the categories and classifications below:
Categories: Dance Music festivals, Mainstream / Pop Music festivals
Type: Music festivals
Size: Small sized festivals
Accommodation: On-site Apartments / Chalets facilities
Amenities: Toilets