Rezerection In The Park festival 2021 Tickets
About Rezerection In The Park festival 2021
REZ IS COMING HOME!
Rezerection has established itself as the pioneer of large scale electronic + dance music events, dating back to 30 years ago. Every major act and artist who is worth their salt could only truly count themselves as 'made it' once they had graced the famous 'Rez -stage.'

And now the cultural phenomenon that spawned an era of like-minded souls and a soundtrack of misspent youth is heading home to Newcastle!

How did this legend begin? Where did it all start? Is this just myth or do we live in a fantasy?

1991. The city of Newcastle set the backdrop for what would become a dance- juggernaut. Rezerection was more than an event, it soon evolved into a movement, a way of life. After countless sell-out shows and breaking records faster than they could be set, Rezerection's rapid rise soon followed and inevitably set the start of something special.

Whether it's the 100's of Z tattoos emblazoned on the bodies of its dedicated fans or the obligatory name-check in Irvine Welsh's cult classic 'Acid House', Rezerection is single-handedly responsible for not only writing a page in history, but being the authors of the whole book – its sequel – and the spin-off box-set!!

Oozing legendary status whilst dictating the future. Often imitated yet never equalled.

To quite simply put it; our world would be a very different place without Rezerection.
>> Fast Forward to 2021 >>
The stage is set. The moment is here… Rezerection returns to its true birthplace and lands in an awe-inspiring location in the centre of Newcastle. The idyllic setting of Leazes Park will play host to the most colossal outdoor music shows of its kind. This century-old Victorian park boasts magical lakes, secret gardens, mystical views and is without a doubt the perfect venue in the world to host the very first multi-staged Rezerection In The Park 2021 Music Event.

With a huge main stage featuring the greatest-ever gathering of international artists alongside FX & production to blow your senses into overdrive; you can be guaranteed that Rezerection Homecoming will deliver the best event you have ever been a part of.

If there is one thing you do in this life, do not miss this event. BECOME A PART OF HISTORY!
Music genres: House, Hardcore/Hardstyle, Old Skool, Electronic, Retro
Rezerection In The Park festival line up
Wanda Dee (The KLF), Dream Frequency, JX & more...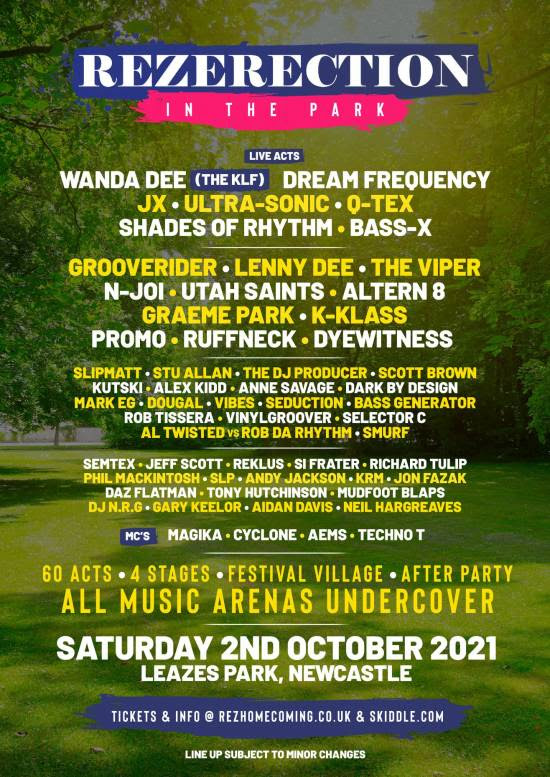 Rezerection In The Park festival information & FAQs
Disabled Access Information
Map of Hotels near festival site
Explore similar festivals to Rezerection In The Park festival
Find similar festivals by exploring the categories and classifications below:
Categories: Dance Music festivals, Budget festivals
Type: Music festivals
Size: Medium sized festivals
Amenities: Toilets