About One Out Festival 2022
One Out Festival will take place at Apps Court Farm, Walton-on-Thames, in Surrey, which is a stunning location in the heart of the county with luscious green fields all around and plenty of hidden trails. For one bright, breezy day the festival serves as a getaway and will be showcasing some of the hottest names within dance music.
Last years lineup was topped off by Hannah Wants and Roger Sanchez, with a whole host of other talent such as Horse Meat Disco and Low Steppa. For their debut edition last year, there were two bespoke stages of house, disco and dance which brought together artists who are world renown creating a fantastic party in 85 acres of glorious countryside. Situated just 35 minutes from Waterloo station, there's no excuse to deny yourself a quick escape this year.
Music genres: Deep House, Tech House, Electro House, Disco, Disco House
One Out Festival Reviews
Our visitors have reviewed One Out Festival 46 times. Read reviews of this festival »
Average rating:
3.7/5
from 46 reviews
One Out Festival line up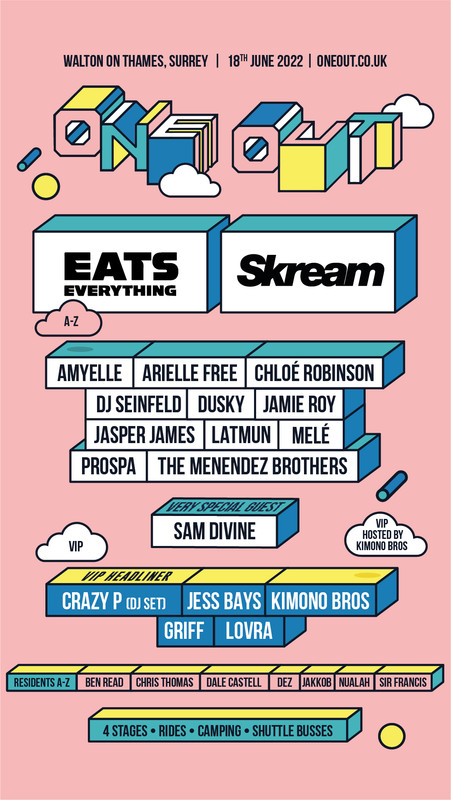 Eats Everything / Skream
One Out Festival information & FAQs
When is One Out Festival?
Ticket Information & Entry
Are pre-payment plan tickets available?
Where is One Out Festival?
What happens If I bought a ticket and cannot attend?
What are the entry times for One Out Festival?
Map of Hotels near festival site
Try our fully interactive map of all nearby hotels and accommodation. Please check location and dates before booking.
Explore similar festivals to One Out Festival
Find similar festivals by exploring the categories and classifications below:
Categories: Budget festivals, Dance Music festivals
Type: Music festivals
Size: Small sized festivals
Amenities: Toilets