Summer Sound Music Festival 2022 Tickets
About Summer Sound Music Festival 2022
summer sound music festival 2022...
Over 14 hours of live music from 12 of the UK's best tribute bands over 2 fantastic days.
The weekend kicks off on Friday 29th July with a 60's, 70's & 80's PARTY featuring tributes to the biggest artists in the world... ABBA, The Bee Gees, Dolly Parton, Elvis and Madonna. Hosted by DJ Murray Mint the music will range from Disco, Country, Rock & Roll and Pop... you can't miss it!
Saturday 30th July is a full day of live music hosted by Zetland FM showcasing the best in Rock & Pop with tributes from today's biggest artists... The Killers, Madness, Lady Gaga, Take That, Coldplay, Amy Winehouse plus support from local band The Fallen.
It'll be an amazing weekend with licensed bars, cocktail bars, food village, festival stalls, street entertainers, funfair, fireworks and much more.
Music genres: Rock, Pop, Rock & Roll, 80s, 70s
Summer Sound Music Festival Reviews
Our visitors have reviewed Summer Sound Music Festival 191 times. Read reviews of this festival »
Average rating:
4.5/5
from 191 reviews
Summer Sound Music Festival line up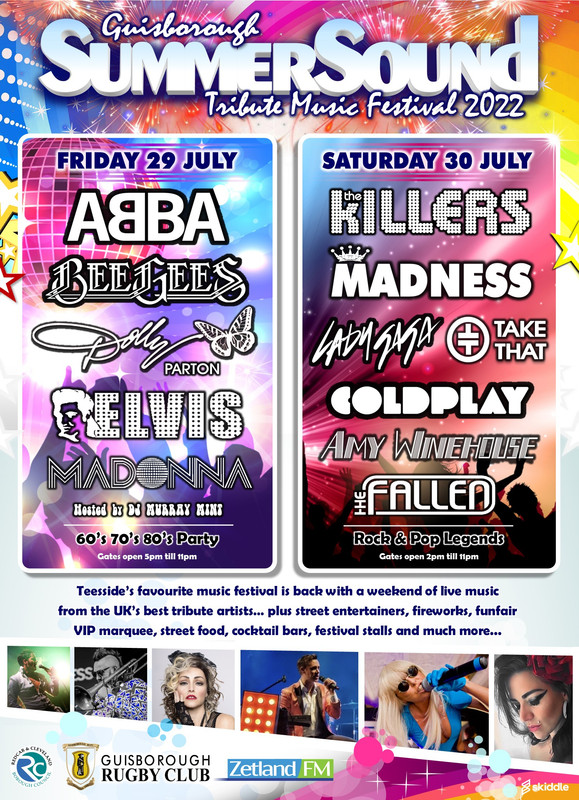 Summer Sound Music Festival information & FAQs
When is Summer Sound Music festival?
Are there car parking facilities at the venue?
Where is the festival taking place?
Does Summer Sound Music festival have any age restrictions?
Can I bring my own food into Summer Sound Music festival?
Are there any other restrictions on what I can bring into Summer sound music festival?
What are the entry times?
Travelling to/from the festival
Map of Hotels near festival site
Try our fully interactive map of all nearby hotels and accommodation. Please check location and dates before booking.
Explore similar festivals to Summer Sound Music Festival
Find similar festivals by exploring the categories and classifications below:
Categories: Mainstream / Pop Music festivals, Budget festivals
Type: Music festivals
Size: Small sized festivals
Amenities: Toilets
Attractions: Fairground