About Morley Music Festival 2021
LIVE MUSIC - VIP AREA - THEMED BARS - FOOD COURT - FAIRGROUND - BOUCY CASTLES - FACE PAINTERS - + MUCH MORE
Morley Rugby Club are putting on their first ever music festival this year. The rugby club will be hosting a whole host of tribute acts to some of the most iconic bands of all time. Are you an Arctic Monkeys fan? Well how about Desert Monkeys? Do you miss Oasis? Then try The Oasis Experience.
All those classic tunes you can enjoy with full sets of brilliant discographies. Enjoy the weekend by joining in and belting out some tunes yourself. The festival will also be providing a food court as well as a fairground, themed bars and more. There's plenty for the whole family too as the kids can play on bouncy castles and have their faces painted too.
If you're a fan of some of the biggest names in indie and rock music and you want to hear their best songs in a whole new light then Morley Music Festival is right up your street.
Morley Music Festival Reviews
Our visitors have reviewed Morley Music Festival 33 times. Read reviews of this festival »
Average rating:
4.2/5
from 33 reviews
Morley Music Festival line up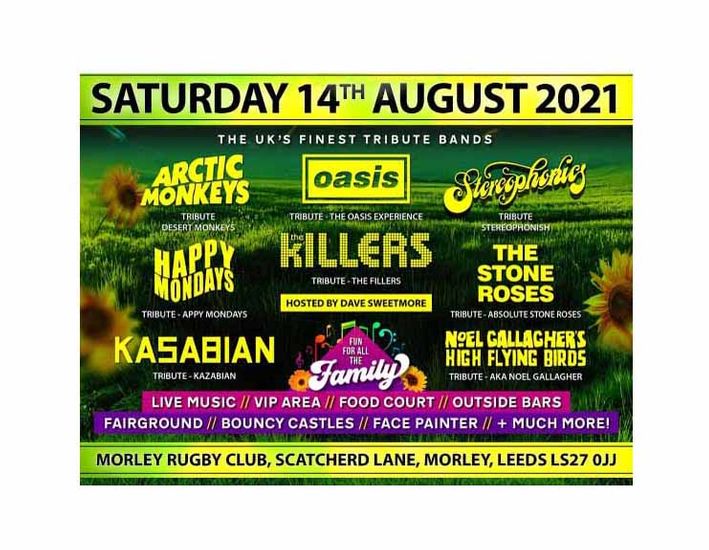 Morley Music Festival information & FAQs
Explore similar festivals to Morley Music Festival
Find similar festivals by exploring the categories and classifications below:
Categories: Family Friendly festivals, Budget festivals
Type: Music festivals
Size: Small sized festivals
Amenities: Toilets