Event has been cancelled.
Info: Due to the developments of Coronavirus (Covid-19)
Reviews of Mighty Hoopla
Our visitors have reviewed Mighty Hoopla 5 times
Average rating:
from 5 reviews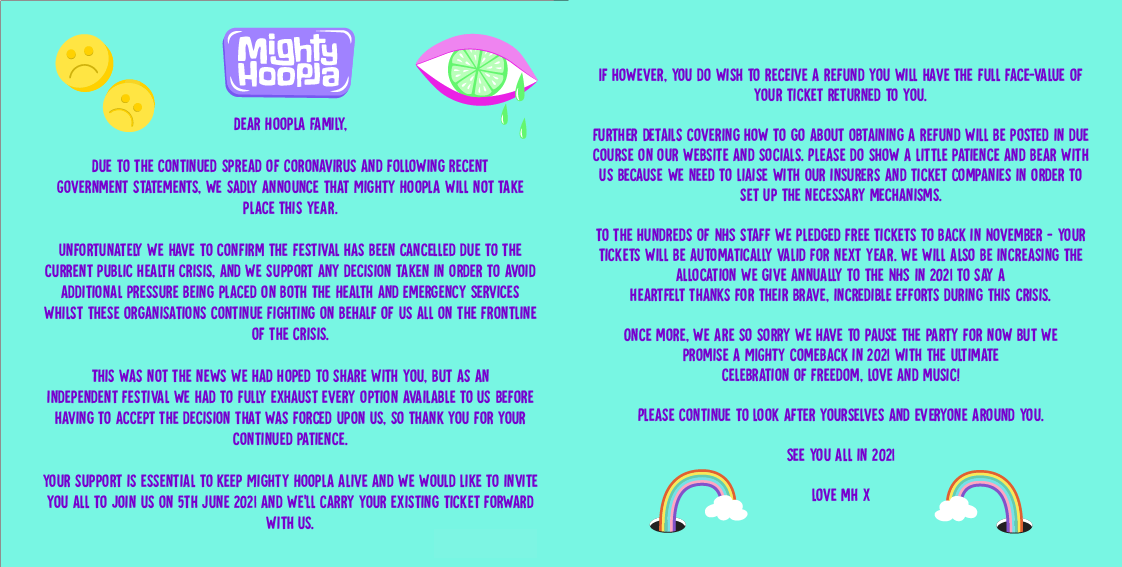 Welcome to the freshest form of revelry as London's leading club nights join forces for the Mighty Hoopla, bringing their pop phenomenon to East London's Victoria Park for one super salacious big day out.
Gathering London's primo alternative club nights and performance troupes, Sink The Pink, Guilty Pleasures, The Glory, Ultimate Power, Bongo's Bingo, Masseoke, R&She, We Love Pop and more will take over four stages, with a stellar line-up of world renowned live acts and DJs including All Saints, Charlotte Church's Late Night Pop Dungeon and Sophie Ellis Bextor.
Disabled Access Information
PURCHASING TICKETS
For disabled customers who do not require special access to the event, please purchase standard tickets.
If you need assistance while at the event, we offer personal assistants tickets at no extra cost. These tickets are available for people who would otherwise not be able to attend the event – as tickets for the event as a whole, are limited (and expected to sell out) please do not book this ticket unless you do really require it. To apply for a PA ticket, please contact info@mightyhoopla.com
prior to purchasing. You will be asked to supply information to confirm that you have a genuine requirement for a PA.
INFORMATION PACKS
Packs will include specific event information such as a map of the event showing key locations (i.e. toilets, lowered bars, viewing platforms, accessible entrance, welfare, location of hearing induction loops), key contacts and further relevant information. All customers who make access bookings prior to the event will be automatically sent an information pack via the email address used to buy the tickets. These packs will not be sent out until much closer to the event.
ACCESSIBLE TOILETS
There will be at least one Disabled Toilet at each Toilet Block and one by the Stage 1 viewing platform. The accessibility map, which will be included in the pre-event Information Pack, will show each location.
LOWERED BARS
There will be some provision for lowered bars on site. The accessibility map, which will be included in the pre-event Information Pack, will show each location.
SEATING
There is some seating across the site – however this is limited and is within picnic areas only. As part of our entrance policy, customers are not allowed to bring seating to the event (with the exception of wheelchairs).
If seating is compulsory to your enjoyment of the event due to medical circumstances we are able to make exceptions. Please seek permission in advance by contacting info@mightyhoopla.co.uk
HEARING INDUCTION LOOPS
The box office and welfare will both have hearing induction loops. The Access Map will show locations.
PARKING
A Disabled Car Park is located close to the site. As the car park is within the park, an escort is necessary to guide you there. The parking is on grass – however the route from the park to the gate is tarmac. It is compulsory that you book disabled parking. On arrival to the park, your vehicle must clearly display your blue badge – unfortunately we cannot grant access if you do not show this. Please contact us (info@mightyhoopla.com) stating which day you are attending, your name, vehicle registration, how many people are traveling in the vehicle and your contact details. Please note that at the end of the event, there are various Road Closures around the site. Our Access Manager will be able to advise you on best route of departure on the day (as due to the nature of the event it is difficult to confirm this beforehand). However, please be aware that it may take a while to get out of the site at the end of the event. The accessibility map, which will be included in the pre-event Information Pack, will provide more detailed information parking including maps and contacts.
MEDICAL SERVICES, WELFARE & ASSISTANCE AT THE EVENT
Your pre-event Information Pack will provide you with the contact details for our Access Manager who will be your contact, should you need one, whilst at the event. TheWelfare Tent (which will be clearly signed posted on site and highlighted on your access map) is where our Access Manager will be based, will also be able to help with any enquiries whilst on site and will keep stock of Access Maps. A charging point will also be located at The Welfare Tent should you need it. St Johns Ambulance will be on site should you require any medical assistance.
LIGHTS
Due to the nature of the event there will be flashing lights on all stages and strobe effects may also be used.
ASSISTANCE DOGS
Customers are permitted to bring recognised Assistance Dogs onsite. Recognised Assistance Dogs are dogs which have been specifically trained to assist a disabled person and which are registered with a charity which is a member of AssistanceDogs UK. We ask that you contact us in advance to let us know that you are bringing an assistance dog by emailing info@mightyhoopla.com
EVENT SPACE & SITE
The event is on a green-field site – although there are some tarmac tracks, these do not run into the stages (which all stand on grass). Weather and ground conditions may be variable. The location of the event is an area of Victoria Park to the East of Grove Road.
Looking for something else? Find other festivals in June or try our new Festival Finder
To see this year's full lineup, please use the link below
full Mighty Hoopla 2020 line up »
Location of Mighty Hoopla 2020
Related event pages for Mighty Hoopla