About Manchester Psych Fest festival 2021
All things weird and wonderful return to Manchester this year as Psych Festival has announced that it will be taking place on September 4th. Spanning across some of the city's best venues, such as Gorilla, YES and Deaf Institute, this is the place you want to be to discover some of the most talented bands around at the moment.
From the spoken word absurdism of Dry Cleaning to the hypnotic tones of Stereolab and the devastating folk of Skullcrusher. There will be a host of other entertainments available with art exhibitions and murals yet to be announced. DJ's will be making sure there will always be opportunities to dance, and food stalls will be popping up everywhere ready to meet any dietary requirements.
With a great mixture of established artists and those just coming to the fore, Manchester's Psych Fest continues to showcase the psychedelic artists and indie talent that you need to keep an eye on.
Music genres: Rock, Indie, Alternative
Manchester Psych Fest festival Reviews
Our visitors have reviewed Manchester Psych Fest festival 9 times. Read reviews of this festival »
Average rating:
4.6/5
from 9 reviews
Manchester Psych Fest festival line up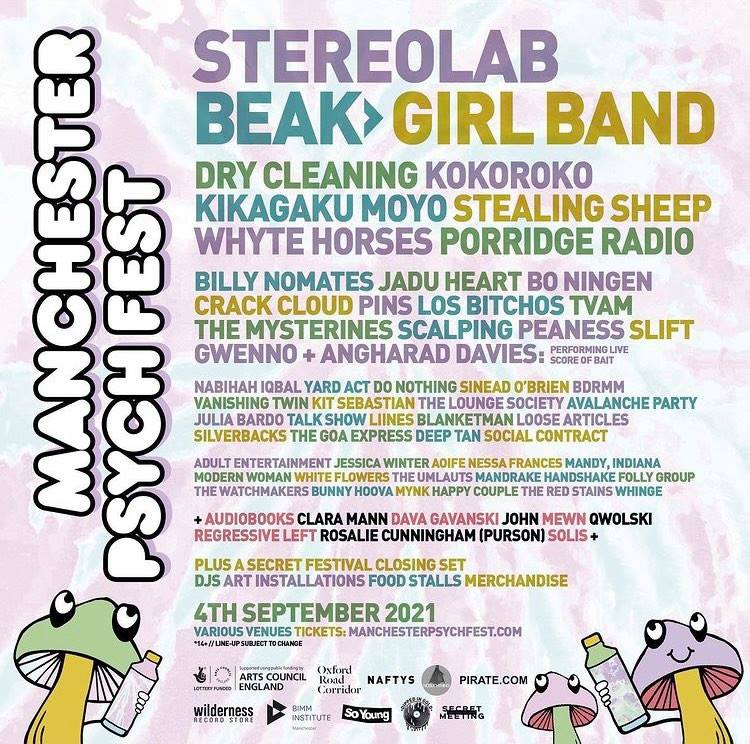 LIVE MUSIC LINE-UP
STEREOLAB // TINARIWEN // GIRL BAND
DRY CLEANING // KOKOROKO // KIKAGAKU MOYO // STEALING SHEEP // WHYTE HORSES // PORRIDGE RADIO
BILLY NOMATES // JADU HEART // BO NINGEN // CRACK CLOUD // PINS // LOS BITCHOS // TVAM // THE MYSTERINES // SCALPING // PEANESS // SLIFT // GWENNO + ANGHARAD DAVIES: PERFORMING LIVE SCORE OF BAIT
NABIHAH IQBAL // YARD ACT // DO NOTHING // SINEAD O'BRIEN // BDRMM // VANISHING TWIN // KIT SEBASTIAN // THE LOUNGE SOCIETY // SKULLCRUSHER // AVALANCHE PARTY // JULIA BARDO // TALK SHOW // LIINES // BLANKETMAN // LOOSE ARTICLES // SILVERBACKS // THE GOA EXPRESS // SOCIAL CONTRACT // DEEP TAN
ADULT ENTERTAINMENT // JESSICA WINTER // AOIFE NESSA FRANCES // GARY, INDIANA // MODERN WOMAN // THE UMLAUTS // MANDRAKE HANDSHAKE // FOLLY GROUP // THE WATCHMAKERS // BUNNY HOOVA // MYNK // HAPPY COUPLE // THE RED STAINS // WHINGE
+ A SECRET FESTIVAL CLOSING SET
DJs
HOT SINGLES CLUB / SO YOUNG / THE BEAT CHICS / ALL HANDS ON DECK / REMAKE REMODEL / ASTRAL ELEVATOR / WILDERNESS RECORDS / ME GUSTA / NOT BAD FOR A GIRL / SHELL ZENNER
Manchester Psych Fest festival information & FAQs
Travelling to/from the festival
Map of Hotels near festival site
Explore similar festivals to Manchester Psych Fest festival
Find similar festivals by exploring the categories and classifications below:
Categories: Budget festivals, Boutique / Grassroots festivals
Type: Music festivals
Size: Very Small sized festivals
Amenities: Toilets