Liverpool Sound City festival 2022 Tickets
About Liverpool Sound City festival 2022
After a euphoric return in October 2021 that set itself apart as the definitive home of vibrant new music no matter the genre and no matter the style, the revered Sound City heads into 2022 for another landmark year - marking its 15th Anniversary across the weekend of 30th April-1st May 2022.
Emerging across the streets of Liverpool back in 2008 as a heralded celebration of new and exciting music, Sound City has become an essential date in the diary for music fans far and wide to come together and discover the sounds of the future. Nestled in a European capital of music culture, its storied alumni who have made those first steps at Sound City reads as a who's who of the biggest and brightest names in modern music (from the likes of Ed Sheeran, Stormzy, The xx, Alt-J and Courtney Barnett to The Wombats, Royal Blood, Catfish & The Bottlemen and many more). Continuing to champion and elevate the sounds that'll come to define the years ahead, Sound City celebrates its 15th Anniversary by doing what it does best. Pointing to the here and now.
No band have had a bigger 2021 than The Lathums. Since the very beginning, the Wigan four-piece have connected with a community of fans in a way that few others can, crossing generations with their earnest songwriting and collective sense of relief and emotion. Debut album 'How Beautiful Life Can Be' captured that perfectly, storming to the top of the UK Albums Chart with a debut LP full of bonafide anthems that have only grown with their latest headline tour selling out in rapid fashion. In what will be the band's first ever festival headline slot, expect this to be a landmark moment in British indie history, and one simply impossible to miss.
To mark their first-ever festival headline performance, the first 1000 people to secure their Sound City 2022 ticket will receive a unique commemorative postcard signed by The Lathums themselves.
Also stepping up to headline one of her first major festivals is one of the most critically acclaimed artists of 2021 in Self Esteem. With her own brand of scintillating pop taking the new music world by storm, Rebecca Lucy Taylor has had a landmark 12 months - complete with five-star live reviews and universal adoration following the release of second album 'Prioritise Pleasure'. Pioneering a new age for modern-pop, Self Esteem will take to the headline stage at Sound City 2022 for what's sure to be an unforgettable glimpse of a new phenomenon in action.
Speaking about topping the billing at Sound City 2022, Self Esteem said:
"Positively thrilled to finally be making it to Liverpool next year, a lovely bit of font too!"
To mark the festival's 15th Anniversary, The Lathums and Self Esteem lead an eclectic and vital batch of artists announced to touch down across the streets and stages of Liverpool City Centre in 2022. On the brink of a game-changing 2022, Yard Act head to Sound City with the sort of formidable live presence that has separated them from the pack of exciting new bands making a stir. Debut album 'The Overload', landing in January, is set to cement their place at the very top - with their set at Sound City bound to be a true roadblock. Continuing his rise to superstardom, Alfie Templeman heads to Sound City as an artist firmly on the rise. The Chess Club-signee has made his name as a future pop sensation that cross genres and ideas at the tip of a dime, with anthems like 'Forever Isn't Long Enough', 'Everybody's Gonna Love Somebody' and recent single '3D Feelings' pointing to an artist that by the time Sound City comes around - will be leading the way as a new artist that'll be soundtracking 2022 and beyond. Equally set to go down as a highlight of the festival weekend is Sheffield's own The Reytons. Debut album 'Kids Off The Estate' brought their thrilling indie sound to the masses, surging into the Top 20 of the UK Albums Chart with their tales of modern life reaching new levels. Bound to be a sweaty one, The Reytons at Sound City is a moment not to be missed.
Talking about their appearance at Sound City 2022, The Reytons said:
"We can't wait to return to Liverpool for Sound City! Our last visit was well overdue but a strong reminder of why we love the place so much, Scouse Reytons are up there with the best of them... Let's avit Liverpool!!"
Whether it's the dreamy indie-pop of Abbie Ozard, genre-splicing sounds of Everyone You Know, the ethereal swoons of Matilda Mann or the swiping indie hooks of The Royson Club - these first names announced set the standard for the sort of unforgettable weekend of music discovery that Sound City has become synonymous for. With Retro Video Club, stayMellow, Buggs, Bears In Trees, Cody Frost and Fiona Lennon completing a first selection of names with a range of rising local and national ones-to-watch, Sound City 2022 promises to be the festival's most joyful and essential edition to date. Just an early taste of what to expect from the return of Sound City, the first stop for the biggest acts on the planet to make their early mark and for fans to discover the sounds and artists ready to soundtrack the year ahead.
Music genres: Rock, Pop, Indie, Alternative, Pop Rock
Liverpool Sound City festival Reviews
Our visitors have reviewed Liverpool Sound City festival 9 times. Read reviews of this festival »
Average rating:
4.3/5
from 9 reviews
Liverpool Sound City festival line up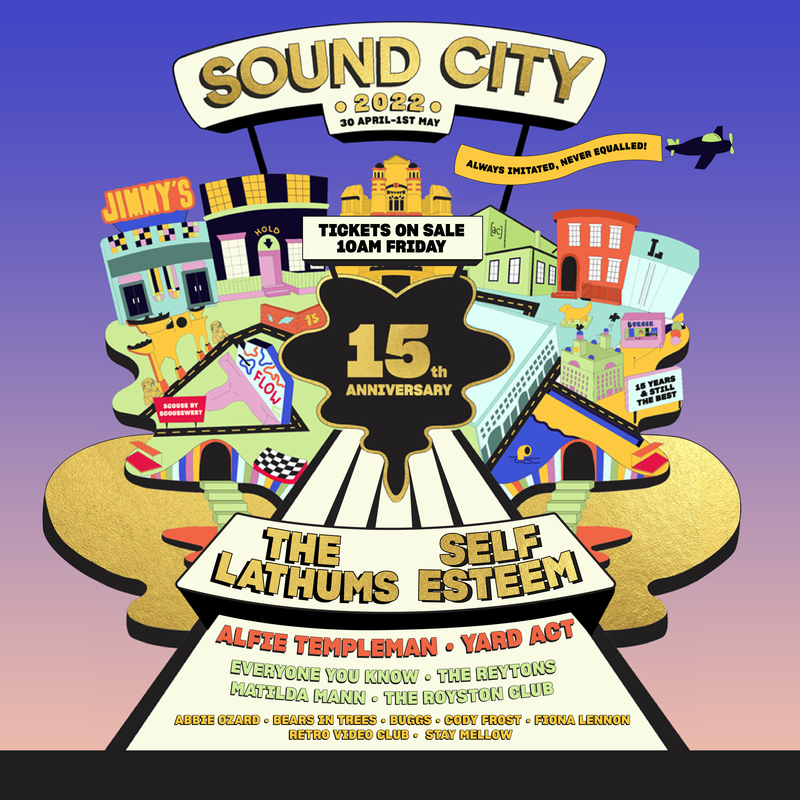 Liverpool Sound City festival information & FAQs
Travelling to/from the festival
Map of Hotels near festival site
The history of Liverpool Sound City festival
Explore similar festivals to Liverpool Sound City festival
Find similar festivals by exploring the categories and classifications below:
Categories: Budget festivals, Boutique / Grassroots festivals
Type: Art festivals, Music festivals
Size: Medium sized festivals
Amenities: Toilets
Attractions: Cinema / Film screenings