About Camp Bestival Dorset 2022
An awe inspiring multi award winning family festi-holiday set in the stunning grounds of Lulworth Castle, Dorset every summer.
The sister festival of Bestival, in its first year Camp Bestival was awarded Best New Festival in 2008 at the UK Festival Awards and has since won Best Family Festival four times at the awards in 2014, 2013, 2010 & 2009.
Set in the majestic grounds of Lulworth Castle, on Dorset's dramatic Jurassic coastline, Camp Bestival is jam-packed with entertainment, from stellar musical morsels and cultural delights to stunning sideshow attractions and lashings of family fun.
Music genres: House, Indie, Soul, Funk, Disco
Camp Bestival Dorset Reviews
Our visitors have reviewed Camp Bestival Dorset 1 times. Read reviews of this festival »
Average rating:
4.3/5
from 1 reviews
Camp Bestival Dorset line up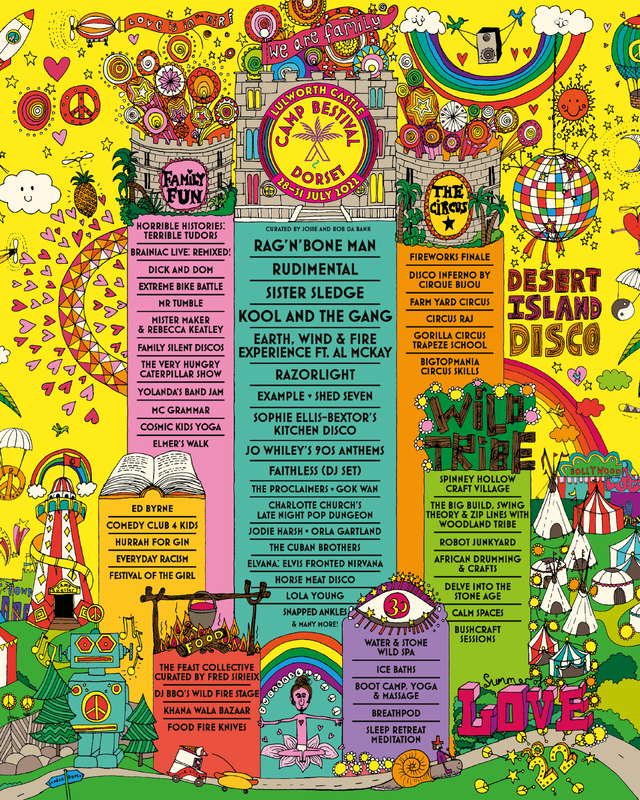 Camp Bestival Dorset information & FAQs
What are the entry times for Camp Bestival?
Are pre-payment plan tickets available?
How to get to Camp Bestival?
Disabled Access Information?
What happens If I bought a ticket and cannot attend?
Disabled Access Information
Map of Hotels near festival site
Try our fully interactive map of all nearby hotels and accommodation. Please check location and dates before booking.
The history of Camp Bestival Dorset
Explore similar festivals to Camp Bestival Dorset
Find similar festivals by exploring the categories and classifications below:
Categories: Mainstream / Pop Music festivals, Boutique / Grassroots festivals, Dance Music festivals, Family Friendly festivals
Type: Art festivals, Family Friendly festivals, Music festivals
Size: Medium sized festivals
Accommodation: Quiet Camping facilities, Campervan facilities, Luxury / VIP Camping facilities, Caravan facilities, Standard Camping facilities
Amenities: Luxury Toilets, Showers, Luxury Showers, Toilets
Attractions: Theatre, Fairground, Kids Area