About Bloodstock Open Air festival 2021
Bloodstock Open Air is the UK's biggest and hands-down best organised, heaviest hard rock and metal gathering catering for 15,000 metal fans over 5 days. Celebrating 20 years, the Award winning Independent Bloodstock festival takes place from 11th-15th August 2021 at the picturesque grounds of Catton Park in Derbyshire.
Don't stay in the dark....come along to the 2021 event, join your metal brethren and find out why Bloodstock's is the number one Metal event on the UK calendar.
Music genres: Rock, Metal
Bloodstock Open Air festival Reviews
Our visitors have reviewed Bloodstock Open Air festival 16 times. Read reviews of this festival »
Average rating:
4.8/5
from 16 reviews
Bloodstock Open Air festival line up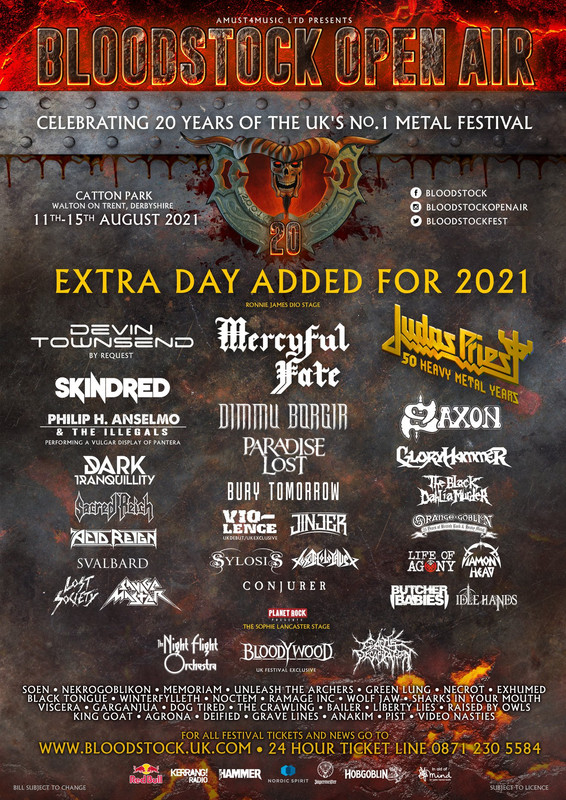 Devin Townsend / Mercyful Fate / Judas Priest
Bloodstock Open Air festival information & FAQs
Disabled Access Information
Travelling to/from the festival
Map of Hotels near festival site
The history of Bloodstock Open Air festival
Explore similar festivals to Bloodstock Open Air festival
Find similar festivals by exploring the categories and classifications below:
Categories: Boutique / Grassroots festivals
Type: Boutique festivals festivals, Music festivals, Beer festivals
Size: Medium sized festivals
Accommodation: Caravan facilities, Standard Camping facilities, Campervan facilities, Luxury / VIP Camping facilities