Audio Farm Festival 2022 Tickets
About Audio Farm Festival 2022
Audio Farm is an annual grass roots music and arts festival.
A celebration of the finest in electronic and live sounds, we curate a diverse lineup that brings together emerging underground talent, alongside huge headliner legends. Expect the best of House, Techno, Disco, Drum & Bass, Dub, Electro, Jungle, Reggae, Jazz, Rock, Ska, Balkan Folk, Acoustic and Afrobeat.
Our home is nestled within the walled garden and lake of Hopton Court. A magical haven and perfect backdrop for Audio Farm Festival. Our talented build crew add layers of vibrant, psychedelic and organic design to the beautiful scenic site, and together create one of the best visual impacts you'll find at a U.K. Festival.
Part of the Audio Farm Festival experience is to balance out the high energy dance floors with some grounding and wholesome activities. The Lakeside Garden hosts a variety of healing & holistic classes, massage, talks, workshops, circus performance and fun games.
A big part of Audio Farm Festival is the variety of ages that attend, with a huge emphasis being activities, workshops, talks and games for children for all ages, including the children's open mic stage.
Free from corporate sponsorship, our independent event is fighting the good fight to help keep Independent Music & Arts culture alive, and we do so whilst donating all our profits to Green Paw Project, a charity supporting animal welfare and environmental conservation.
We believe in looking after the planet and each other, and the sparkling atmosphere of the festival reflects that: everyone and anyone will always be welcome. Audio Farm Festival is proud to be fully vegan, sells no single use plastics, and our "leave no trace" policy runs through the festival viens. With the site being spotless of litter during the live days, and not a single item of rubbish left by the campers as they leave the festival.
"In the universe, there are things that are known, and things that are unknown, and in between, there are doors."
Music genres: House, Drum n Bass, Techno, Folk, Electronic
Audio Farm Festival Reviews
Our visitors have reviewed Audio Farm Festival 39 times. Read reviews of this festival »
Average rating:
4.5/5
from 39 reviews
Audio Farm Festival line up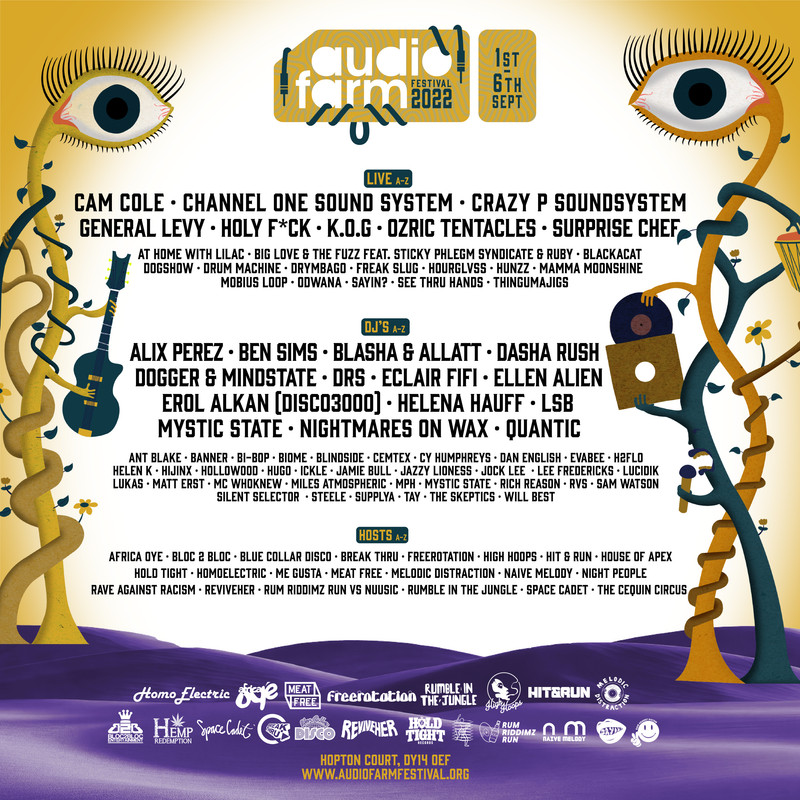 Audio Farm Festival information & FAQs
Map of Hotels near festival site
Try our fully interactive map of all nearby hotels and accommodation. Please check location and dates before booking.
Explore similar festivals to Audio Farm Festival
Find similar festivals by exploring the categories and classifications below:
Categories: Budget festivals, Family Friendly festivals, Dance Music festivals, Boutique / Grassroots festivals
Type: Boutique festivals festivals, Art festivals, Family Friendly festivals
Size: Small sized festivals
Attractions: Kids Area, Fairground