About Midstock Festival 2023
At the heart of Midstock festival there's local people bringing you a variety of music, food and drink and loads of fun; what more could you want on a lovely July day? Midstock invites families, music-lovers and party animals alike to Dalkeith Country Park to enjoy the late-summer sunshine with us.
With bars serving a selection of festival favourites and more food stalls than you can shake a stick at, this family friendly festival has an eclectic mix of daytime fun, big name DJ's, bands and the best of talent offering something for everyone, and the headline acts will guarantee you're partying until dark. Grab your dancing shoes (and maybe your wellies) and experience Scotland's biggest small festival.
Midstock Festival Reviews
Our visitors have reviewed Midstock Festival 128 times. Read reviews of this festival »
Average rating:
4.1/5
from 128 reviews
Midstock Festival line up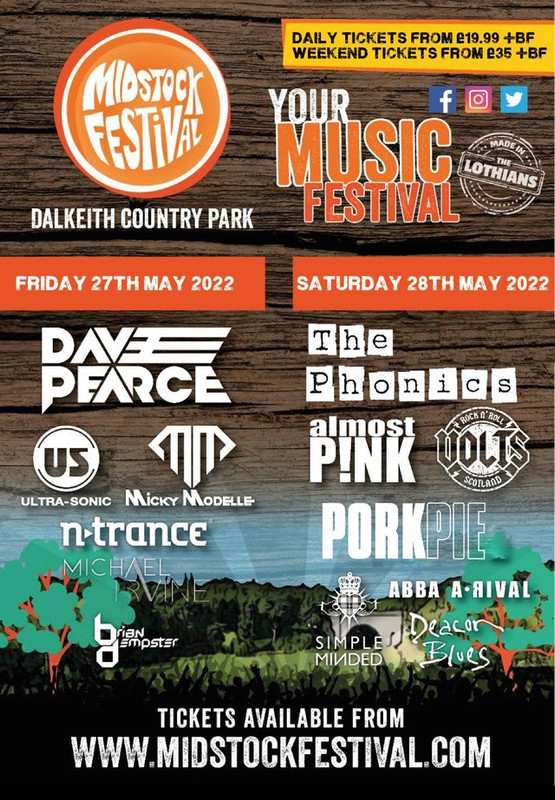 Midstock Festival information & FAQs
How do I get to Midstock?
How much are Midstock 2022 tickets?
Does Midstock have onsite camping?
Are pre-payment plan tickets available?
Does Midstock have any age restrictions?
What happens If I bought a ticket and cannot attend?
Can I bring my own food and drink into Midstock?
The history of Midstock Festival
Explore similar festivals to Midstock Festival
Find similar festivals by exploring the categories and classifications below:
Categories: Budget festivals, Family Friendly festivals
Type: Music festivals
Size: Small sized festivals
Amenities: Toilets