TheBrokenDoor tickets + tour dates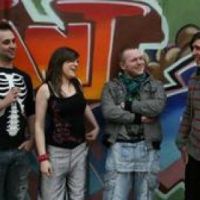 Find TheBrokenDoor tour dates and buy tickets, plus listen to mixes and view videos!
Where is TheBrokenDoor playing?
TheBrokenDoor Biography
TheBrokenDoor is a live improvised drum & bass band hailing from Manchester, UK. Writing tracks live as they play, they provide audiences with styles varying from your classic chill out dnb tracks to dance floor slamming tracks of substancial proportions.



 Dropping famous vocal samples by famous artists from varying genres in their live set gives their audience new music with a sense of familiarity. The line up is a concoction of professional drum n bass musicians and engineers - Emma Welsby (drum n bass producer Strict Status) on vibraphone & vox, Dan Owens (composer, arranger and session musician) on bass, Adam Owens (drummer extraordinaire) on kit and Liam Maloney (producer and engineer Womb) on synths/electronics.



 Their open mic policy has given opportunities for artists around the UK to add to TheBrokenDoor's live experience. Controlling their own lighting show using drumming responsive lights, they provide the audio and visual aspects themselves thanks to sponsorship from www.drumlights.com. Their combined musical and drum n bass engineering talent has seen them supporting artists such as Dom N Roland, Future Prophecies, Aquasky and Killa Kela and have achieved live appearances outside the UK.



User-contributed text is available under the Creative Commons By-SA License and may also be available under the GNU FDL.
Do you promote/manage TheBrokenDoor? Login to our free Promotion Centre to update these details.
TheBrokenDoor News
TheBrokenDoor has been mentioned in our news coverage:

read more »

Now Then Interview: thebrokendoor

6th Dec 2011 1:21am

Now Then Manchester speaks to Emma Welsby from drum'n'bass and electronica improv quartet thebrokendoor ahead of a special cinematic show in Manchester on Sunday 11th December.
Artist biography and images supplied by our good friends at last.fm. Check out the TheBrokenDoor page on last.fm here.
Mixes powered by the awesome Soundcloud
All event data and news is © Skiddle Ltd