Lanterns on the Lake tickets + tour dates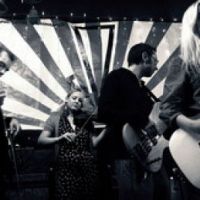 Find Lanterns on the Lake tour dates and buy tickets, plus listen to mixes and view videos!
Where is Lanterns on the Lake playing?
Lanterns on the Lake Biography
Lanterns On The Lake are a sextet from Newcastle, UK formed in 2008. The members are connected in different ways; Hazel (vocals, guitar) & Paul Gregory (guitars, electronics) used to be in a band with Ol Ketteringham (drums, piano); Sarah Kemp (violin) and Hazel are old schoolmates; while Adam Sykes (vocals, guitar) and Brendan Sykes (bass) are brothers.



 The band released two EPs, 'The Starlight EP' (2009) and 'Misfortunes & Minor Victories' (2010). Budgets being tiny for the EPs, the band borrowed an eight-track recorder and captured every intimate breath and soaring crescendo in their own homes and at an isolated house in Northumberland. Handmade sleeves for both EPs reinforced the self-sufficient approach.



 Their début album 'Gracious Tide, Take Me Home' was released on 19 September 2011 through Bella Union . The album was produced by Paul, as he did the bandís first two EPs. Relishing their independence, the band eschewed a recording studio for the album, though the loud bits were done in a basement of a shop in Newcastle.



 Sites: Discogs and www.LanternsOnTheLake.com (official)



User-contributed text is available under the Creative Commons By-SA License and may also be available under the GNU FDL.
Do you promote/manage Lanterns on the Lake? Login to our free Promotion Centre to update these details.
Lanterns on the Lake News
Lanterns on the Lake mixes
Lanterns on the Lake - The Buffalo Days: 31st Oct 2013
Another Tale From Another English Town: 29th May 2013
Lanterns on the Lake Videos
Artist biography and images supplied by our good friends at last.fm. Check out the Lanterns on the Lake page on last.fm here.
Mixes powered by the awesome Soundcloud
All event data and news is © Skiddle Ltd