Days out with Skiddle: The best experiences and attractions in the UK
Keep track of The Open Arms at Warwick Castle events, tickets and news - all in one place. Join this group now for updates as they happen!
Days Out with Skiddle is here to share with you the best events and attractions on the site.
24th May 2022
On this week's Days Out With Skiddle, we have a bunch of celebrities squaring off in MMA fights, which is a tantalising prospect in aid of a good cause. There's also comedy from names such as Paul Sinha and Ardel O'Hanlon as well as a chance to enjoy some gorgeous food in the shadow of a castle. We're bringing you the very best events and attractions from across the Skiddle site. Click on the event titles for more information.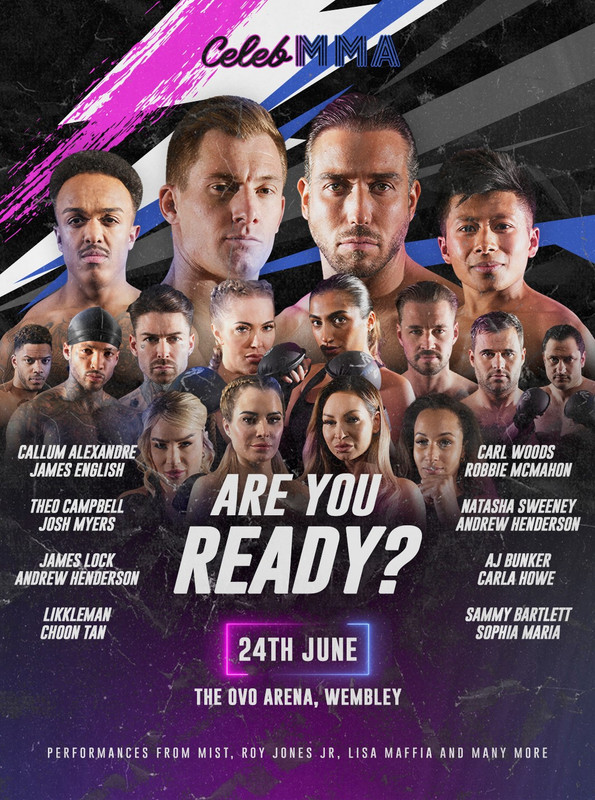 When: Friday 24th June
Where: OVO Arena Wembley, London
If you want to see some famous names attempt to kick the crap out of each other in the ring then look no further than this event. All in aid of a good cause, the profits will be going to mental health organisations. Some of the names lined up to compete include Josh Myers, Carl Woods and AJ Bunker.
Find sign up to be reminded of when tickets for Celeb MMA go on sale - here
-
---
When: Friday 7th October
Where: Southport Comedy Festival, Victoria Park, Southport
Paul Sinha first rose to fame on the beloved TV show The Chase, where he impressed as one of the funniest chasers. He's also been taking to stand-up comedy in recent years and has appeared on other shows such as Taskmaster. You can see him perform at this year's Southport Comedy Festival.
Find tickets for Paul Sinha One Sinha Lifetime - here
-
---
Ardal O'Hanlon- The Showing Off Must Go On
When: Sunday 27th November
Where: Little Theatre, Southport
Ardal O'Hanlon is one of the funniest Irish comedians around at the moment. He's appeared on Taskmaster, was a star in Father Ted and also had an outing in the lead role of Death In Paradise as well as having cameos in Derry Girls. We can't wait to see what material he brings out on his latest tour.
Find tickets for Ardal O'Hanlon- The Showing Off Must Go On - here
-
---
When: Friday 15th July
Where: Cairndale Hotel and Leisure Club, Dumfries and Galloway
Bingo Revolution is not your average game. A mixture of comedy, bingo, prizes and music, they will have local comedy hero Che Burnley on hand at this event as a host. This is bingo as you've never experienced it before with big cash prizes on the line and plenty of laughs to be had still even if you're not a winner.
Find tickets for Bingo Revolution - here
-
---
Croc Art Masters Tattoo Convention
When: Saturday 4th- Sunday 5th June
Where: Preston North End Football Club, Preston
This will be Preston's very first tattoo convention and it'll be taking place over the Queen's Jubilee weekend. It'll be a celebration of live tattoo artistry and piercing and art in all forms. There will be dancing on the main stage and an international gourmet of food stalls to keep you going through the day.
Find tickets for Croc Art Masters Tattoo Convention - here
-
---
The UK Bully Kennels Club's First Edition
When: Sunday 19th June
Where: Bowlers Exhibition Centre, Manchester
This will be an exhibition show for the best in bulldogs held at Bowlers Exhibition Centre in Manchester. With various different competitions taking place throughout the day, you'll see the very best of the breed throughout the day and you'll also be able to browse a wide variety of commercial stalls.
Find tickets for The UK Bully Kennels Club's First Edition - here
-
---
When: Saturday 11th June
Where: Roller Jam, Birmingham
Roller Jam is new to Birmingham and they're looking forward to opening their doors for the first time very soon. A purpose-built venue, it'll be like a nightclub on wheels. there will be DJs on hand to provide the tunes and there will also be full stage shows every week. Get your skates on and glide to your hearts content.
Find tickets for Roller Jam - here
-
---
Highest Point Presents Big Family Day Out
When: Sunday 14th May 2023
Where: Williamson Park, Lancaster
After a hugely successful edition in 2022, Highest Point will be bringing back the Big Family Day Out for 2023. Seeing out the weekend in the best way possible, it's an incitation to get the whole family down for a carnival full of colour and creativity. Tickets are available as early as now.
Find tickets for Highest Point Presents Big Family Day Out - here
-
---
When: Saturday 11th June
Where: Warwick Castle, Warwick
Sat within the shadow of Warwick Castle is The Open Arms, which will be hanging around the grounds for the whole of Summer. There will be a range of award-winning street food, local ales, cocktails and spirits available. The beer garden is the perfect place to bring friends and family for a catch-up.
Find tickets for The Open Arms - here
-
---
An Evening With Frank Bruno MBE
When: Friday 12th August
Where: Boldmere St Michael's Football Club, Sutton Coldfield
One of Britain's sporting icons Frank Bruno MBE will be discussing his boxing career at this event in Sutton Coldfield. He will also be frankly talking about his relationship with mental health which has had a huge impact on him. A small fee will be charge if you want to have a picture with Frank but the proceeds will be going towards Birmingham Mind.
Find tickets for An Evening With Frank Bruno MBE - here
-
---
---
Check out our What's On Guide to discover even more rowdy raves and sweaty gigs taking place over the coming weeks and months. For festivals, lifestyle events and more, head on over to our Things To Do page or be inspired by the event selections on our Inspire Me page.


Image credit: The Open Arms / Facebook.com
Disclaimer: The article above has been contributed by the event promoter or somebody representing the event promoter. As such we take no responsibility for accuracy of the content and any views expressed are not necessarily those of Skiddle or our staff.