Reload Festival - UKG in the Forest 2022 Tickets
About Reload Festival - UKG in the Forest 2022
RELOAD FESTIVAL - UKG IN THE FOREST
Saturday 9th July brings the biggest UKG line-up around straight to the Forest!!
For one day only, deep in Nottingham's Lime Lane Woods, Reload Festival 2022 will be popping off with the hottest UKG artists and DJs for a crazy, up-for-it audience. Will you be in the crowd?
Nothing beats a forest festival. Escaping the hustle and bustle of the city to immerse yourself in the deep bass, shuffling drums, and soft vocals of UKG with others who also want to let go and feel the music is an unbeatable experience. And it's finally coming to Nottingham.
Across two stages hosted by The Mighty Garage Nation and Nottingham's 2Step, acts such as Heartless Crew, SHOSH, Interplanetary Crew, Matt Jam Lamont, Oxide & Neutrino, DJ Pied Piper & The Masters of Ceremonies, Shola Ama and many more will tear it up for a hype, adoring crowd. It's about time!
If letting loose in a forest to your favourite jams sounds right up your street, grab your Reload Festival tickets now to avoid disappointment.
Music genres: UK Garage, Bassline, Bass Music
Reload Festival - UKG in the Forest line up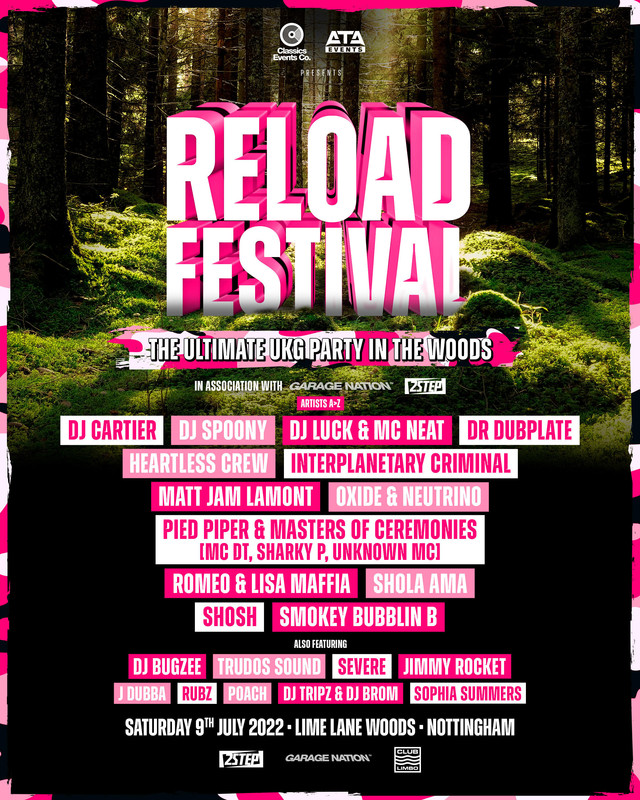 Reload Festival - UKG in the Forest information & FAQs
How to get to reload festival?
Is there camping at Reload Fest?
Is there disabled access at Reload Fest?
How much are Reload Festival tickets?
Where is Reload Festival?
Are pre-payment plan tickets available?
Does Reload Festival have any age restrictions?
What happens If I bought a ticket and cannot attend?
Is there an age restriction at Reload Fest?
Map of Hotels near festival site
Try our fully interactive map of all nearby hotels and accommodation. Please check location and dates before booking.