Kiddstock 2022 Tickets
About Kiddstock 2022
The UK's Biggest, Baddest and Most Loved Hardstyle Festival, IS BACK!


Welcome to the magical world of Kiddstock, returning to the north East for 2022 in a brand new location - Meggie's Burn Farm, Blyth.
With a nod back to its former raving days at the farm, Kiddstock is preparing its triumphant return to the summer calendar on Saturday 23rd July.
Join the hottest headliners in Hardstyle and Hardcore for a marathon of mayhem, with a line up guaranteed to blow your senses into overdrive!
Angerfist will be taking to the main stage, voted #46 in this year's DJ Mag top 100 poll he is without a doubt the world's leading hardcore DJ and the most requested headliner to play at Kiddstock!
Joining him will be D-Block & S-Te-Fan, production powerhouses and international superstars. Kiddstock is honored to have them grace the main stage turn tables for their North East debut.
The line-up also includes an artist that needs no introduction (but we'll give you one anyway), Darren Styles. Fresh from spinning around the globe he will be taking to the main stage to rock the Kiddstock crowd.
Charly Lownoise will be headlining the G.I.S vs Dioxide Arena. As one of the founders of the Happy Hardcore music genre, Charly will be showing the Kiddstock crew how it's done alongside another pioneer of the hardest beats. The Darkraver will be on stage to showcase his charismatic energy in a rare UK appearance.
The Darkside Arena will feature underground Gabba Legends and Hardcore icons like Spitnoise, Sharkey & French Faces. This arena is always wall to wall and we have something special in store at this year's edition in the form of the legendary Megadome!
There is no doubt that this year's event takes the line up to another level… this will be the most hyped Kiddstock yet!
The festival will also include a VIP area, X-Treme rides, Street Food and more.
This year you'll also be able to take advantage of camping on the farm, only a 10 minute walk away from the site.
Official Afterparty is at Dejavu, Blyth.
Music genres: Hard House, Hardcore/Hardstyle, Hard Trance, Hard Dance
Kiddstock line up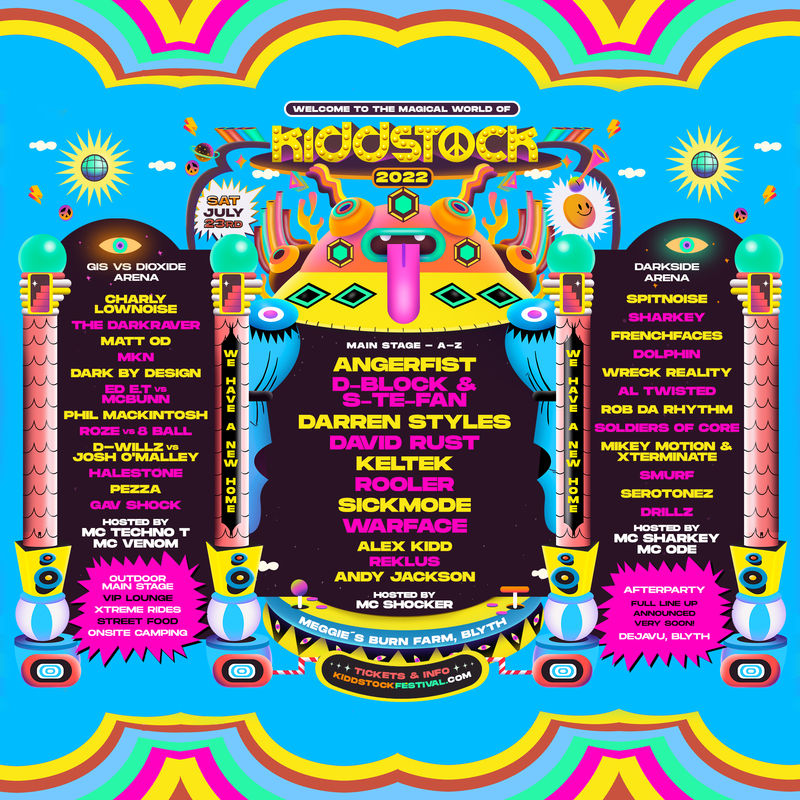 Kiddstock information & FAQs
When does Kiddstock festival take place?
How to get to Kiddstock festival?
Is there camping available at Kiddstock Festival?
accessibility information
How much are tickets for Kiddstock festival?
Where is Kiddstock Festival located?
Are campervans allowed on the campsite at Kiddstock Festival?
Are payment plans available for Kiddstock Festival?
Does the festival have any age restrictions?
How much are Tickets for camping and campervans?
Map of Hotels near festival site
Try our fully interactive map of all nearby hotels and accommodation. Please check location and dates before booking.
Explore similar festivals to Kiddstock
Find similar festivals by exploring the categories and classifications below:
Categories: Dance Music festivals
Type: Music festivals
Size: Medium sized festivals
Accommodation: Standard Camping facilities
Amenities: Toilets
Attractions: Fairground