About Eastern Electrics festival 2021
Eastern Electrics returns on Saturday 28h August 2020 for another unbeatable selection of all day music.
World-class underground DJs, urban acts and more will step up to seven stages, hosted by renowned clubbing institutions. Expect star quality production that's out of this world, plus global stars and underground heroes selecting the hottest sounds. For 2019, house and techno heavyweights, garage selectas and grime royalty descend on the lush Morden Park.
Banner Image: Photography at Eastern Electrics 2017 by Chris Cooper/ ShotAway
Eastern Electrics festival Reviews
Our visitors have reviewed Eastern Electrics festival 71 times. Read reviews of this festival »
Average rating:
4.2/5
from 71 reviews
Eastern Electrics festival line up
Jamie Jones / Loco Dice / Maya Jane Coles / Anna Wall / Denis Sulta / Mella Dee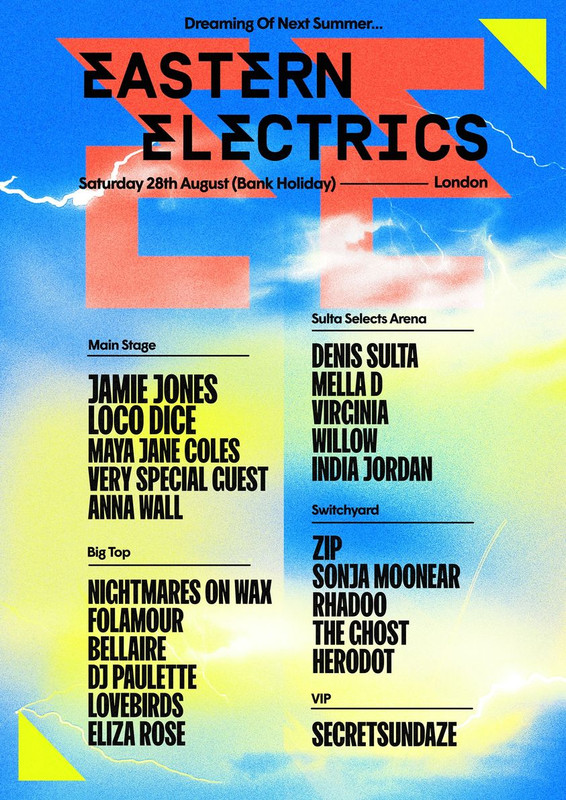 Eastern Electrics festival information & FAQs
Disabled Access Information
Travelling to/from the festival
Explore similar festivals to Eastern Electrics festival
Find similar festivals by exploring the categories and classifications below:
Categories: Dance Music festivals, Budget festivals
Type: Music festivals
Size: Medium sized festivals
Attractions: Cinema / Film screenings