Alfresco 2022 Tickets
About Alfresco 2022
Alfresco Festival returns on the August Bank Holiday but in a magical new woodland setting within the heart of Kent's countryside. This stunning historical site features a lake and woodland stages surrounded by dense woods. We now have a later license, five incredible stages and the party starts early with an official opening party on the Thursday. Without question 2021 was our best event yet with Daniel Avery, Paranoid London and Danielle Baldelli providing just some of our highlights. Join us over a long bank holiday weekend for the best underground electronic music family friendly festival of next summer.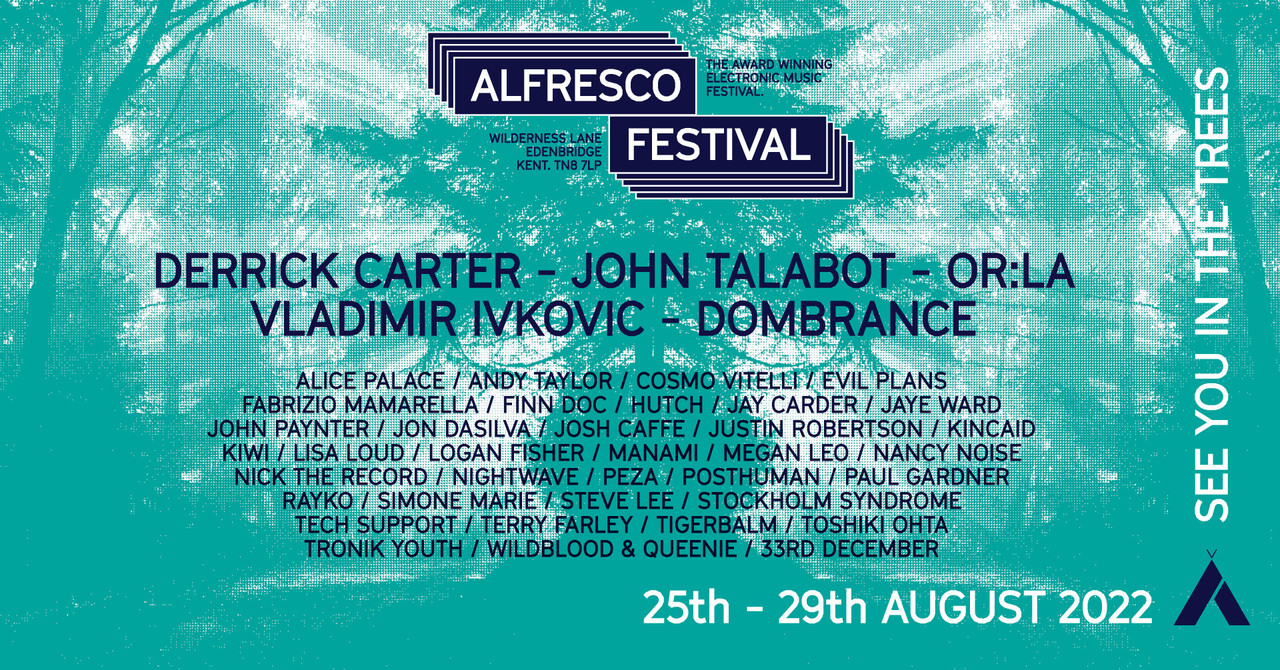 Music genres: House, Techno, Acid House, Funk, Disco
Alfresco Reviews
Our visitors have reviewed Alfresco 81 times. Read reviews of this festival »
Average rating:
4.5/5
from 81 reviews
Alfresco line up
Derrick Carter, John Talabot, OR:LA, Vladimir Ivkovic plus many more.
Alfresco information & FAQs
When is Alfresco Festival 2022?
How do I get to Alfresco Festival?
Does Alfresco Festival have onsite camping?
accessibility information
How much are Alfresco Festival tickets?
Where is Alfresco Festival?
What happens If I bought a ticket and cannot attend?
Does Alfresco Festival have any age restrictions?
How can I access my tickets?
Can I bring my own food and drink into Alfresco Festival?
Disabled Access Information
Map of Hotels near festival site
Try our fully interactive map of all nearby hotels and accommodation. Please check location and dates before booking.
Explore similar festivals to Alfresco
Find similar festivals by exploring the categories and classifications below:
Categories: Family Friendly festivals, Budget festivals, Boutique / Grassroots festivals, Dance Music festivals
Type: Music festivals, Family Friendly festivals, Art festivals
Size: Small sized festivals
Accommodation: Campervan facilities, Standard Camping facilities
Attractions: Kids Area