Verve in Bury Events and tickets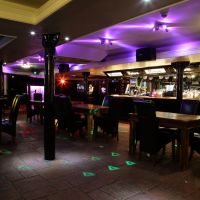 Verve in Bury events
No future events found at Verve in Bury
Do you own/manage Verve? Use our free Promotion Centre to claim/edit this venue.
Do you promote an event at Verve that's not listed? Use our free Promotion Centre to add/edit your events
Verve venue information
verve (vűrv) -noun
1. enthusiasm or vigor, as in literary or artistic work; spirit:
2. vivaciousness; liveliness; animation:

Situated on The Rock in the heart of Bury Town Centre we welcome anyone from 18 to 80. There is no dress code, all we ask is for people to smile, have fun and relax. Verve is in the perfect position to compliment your night after an evening at one of the great party eateries on The Rock.

Our music policy is chart and party themed and we can offer anything else you desire. We just want you to have a great night out! Have a look at our cocktail list to see how to compliment your night out.

Verve is currently open every Wednesday, Friday and Saturday and any other day or night can be privately booked for parties or corporate functions. Just get in touch or click here for more information.

ôVerve Bury, a place to dance, laugh and have fun!ö

Verve has not been reviewed yet. See Reviews above to leave your own!
Address: 107 The Rock, Bury, BH9 0NB
Venue short url: http://www.skiddle.com/venues/28842/
Music Policy: Eclectic
Ambiance: Fun
Clientele: Friendly
Drinks Served: Great staff dedicated cocktail bar
Disabled Facilities: No
Nearest Bus Stop: 20m
Phone: 0161 761 6568
Capacity: 200
Type of venue: Nightclub
Dress Code: None
Opening Hours: 10-4
Food Served: Day
Parking Details: to rear
Want to see more venues like this?
View more members who like Verve, plus recomendations for similar venues: Verve favourites page
Hotels near Verve
Use our hotel search to find hotels within walking distance of Verve. We also show live pricing and availability, plus you can book online - at no extra charge!
Restaurants near Verve
Why not make a night of it and have a meal before you go out? We've got the lowdown on all the best resturants - book a table online for free!
Nightclubs in Bury
Looking for some alternatives? Our complete guide to clubs in Bury will show all nightclub events for you to take your pick!
Bars in Bury
Looking for some pre club drinks? Our complete guide to bars in Bury will show you all of the local bars and pubs!