The Joker Boat - Albert Dock in Liverpool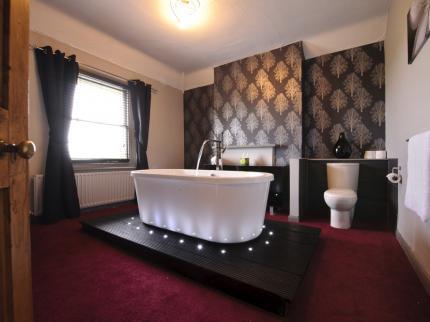 Official rating:
Customer rating: 5/6
Accommodation type: Self Catering
The Joker Boat - Albert Dock
Anchor Courtyard Albert Dock,
Liverpool,
L3 4AS
View location map »
Description
This fab batman boat in the colous of the joker was purpose built in Liverpool and turned it into a 5 star bespoke apartment boat, located right in the heart of the Albert Dock within walking distance of all the tourist attractions i.e. Beatles 2 minutes, Mathew St 5 minutes, Liverpool 1 shopping 1 minute and of course the Albert Dock itselfInside the boat is 42in LED TV with 3D and 6 pairs of glasses, full Sky TV and sport, free use of laptop and dongle, all central heated, fully fitted Italian kitchen, flat screen TV and DVD with Sky located in the bedrooms... Go on, give it a go! You will find the experience unique; you know it makes sense.PLEASE NOTE AS FROM 23RD SEPT 2012 WE REQ A ?300 SEC DEPOST DUE TO DAMAGE AND THEFT IT WILL BE RETURNED WITHIN 3 DAYS THANK YOU PLEASE NOTE ANYONE ARRIVING AT LIVERPOOL AIRPORT WILL BE PICKED UP For a small fee of just ?65, IN OUR ROLLS ROYCE PHANTHOM, OR H2 HUMMER. FOR MANCHESTER AIRPORT A SMALL FEE OF ?95 WILL BE REQUIRED limo pick up is for fri or sat bookings only and for 3 days or more mid week thank you
More photos
Click to view more photos &raquo
Book online
To book a room, click here to view room rates: Book Now »
Reviews from visitors...
"Excellent accomodation and the owner is a lovely man. Very local to all attractions, cant wait to revisit..." Read more »
Local points of interest:
The following music venues, bars, clubs and restaurants are near to The Joker Boat - Albert Dock:
BLUE BAR AND GRILL (Bar/Pub)

93 yards away

Revolution Albert Dock (Nightclub)

93 yards away

Spice Lounge (Bar/Pub)

93 yards away

Spice Lounge Indian Restaurant (Bar/Pub)

93 yards away

Baby Blue (Live music venue)

94 yards away
Find out more about the local clubs, bars, restaurants and points of interest: Nearby Area »
Location Map
To view a map of this hotel's location with local points of interest, please view the Hotel Location tab