Lindos Rock 2021

on Wednesday 16th - Wednesday 23rd June 2021

Book your own holiday to Lindos, Rhodes, Greece or stay in neighbouring Pefkos and catch the bus into Lindos each night to see the bands,

Each night bands play, you will be sent a programme telling you where each night will take place. All will be in Lindos at hotels and bars.

Tributes, originals, covers and Blues bands will entertain you.

Full details on our website www.rockersreunited.co.uk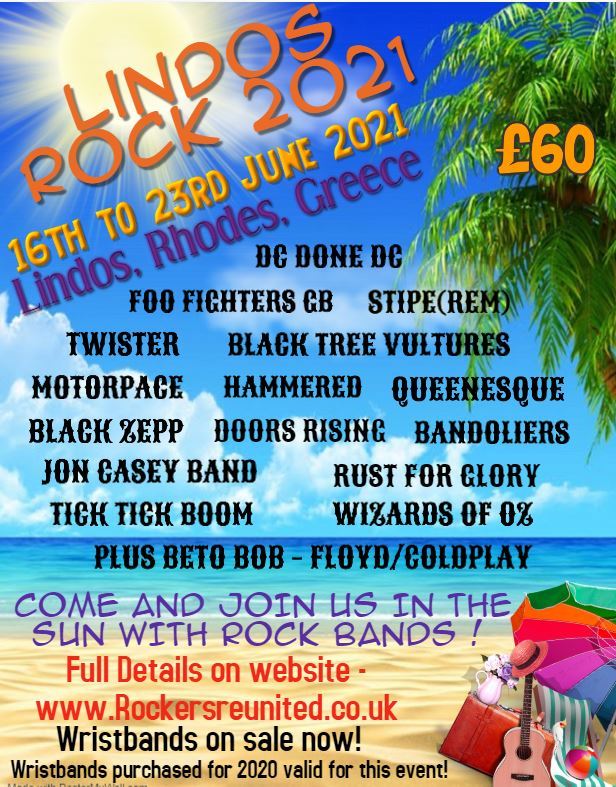 Music Genres:
Blues, Rock

Please note: The event information above has been added by the organiser. Whilst we try to ensure all details are up-to-date we do not make any warranty or representation as to the accuracy or completeness of the information shown.
Lindos Rhodes Rhodes: Nearby Hotels & Airbnbs
Need a place to stay? Compare every available hotel deal and Airbnb near Lindos Rhodes, so book today to secure the best price!.
Please note, venue location is plotted according to the venue's postcode which is provided by the event organiser. We do not check the accuracy of venue or hotel locations or dates so please check before booking or travelling
Lindos Rodos,
Rhodes,

Tel: 07734514319