Buy tickets securely
The Andromeda Jubilee Festival

on Sunday 7th May 2023

Oi Oiiiii... Pandemonium crew, Ravers, far and wide.

ONE LOVE!!

Pandemonium are so very proud to Present.

The Andromeda Jubilee Festival.
Celebrating the Coronation of King Charles the 3rd.
Coronation Bank Holiday weekend.
Sunday 12pm NOON May 7th, ~ Dance till you drop, Bank Holiday Monday
Morning 8th May 2023.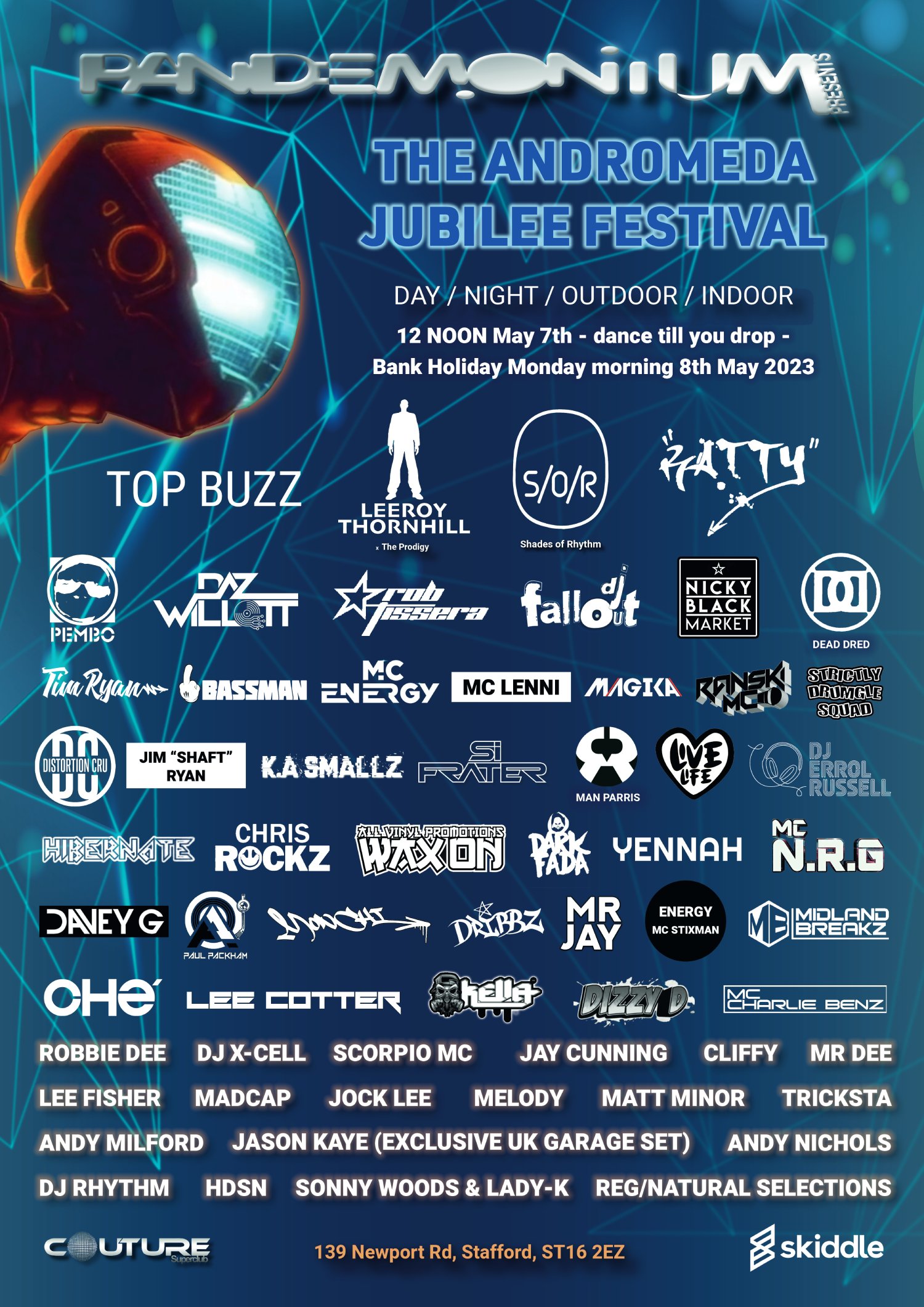 We just Gotta say to everyone we have worked with closely over these past few weeks, THANK YOU! A massive thank you to each and every one of you. We had to move swiftly, and we not only found a cracking Venue, we found a venue that allows the Pandemonium family to express themselves and create something special for us all to enjoy! We got there.
With SIXTY ARTISTS booked already for this Festival event, it has been a wonderful journey to be able to enjoy great calls and conversations, discussing options for the event, brainstorming, picking brains, painting pictures and visions!
(The only gutter was not being able to call Stu Allan, always one of, if not our first call. God bless ya Stu, we will raise a glass or two for you mate, all Pandemonium posse and crew!
We continue the Pandemonium journey together into the future, with this specially designed festival event, hosting an enormous array of artists across multiple arenas for your delight!
And We want you all there with us ya nutters 🙂
With a superb large main Arena, and two really cracking smaller arenas in support, we could not be more blessed! And as you expect, Pandemonium have worked hard these past months making sure all the tech//equipment is to the highest spec! The Venue is very comfortable, and plenty of bars.
Not only that, but there is also a small carpark next to the venue that is perfect for us to be able to create The additional Outdoor 'Coronation Arena', to Celebrate the Coronation of King Charles the 3rd on this additional Bank Holiday Weekend!
We will construct a large Marquee, full stage production, Sound, Lights, Lasers, video walls, that will hold an additional 500 fun filled happy people. The Line-up for the Coronation stage is simply immense, handpicked for the occasion playing a feast of Soul, Funk, Disco, Rare Grooves, House and Funky House Classics, Garage, Minimal tech and some hands in the air Piano anthems. So please be very early.
Did I say Early?
Yea, earlier than you think.
PLEASE NOTE: We NOW OPEN AT 12pm NOON MAY 7TH giving 2 MORE ADDITIONAL HOURS. 🙂
Outdoor:
The Coronation Stage:
Celebrating the Coronation of King Charles under a large Marquee, full
stage & production.
Music genre`s Across the board.
Line Up - BOOKED.
Street food. Craft beers. Gin/Prosecco/Cocktail bars.
MAIN ROOM: Oldskool.
Hosted by Pandemonium.
PLEASE SHOW YOUR APPRECIATION & YOUR MASSIVE - WARM - PANDEMONIUM WELCOME FOR;
LEEROY THORNHILL x THE PRODIGY.
This is gonna be some set.
DJs.
MC's
Line Up - BOOKED.
Room 2;
Jungle Andromeda DnB..
Line Up - BOOKED!
Room 3;
Cosy House.: House/Funky House, House classics etc.
Line Up - BOOKED!
From everyone here at Pandemonium, we send all our love and blessings to you all, the people who always counted, the ravers who made it rock and we aint stopping yet, and we love you all very dearly for it! SEE YOU ON THE DANCE FLOOR.
Lets do this.
Pandemonium. We live as one family.
Music Genres:
Acid House, Drum n Bass, House, Jungle, Old Skool
Entry Prices
Minimum age: 18
Entry price (public): From £21.98 (Additional fees may apply)
Please note: The event information above has been added by the organiser. Whilst we try to ensure all details are up-to-date we do not make any warranty or representation as to the accuracy or completeness of the information shown.
Couture Superclub Stafford: Nearby Hotels & Airbnbs
Need a place to stay? Compare every available hotel deal and Airbnb near Couture Superclub, so book today to secure the best price!.
Please note, venue location is plotted according to the venue's postcode which is provided by the event organiser. We do not check the accuracy of venue or hotel locations or dates so please check before booking or travelling
139 Newport Road,
Stafford,
ST16 2EZ