This event has already happened!
This event occurred in December 2018. If you're looking for a upcoming event, try the links below:
Reviews of this event
Click here to view all reviews or add your own »
Clubland Boxing Day: Preston

on Wednesday 26th December 2018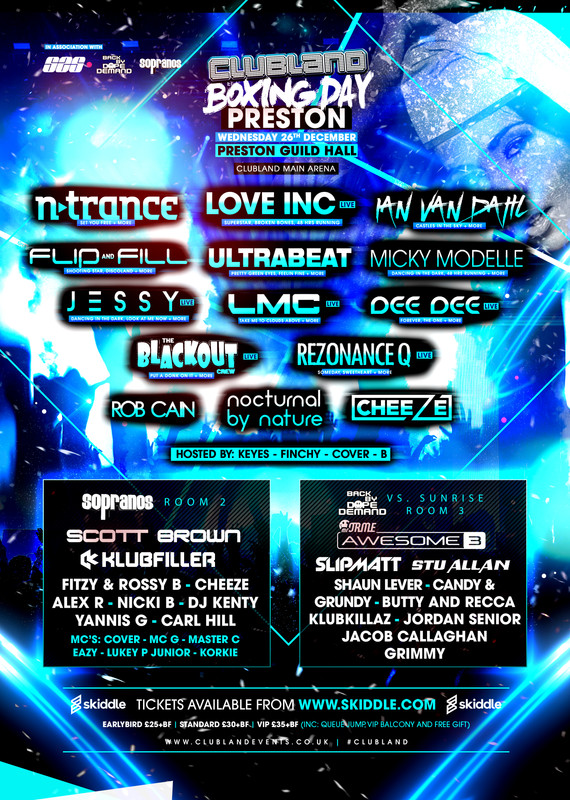 CLUBLAND MAIN ARENA
Love Inc Live
N-Trance
Jessy Live
Ian Van Dahl
Blackout Crew Live
Ultrabeat
Flip n Fill
Dee Dee Live
Micky Modelle
Rezonance Q Live
Rob Cain
Nocturnal By Nature
Cheeze
Keyes, Finchy & Cover & B
-----
SOPRANOS ROOM 2
Scott Brown
Klubfiller
Fitzy & Rossy B
Cheeze
Nicki B
Kenty
Alex R
Yannis G
Carl Hill
MC G
Cover
Master C
Eazy
Lukey P
Junior
Korkie
-----
BBDD V SUNRISE
Awesome 3
Slipmatt
Stu Allan
Shaun lever
Candy & Grundy
Butty and Recca
Klubkillaz
Jordan senior
Jacob Callaghan
Grimmy
--------
Music Genres:
Club Classics, Retro House

Please note: The event information above has been added by the organiser. Whilst we try to ensure all details are up-to-date we do not make any warranty or representation as to the accuracy or completeness of the information shown.